I started my professional life training elected women across villages in India with an NGO based out of Delhi. At 22, fresh out of college, with a head full of ideals it was a sobering and humbling experience, one that has shaped many of my life choices and perspectives. These village women, with the right encouragement, support and understanding of their rights and responsibilities, have become formidable forces in their villages. Many stood for elections outside of the reserved quota, winning multiple times, bringing to their people necessities like water, toilets, schools for girls, electricity, a crèche and medical facilities. As I moved on to work in other fields around the world I have encountered many such strong women who have changed the face of their village or town, improving lives around them, even more so in the last three years of our travels around India.
During our time in Uttarakhand I was fortunate to not only meet and interact with but also stay with some amazing women, who have in their own small way made an impact on everyone around them, including visitors like us. These change makers, who see obstacles as an opportunity, not only uplift themselves and their families but carry with them a strength that inspires others to follow in their wake, creating a multiplier effect. These are some of their stories.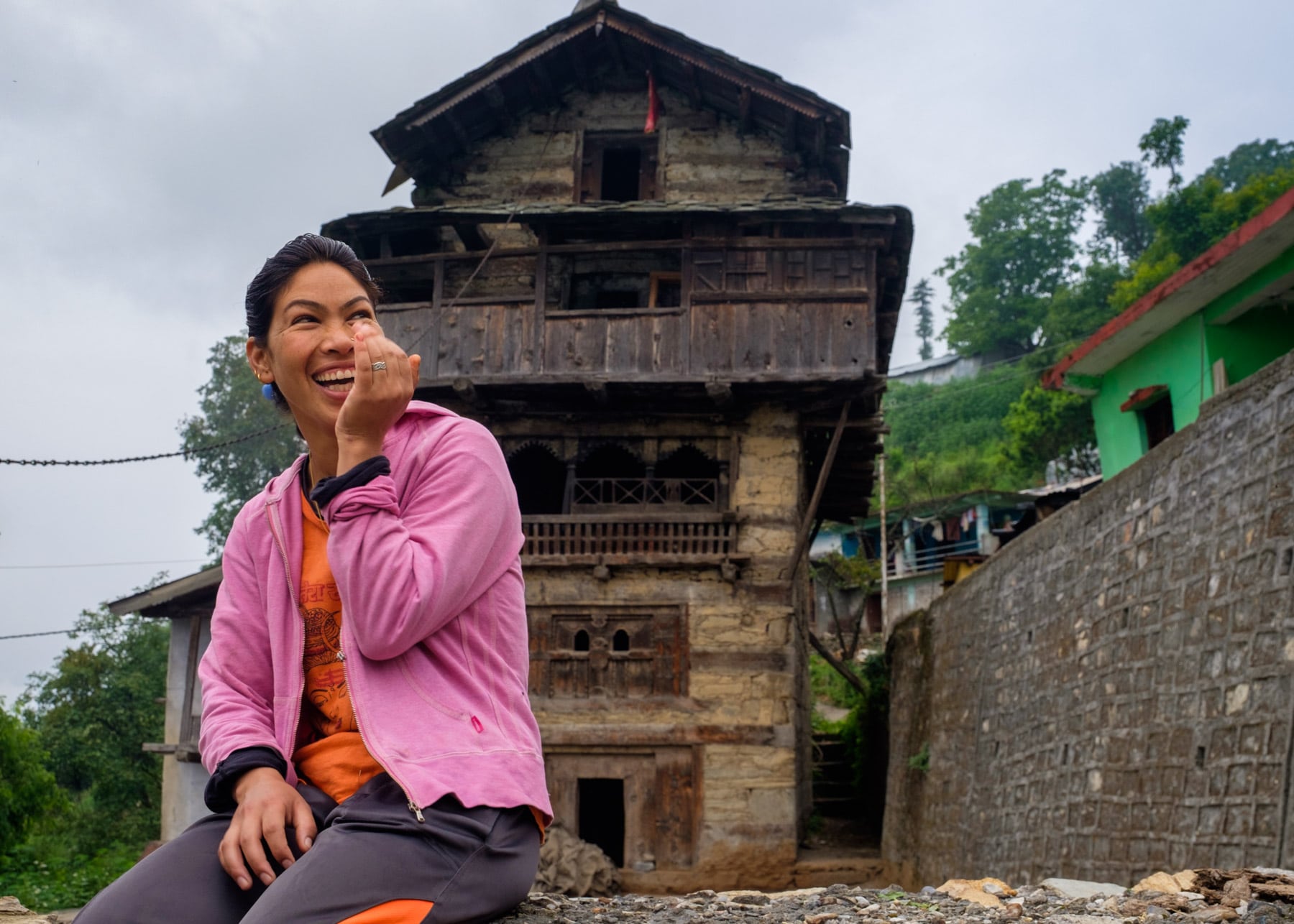 Priyanka Rana & The Goat Villages of Uttarakhand
Deep in the Gharwal mountains, far from the maddening crowd, is the village of Raithal. As we leave the last large town behind and begin a steady climb up the steep mountain side, the chatter in the taxi is accompanied by the whistle of the wind and the rush of the mighty Baghirathi river far below. We can no longer see it, but it's there. Spread over the mountain side, Raithal is small and we have come to stay at the Goat Village, situated a half kilometer above the village. We have to walk, but after weeks in the state, our hills legs are strong and the distance is negligible. As we settle into our wooden hut, with its bright green roof, we are warmly greeted by Priyanka and all her 32 teeth, a sight we see often over the next few days.
Started as a social enterprise to help reverse migration from the state and use tourism as a means to provide employment, the goat village in Raithal is the brainchild of the Green People and the third of its kind in the region. Here the set-up is small, with two cottages and a dorm managed by Priyanka, whose constant chatter and positivity kept us entertained during our stay. By her own admission, Priyanka was once quiet and shy, though given her effervescent personality it is hard to believe. A local from Raithal, who might have followed traditional cycles of life, she joined the green people and despite her fears went to train with a large hotel chain in Uttarakhand.
"I was terribly homesick and cried the entire time, it was the first time I'd been away from home for so long", says Priyanka as she deftly navigates the narrow path we are on. As she takes us on a tour of the village we learn about how the village stay in Raithal is run by two women, Priyanka and a colleague who is currently training to be a mountain guide at NMI, leaving Priyanka at the helm for the moment. She has big plans for herself, her future at the goat village and for Raithal and her enthusiasm is catching. It is easy to believe that she will achieve much with time and change how women are viewed in an otherwise traditional society. I wouldn't be surprised if few years down the line, I found Priyanka efficiently managing a large resort somewhere in the mountains, her infectious smile ever present, encouraging and empowering other women around her to achieve their dreams.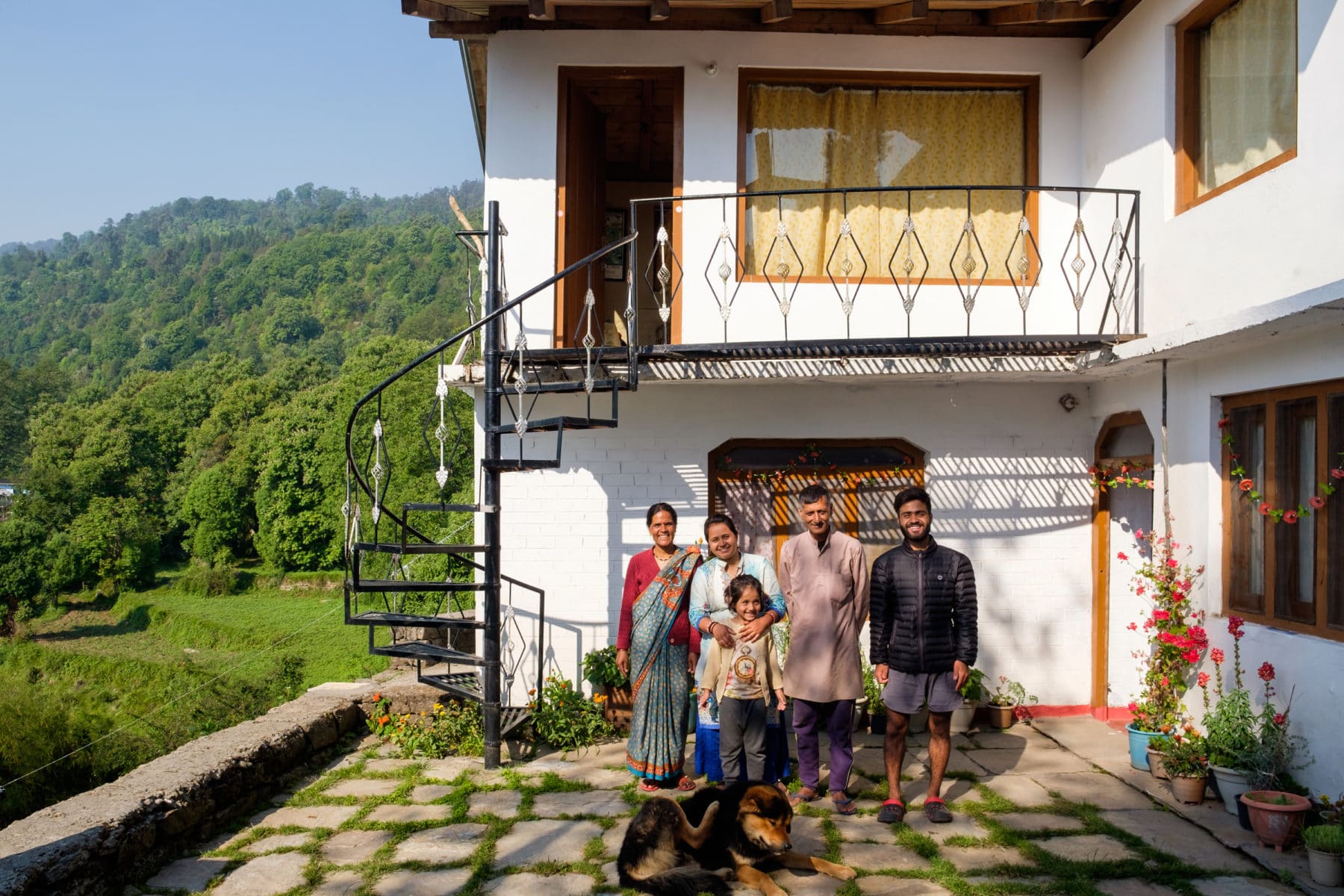 Kamla Pandey and the Sarmoli Village Homestay
In faraway Sarmoli, another small village, on the outskirts of Munsiyari at the end of the road that is not on google maps, is another inspiring woman, Kamla Pandey. The breadwinner of her house, she is a part of an NGO that runs modest homestays in the village, giving people like us a taste of the pahadi lifestyle. Kamla is full of fortitude and boundless energy, starting her day with feeding her guests and family before heading off to her various duties with the NGO and the local women's self-help group. She gives us a packed lunch so we may explore the region, trek up in any direction and have a warm homemade meal for sustenance. In the evening, she is full of stories of her day, life in the village and how the self-help group had given her and others dignity of life and labour. The group has empowered many women, reducing instances of domestic violence and abuse and increasing education level. Her husband, a priest by profession and education, supervises construction work in the house, they are building another small room to take in more guests. It's an excellent idea, she is a fantastic host.
Nestled high up in the Kumaon region, Sarmoli offers stunning views of the Panchachuli range. The drive, like many around Uttarakhand is filled with green slopes, tiny waterfalls and more than a few steep ranges. With the advent of tourism and the homestay programme, initiated by the formidable Malika Virdi, the village has seen an upswing in economic levels. Once on the route of trade between the high mountains of Tibet to the north and the UP plains to the south, the people of the region had the best of both worlds. With the closing of borders, a fallout of the 1962 China war, trade ceased, forever changing the face of these passes and valleys. Today, Malika, the village Sarpanch who moved to Sarmoli from Delhi over two decades ago, has helped the village foray into other means of employment and Kamla is part of a wonderful group of men and women who enjoy gainful employment through tourism, welcoming us wholeheartedly into their lives.
Uttarakhand, despite being blessed with abundant beauty and spiritual undertones, has low income levels and economic prospects and faces mass migration of people leaving in search of employment. These two women, along with many others we met on our travels are, in their own small manner, attempting to stem this tide and change for the better the face of their homeland. We have been inspired and awed by them and hope you are too.
Some Useful Information:
The Goat Villages in Uttarakhand are a Social / Responsible Tourism initiative run by the Green People with an aim to engage locals in community driven sustainable tourism, provide employment and encourage reverse migration back to the state. There are currently three Goat Villages in the Gharwal region at Nag Tibba, Raithal and Kanatal, which visitors can visit and stay at.
The Munsiari Homestays are run by Himalayan Ark, an NGO set up by local villagers in Sarmoli just outside of Munsiari. 12 – 15 families who largely depend on income from tourism are part of the homestay program here. In May every year there is also a festival that happens in Sarmoli which includes bird watching and Butterfly watching workshops for the villagers as well as a gruelling run up to Khaliatop, a popular trek in the region.