You should meet Chetan and check out the Thakkar art, I think you'll find it interesting.
This is how many of our journeys begin and this suggestion from a fellow traveller, when we were researching stuff to explore on our Maharashtra road trip proved to be an excellent tip!
Pinguli is a little town on the road between Sawantwadi and Malvan and if you didn't know about the fascinating 'Kala Aangan' there, it really wouldn't warrant a visit. Armed with Chetan's number and google maps we set out to find this little museum which holds within it remnants of the dying culture of one of southern Maharashtra's many adivasi communities, and meet its curator.
After a couple of wrong turns we finally pulled up in front of Chetan's house and were warmly welcomed. Chetan lives with his family in Pinguli and belongs to the Thakkar adivasi community which used to inhabit the forested areas around this region.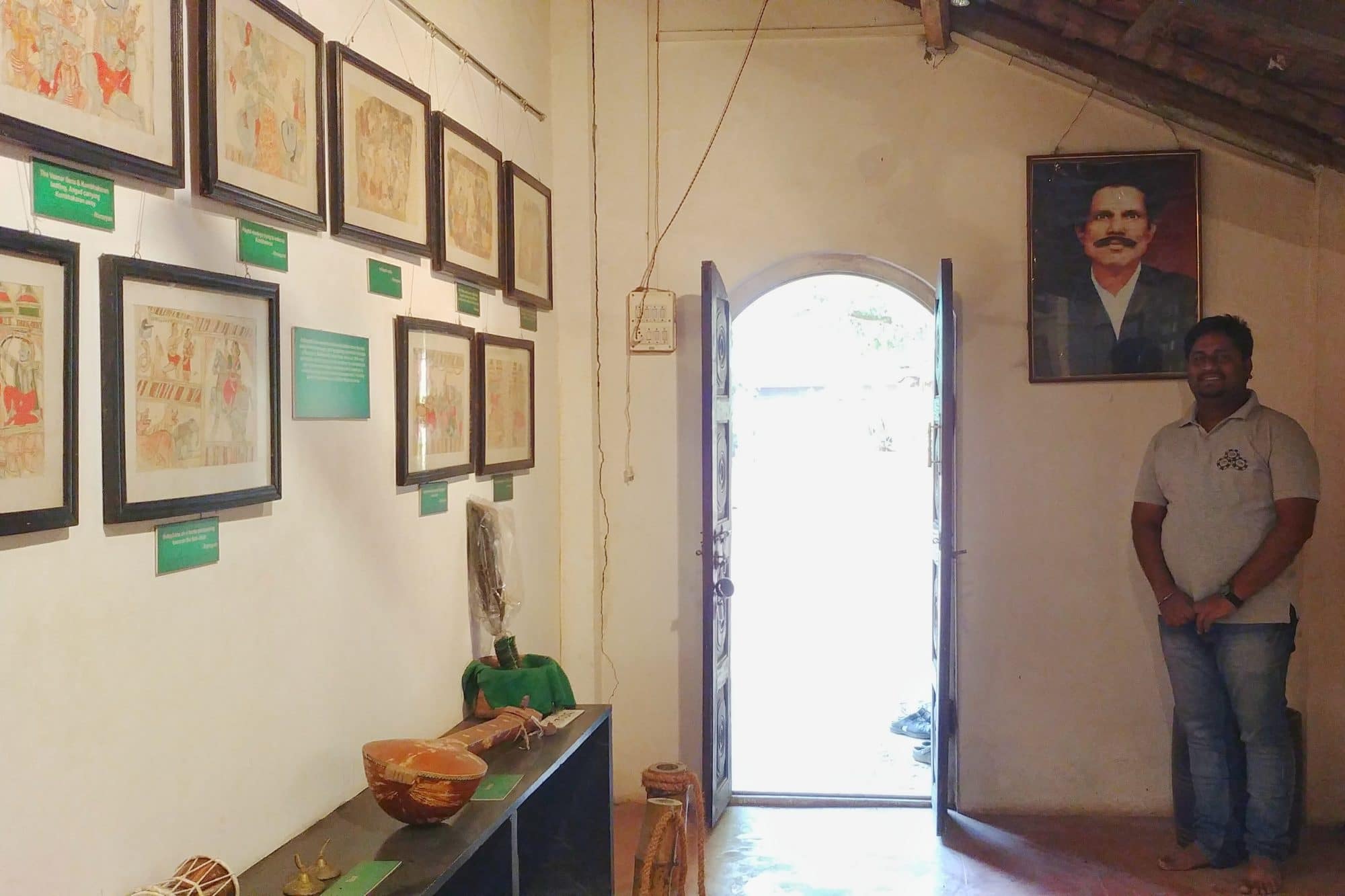 Traditionally the Thakkars were 'paramparik kalakars' or folk artists who earned their keep by travelling around Sindhudurg entertaining the villagers with song, dance and puppetry performances. Their way of life which involved travel for six months of the year and interacting with the locals found favour with the Bhosale Rajas of Sawantwadi, who besides being patrons of their art, also employed them as 'khabris' or spies to keep them updated with the happenings and mood in the countryside!
The community also received the patronage of Chatrapati Shivaji who granted them land around Pinguli and Kudal in the mid 18th century, which lead to the Thakkar community giving up their nomadic lifestyle and engaging in activities like agriculture along with their traditional forms of livelihood and performance crafts.
Shivaji also decreed that the Thakkars would sing their songs, stories taken from the epics and life around them, in the outer courtyard of the temples during the Dussehra festival. In those days the performances by the Thakkars would continue all night to large gatherings and even today, despite the fact that audiences have diminished, Chetan will stage a symbolic performance at the village temple to continue the tradition and fulfil the Thakkar commitment to Shivaji.
As time passed and the community developed and changed, many of their art, some dating back over 400 year, and traditions were slowly forgotten. Today the Thakkars are a well-integrated community and many have left the villages of Pinguli and Kudal to travel to Kolhapur, Mumbai, Pune and other parts of Maharashtra for work and education.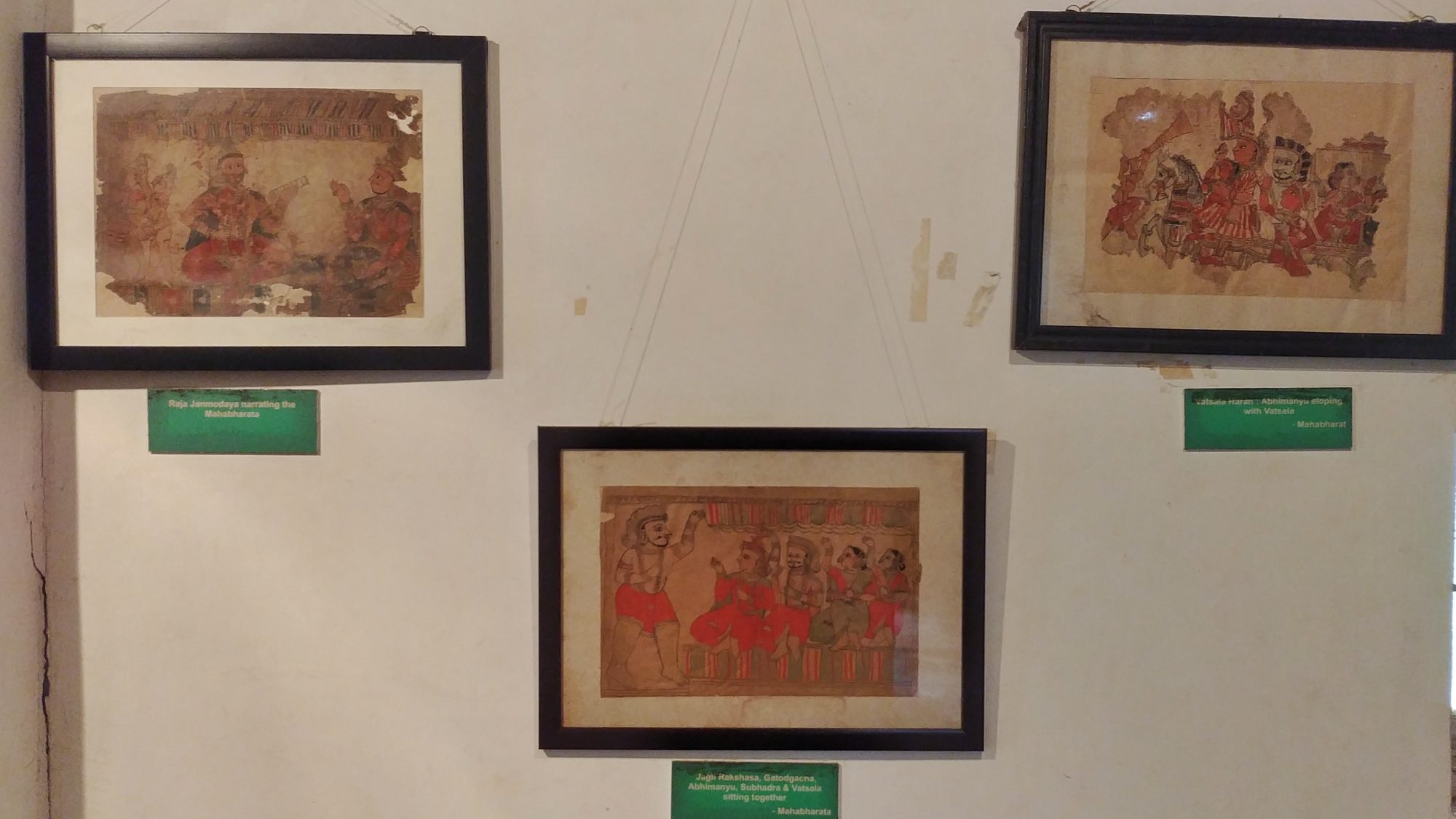 'There are many Adivasi communities in Maharashtra and Central India, and most of them have some form of traditional art and craft, but I doubt any would have 11 distinct performing arts and crafts like us', Chetan says proudly.
The most well-known and better preserved of the many crafts is Chitrakathi or the art of telling stories through pictures. These paintings made by the Thakkars were usually in red, yellow and green, primary colours found in nature and made from flowers, fruits, leaves and rocks. The outlines were in black, colour which was extracted from the soot of lamps. The paintings depicted scenes from the Ramayana and Mahabharata and other folklore, and were used as an accompaniment to the songs sung by the Thakkars as bards and temple performers, thus building engaging and immersive stories.
Kalsutri or puppetry is another popular craft of the community. There are two main types of puppetry practiced by the Thakkers, string puppetry and shadow puppetry. The string puppets are made of wood and dressed up in costume to depict gods, demons, kings and mythological figures, similar to what one might see in other part of southern India though Chetan tells us the styles and colours are quite different. The shadow puppets are made of leather which is beaten into a thin firm sheet and cut into designs of various characters. Puppet shows were a favoured medium to tell stories and tales could have the favoured mythological and religious themes or even touch on socio-political issues. Imagine the drama of a shadow puppet show, as the colourful puppets, backlit by large oil lamps and manipulated expertly behind white sheets come alive with songs and music!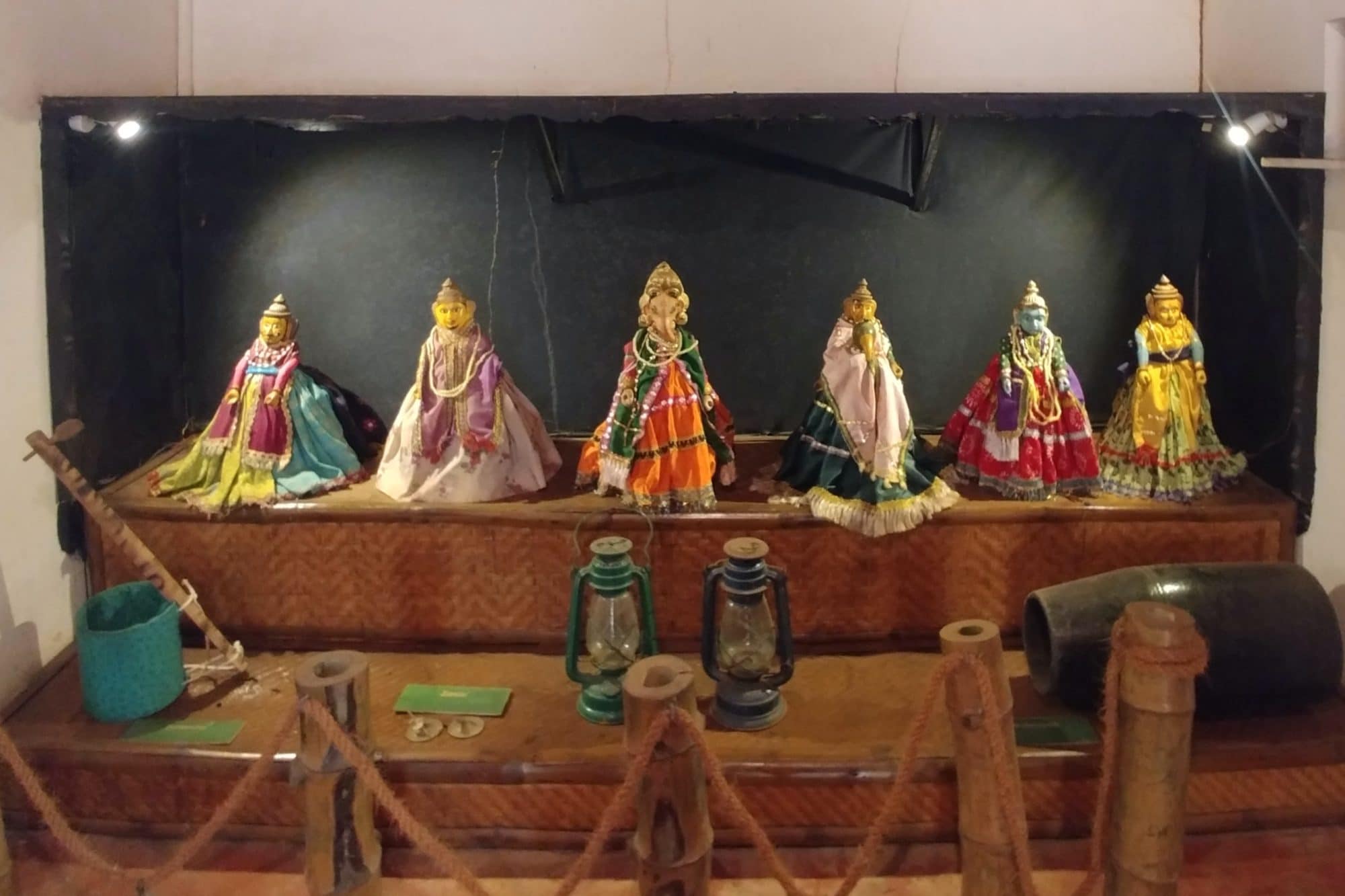 Chetan's eyes light up as he tells us about the various art of his ancestors, but his tone soon turns wistful as he admits that many of these are now all but lost. It was the urge to preserve their ancestry and culture that lead to the genesis and creation of the Kala Aagan or Courtyard of Crafts. Set up in 2006 in an unused cowshed on the family property by Parshuram Gangavane, a traditional puppeteer and Chetan's father, the museum aims to promote and educate on the traditional art and craft of the Thakar community.
Today Chetan has joined his father in running the Kala Aangan and is on a mission to help preserve the Thakkars dying art, many treasures of which are stored with its walls. India is full of incredible art and other forms of cultural expression and it is always heartwarming to meet people like the Gangavane family fighting what is quite clearly a difficult battle.
The museum itself is small and to an uninformed or uninterested visitor can probably be covered in less that 10 minutes; but with Chetan as a guide the museum comes alive with stories. He took us through its many treasures, including his family's collection of old paintings, musical instruments created and used by the tribals and beautiful hand carved Pangara wood puppets. However, what we found most fascinating was a very unusual rudimentary looking instrument. Chetan used a bronze thali and the stem of the ladyfinger (bhindi) plant (not to beat the thali with), which is closed at one end with beeswax, to produce the most otherworldly sounds that accompany a leather puppetry show. It's quite difficult to describe how the sound is made, notes that differ when the stick is placed on different parts of the thali, and so here is a video you can watch.
The Gangwanes are the last of the families in Pinguli that practice the traditional Thakkar art, but to ensure the revival of these crafts they are now performing all over Maharashtra and beyond, conducting workshops, training budding artist within and outside the community and exhibiting their work around the country. Hopefully with the efforts of Chetan, his brother Eknath and father Parshuram, the legacy of these ancient adivasi crafts will live on.
Some Useful Information:
How to get there: Pinguli is located between Sawantwadi and Malvan, just off the old Bombay-Goa highway and is easily accessed by road from either town. The Thakkar Adivasi Kala Aagan can be found on Google Maps
Where to Stay: You could stay at Sawantwadi and visit Pinguli as a day trip. In Sawantwadi we stayed at Dwarka Homestay which is a lovely farmstay run by Dilip Aklekar who is very knowledgeable about everything from organic farming to the history and activities in the area. Alternately if you wish to spend more time in Pinguli, Chetan's family runs a simple homestay out of their family home in Pinguli. Sawantwadi also has a number of other interesting sights to check out, including another lost art of playing cards, which we will write about soon.
For more stories on different art and craft forms in India that are being revived and preserved by people like Chetan check out these pages – Gujarat's Patan Patola; Maharashtra's Devrai Art Village; Orissa's Patachitra Art