Less than a 130 Kms from Ahmedabad, in a small town called Patan that was once the capital of Gujarat, survives a centuries old form of sari making called Patola. These beautiful, double ikkat style, handwoven saris are painstakingly created over 6 months on looms that have been in the family for generations. We visited one of the three surviving families in Patan that still make these saris. Mr Salvi warmly welcomed us into his small workshop, where he and his brother practice the art taught to them by their father, and patiently explained to us the intricate process of creating these works of beauty.
Apart from the intricate style of weaving, which is detailed and different, the process of dying the thread is also rather unique and fascinating. The threads are first separated and then joined in desired lengths and thickness on eight-spoke spools that have been used for generations. Individual threads are then bunched together and sections are coloured, red, green and yellow being some of the more common colours. Patola saris are made of silk and today the silk comes from China. Earlier, Mr. Salvi said, they would get their silk locally, from other parts of India, but now Chinese silk is more dependable as the quality is usually always consistent. The thread is soft to touch.
The coloured threads are then strung on the loom, which has remained unchanged for years, except for a couple of planks of wood, and stunning geometric patterns start to emerge as the loom is operated. These types of handwoven Patola saris cost upwards of Rs. 5 Lakhs each and it is easy to see why given the patience and skill required to create each one. Patola saris have adorned women of royalty for centuries, but today they are a dying art. Difficult to create in this form, Patola saris today are being made by new age looms and in some place even machines; Mr Salvi is rueful as he tells us this. There is some hope though as Mr. Salvi says that his nephew is being mentored to take over the family tradition, and so Patola will survive, in this family at least, for another generation.
Some useful Information:
How to get there: Patan is a town some 130 Kms from Ahmedabad. Patan is best done as a day trip from Ahmedabad and can be easily accessed by bus or taxi.
Where to go: The Salvi's are located on the road to the Rani ki Vava (Queens Stepwell) , a few Kms outside of Patan town. Keep your eyes peeled and on the left you will see an old sign for 'Patola of Patan'. The Salvi home and workshop are located in a small lane opposite the sign.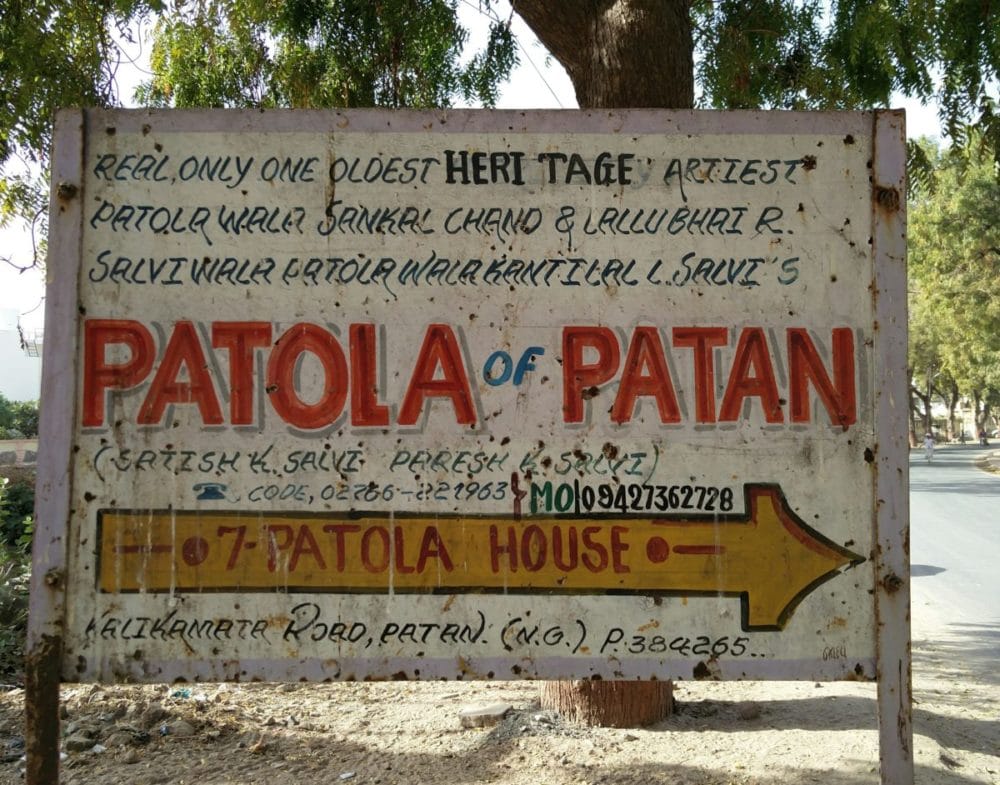 Don't miss: If you do make the trip to Patan, make sure you drive around the town where you can see remnants of the old fort walls and the entry gates to the old city. Besides the Patola Saris the other must see in Patan is of course the UNESCO protected Queens Stepwell or Rani ni Vav which is a stunning piece of step well architecture. If you have the time you should also checkout the stunning Sun Temple at Modhera which is a small but very worthwhile detour on the road from Ahmedabad to Patan.