When we began travelling around the country state by state, we decided to start with some of the lesser known corners of our country. We visited southern states of Tamil Nadu and Karnataka, the interiors of Maharashtra and Madhya Pradesh and far flung corners of Bihar, Arunachal and Nagaland.
3+ years and 18 states later it is now time for us to dive into one of India's most popular destinations, Rajasthan!
Rajasthan with its history and culture, magical palaces, stately havelis and fascinating local tribes has ignited the imagination of travellers over the ages and deciding where to go and what to leave out proved to be a huge challenge! Normally when we explore a large state we would have planed to spend at least a couple of months (our journey around MP took 2 months and we spent over 6 weeks in Uttarakhand), but this time however we had just about 5 weeks for Rajasthan (its too little!). So we decided to cover a few of the highlights and some lesser known places this time and leave some parts for another day!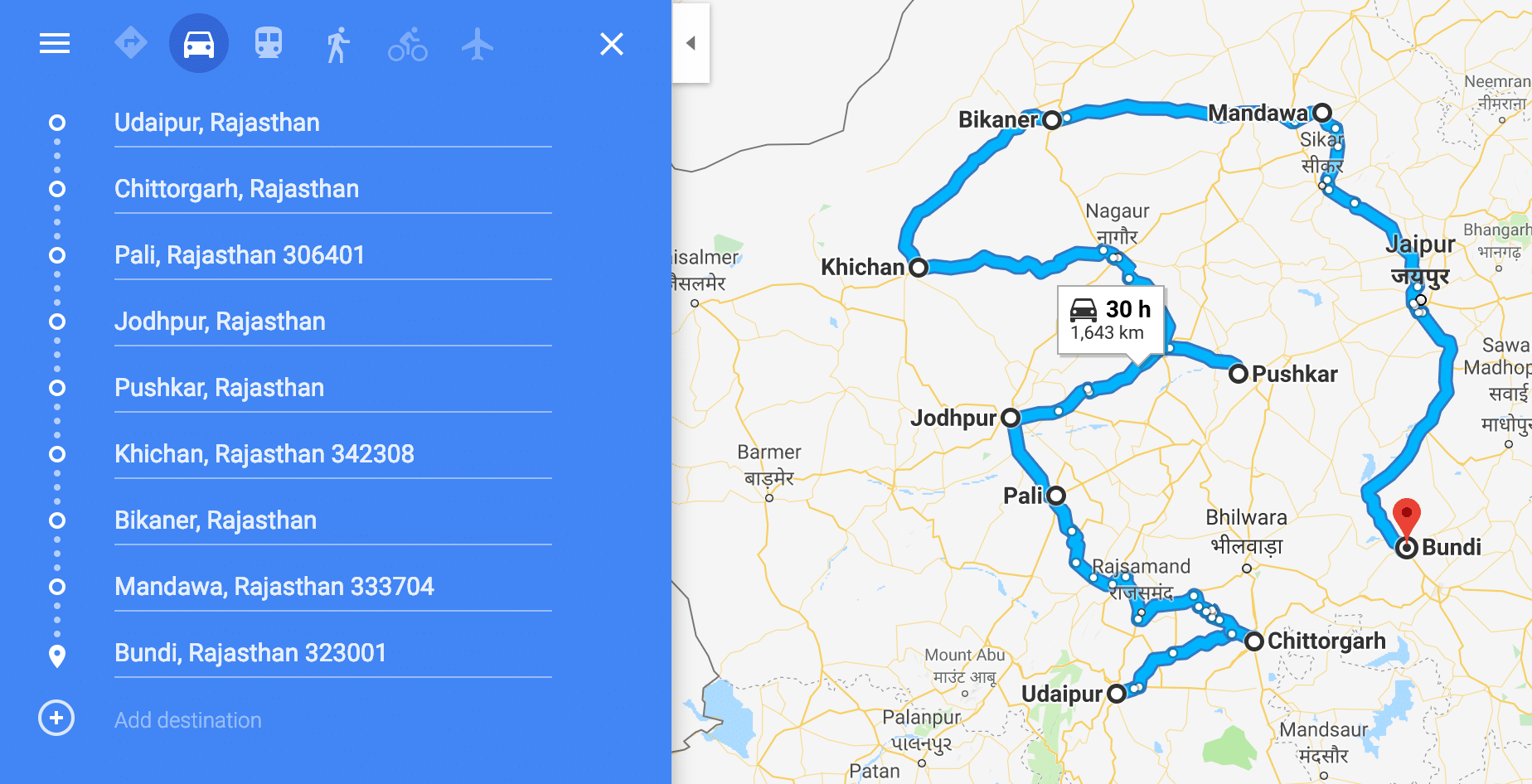 Our journey starts in the Udaipur in the south where we will slowly get into the travelling groove once again (it has been a couple of months), exploring the city and surroundings, like the forts of Chittorghar and Kumbalaghad. From Udaipur we plan to move northwards where we will spend time staying in villages around Pali, meeting locals, getting a feel of rural Rajasthani life, exploring the culture and gorging on some authentic Rajasthani cuisine! Over the next weeks we will explore the blue city of Jodhpur, spend a couple of days in Pushkar, and head to the fringes of the Thar desert. Our final leg of the trip will take us to the stunning Shekhawati region of northern Rajasthan, where we plan to spend a week checking out the beautiful old Havelis replete with frescos in Mandawa, Churu, Fatehpur and Ramghar, before ending our journey in Bundi in the south east of the state, by the Madhya Pradesh border.
We will need to return to Rajasthan to explore the western fringes of state and the dessert kingdoms of Jaisalmer and Barmer, because from Bundi we head to the beautiful jungles of Satpura in MP where we will be leading our first tour of the year, a four day trip around Holi. During this tour we will not only take you on Jeep, canoe and walking Safaris in the core area of the jungle in search of Leopards, Tigers and Sloth Bears, but also explore villages around the area, try some organic farming and visit the the ancient cave painting sites of Bhimbetka! If you are looking for something fun to do around Holi, and want to join us, you can check out the details here, it promises to be an epic experience! 🙂
Till then stay tuned for stories from Rajasthan!