Babyyy!!! Leave me and go …. I can't walk any more!
I looked back, grinning, at Ambika, who was a few steps behind me, her tongue sticking out panting.
Don't worry it's just a little more, I said, secretly hoping I was right! During the last half hour or so our breaks had increased exponentially to a point where it felt like we were spending more time stopping than walking! Of course that could also be blamed on the scenery! At 3000 + meters we were above the tree-line and the Deodars and Rhododendrons that had lined our path had given way to grassy mountain sides, beyond which lay the snowy peaks of the upper Himalayas.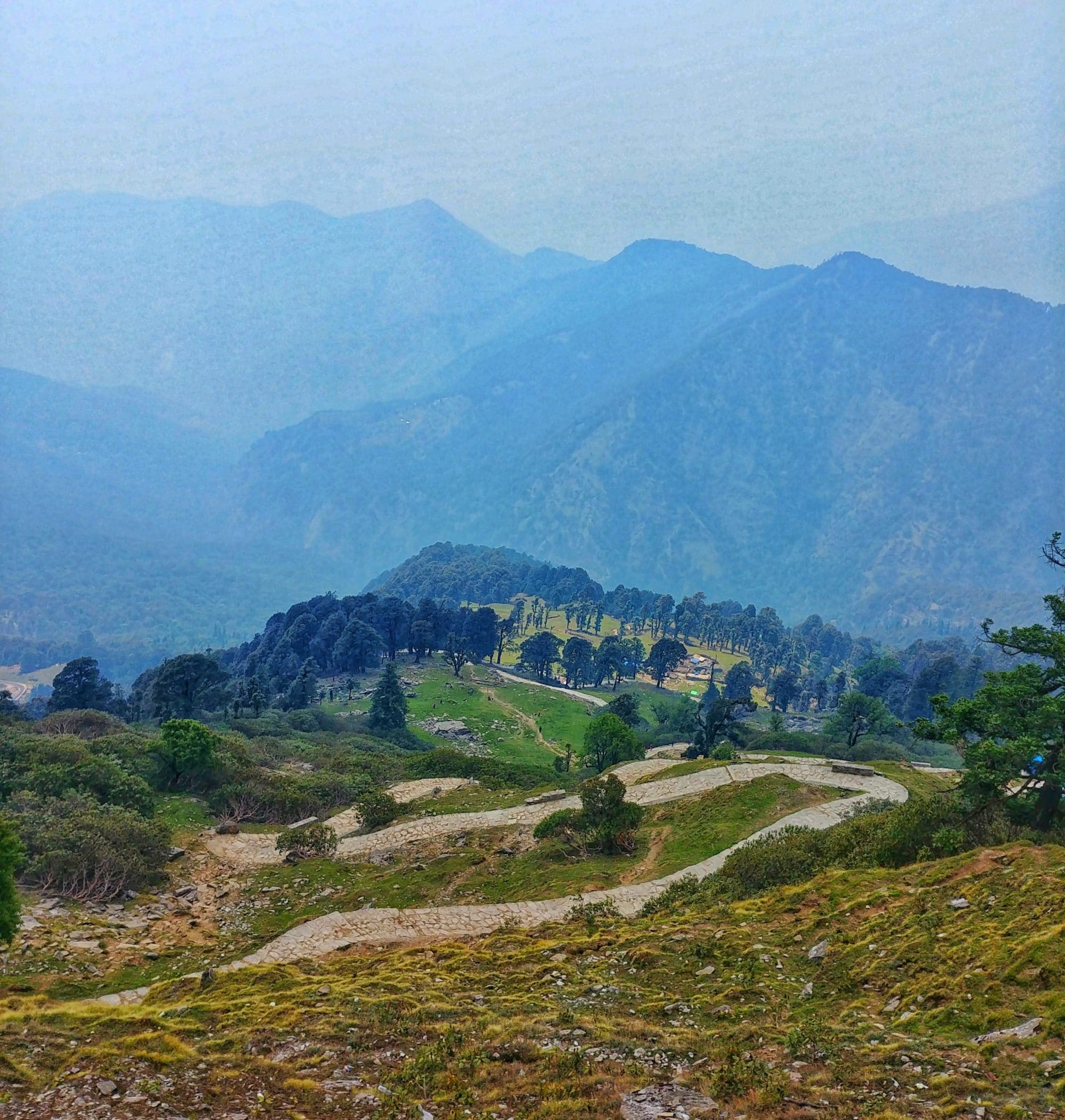 No, I can't! I'll just wait here, pouted Ambika with a sad little face, mostly pretence and a little serious. A little more cajoling and a few gulp of water later we trudged on, hoping the turn we were about to take would be the last! It usually never is!
We were hiking up to the Tungnath temple, which at 3600 Mts above sea level is said to be the highest Shiva temple in the world, making it a popular pilgrimage spot and trekking destination.
Now Ambika and I are by no means trekkers (though that may have changed a little bit after this trip), but Uttarakhand with its stunning views and beautiful walks in any direction is the kind of place that makes you want to trek! Also, Tungnath is one of those rare destinations where you can get up, close and personal with brilliant mountain views without exerting youself (too) much.
Effort to Reward ratio = Excellent !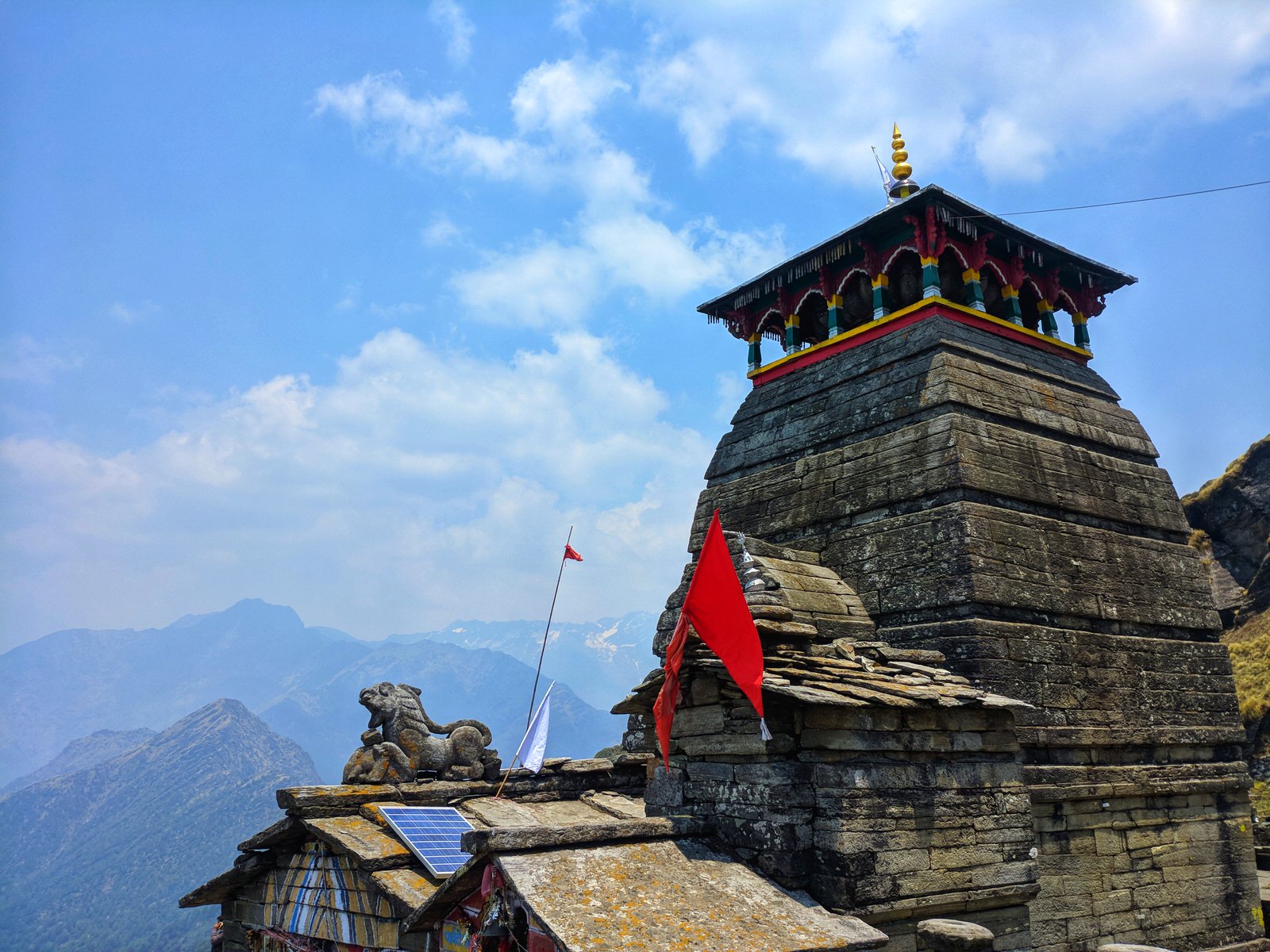 And so on my 36th birthday we decided, what better way to celebrate than to attempt our first real hike in the mountains together! If I was going over the hill, might as well climb the bloody hill.
The trek to Tungnath and further to the Chandrashila peak is one of the prettiest you can undertake if you are just starting out trekking. Most experienced trekkers will say that Tungnath is an easy trek and they are right. At just about 3.5 kms from the base village of Chopta, the walk up to the temple is gradual, the terrain easy, with a well laid cement path in sections. Beyond the temple there is a steepish dirt path for the last kilometre to Chandrashila, with some of the most stunning views in the region.
We started walking up from Chopta at 8am, setting a nice pace, invigorated by the clean crisp mountain air and pleased at ourselves for not being lazy! The first kilometre is easy enough with a slow ascent that takes you through a forested path before breaking out into one of Uttrakahand's famous bugyals, rolling green meadows dotted with small wooden homes and grazing animals. A perfectly idyllic scene! We contemplated chilling here a while, lazing in the lovely meadow sounded eminently tempting, but we had just started walking and pulled ourselves away for fear of our trek ending right there and then! We decided to stop on the way down. All along the path there were families and people of all ages making their way up to Tungnath, which for the religiously inclined in an important stop between Kedarnath and Badrinath.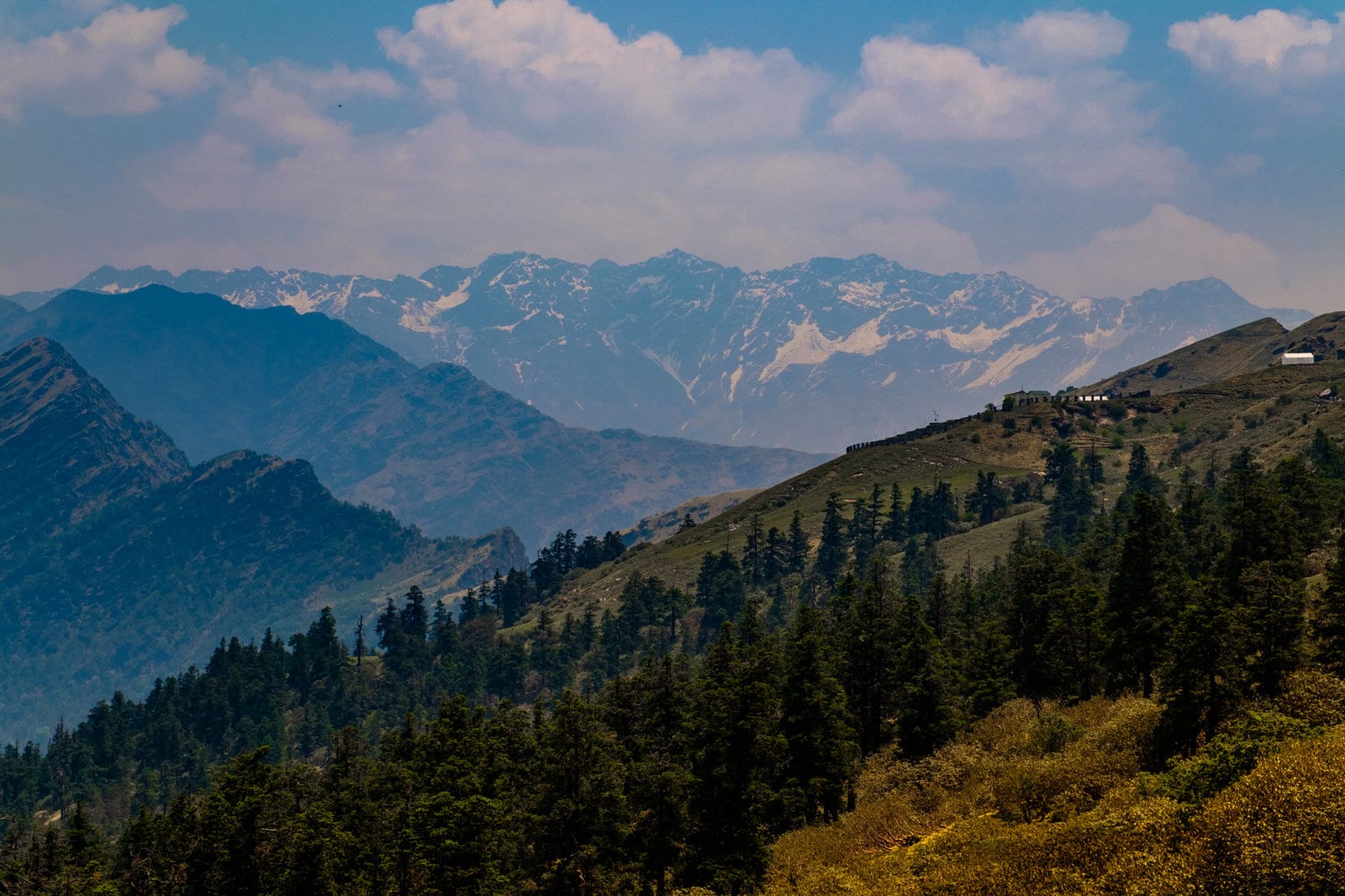 A number of trekking destinations in Uttarakhand are essentially pilgrimage routes, so its not unusual to be walking up alongside an old couple or a saffron clad baba, but it was nonetheless amusing to find a number of devotees in their Sunday best; the men in spotless kurtas or fancy shirts and the women in flashy saris, jewellery and heels, making the climb up the uneven rocky surface, only to discover that this was less than ideal!
Our amused feeling of misplaced superiority, what with our Quechua shoes and jackets, would however be short lived as the easy path started getting gradually steeper and our breathing more laboured and we struggled with the heeled pilgrims, many of whom had nonchalantly removed their shoes and were walking bare foot! Of course as is often the case in the mountains the higher we climbed, the more gorgeous the view got as hitherto hidden peaks slowly poked out from behind the green hills. On both sides of the path, lush green meadows with pretty yellow flowers beckoned and in the distance, between the Rhododendron trees, sporting the last of their bright red flowers, we could see the Chaukhamba peak rising proudly against a magical blue summer sky. Quite a way to spend a birthday I'd say!
If the first kilometre took us about 45 minutes, the next two took us well over two hours. Though the Tungnath trek seems deceptively simple in terms of the gradient and the distance, the fact that the temple is perched about 3600 Mts above sea level means it can be slow going with the thinning air. Just for a bit of context Leh is at 3500 Mts ASL, and this is a 100 Mts higher! One tea break and many water breaks later, gasping and trudging we finally reached the colourful Tungnath temple.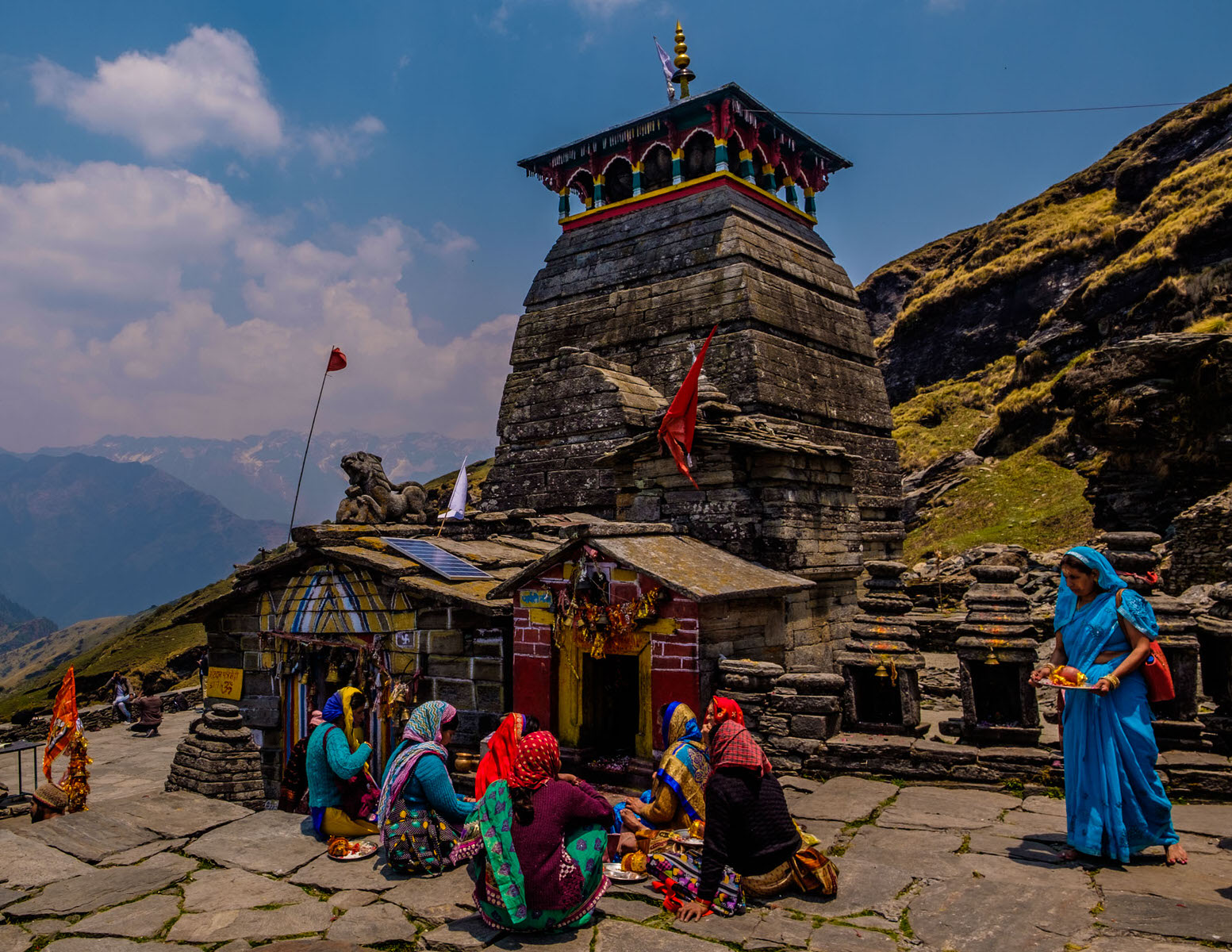 Whilst the Tungnath temple is simple and thankfully lacks the hustle and bustle of Kedarnath and Badrinath, it is the promised view around that steals the show. The temple, though small appears almost magical in the setting, backed as it is by numerous ranges of snow capped Himalayan peaks that rise above the clouds. We rued the fact that we hadn't left earlier which would have allowed us to complete the last one kilometre to Chandrashila, but for us that was only one more reason to return!
Having done a quick round of the temple and the other shrines around, I joined Ambika who was sitting on the side of the hill staring out at the vast mountainous expanse, the view commanding her complete attention as only nature can. As she smiled, and offered me a cup of tea, I thought to myself, this trekking business isn't half bad, I suppose 36 is as good a time as any to start!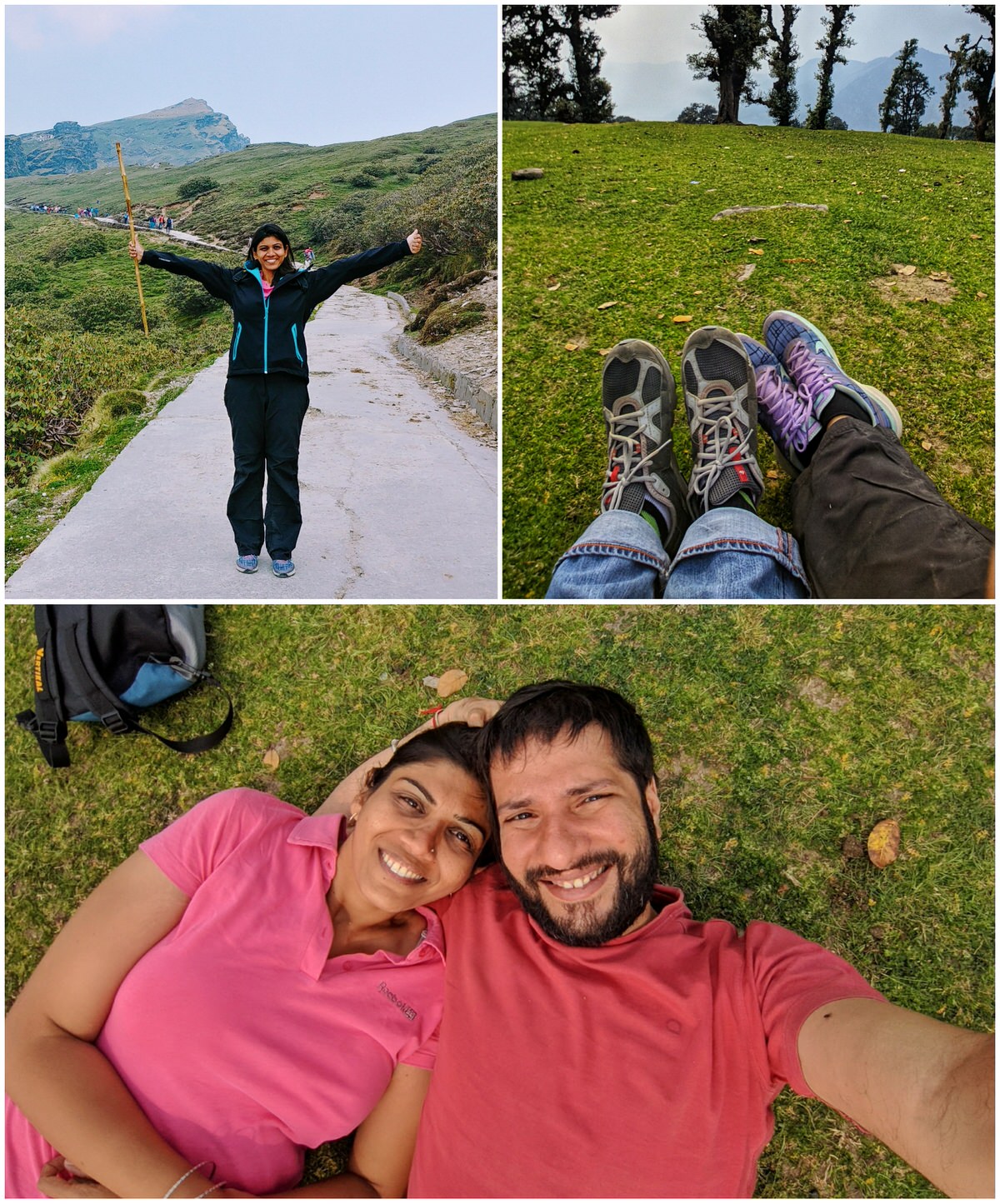 Some Useful Information:
Where to Stay: You can plan Tungnath as a day hike from Chopta which is a very pretty place to spend a couple of days. There are a number of small resorts and Swiss tented accommodations set in pretty meadows around Chopta. We stayed at the very funky and cute Snowpod at Baniyakund about 5 km from Chopta.
What to keep in mind:
AMS: Chopta is at about 2700 mts ASL while Tungnath and Chandrashila are at 3600mts and 4000 mts respectively. This is pretty high up and besides the fact that it's chilly, Altitude Mountain Sickness (AMS) is a real possibility, so we suggest you are properly clad and acclimatised before attempting the trek. If you have spent a few days in Uttarakhand consistently between 2000 – 2500 meters you should be ok, but if not do make sure you spend a day or two in Chopta or around before climbing up.
What to Wear & Carry: Even in the summers, it's pretty chilly up in Tungnath and even colder and windier up at Chandrashila. You will need a light fleece jacket even in the summers. In the winters plan for it to be significantly colder. Whilst the trail is not muddy or uneven we suggest you wear good shoes to make the walk comfortable. There are a number of stalls on the way where you can buy water, however we would suggest carrying your own bottle so you avoid buying throwaway plastic bottles and polluting the pristine environment. If you must buy water, please do ensure you dispose the plastic responsibly.
Food & Sleeping: If you are only doing Tungnath, you do not need to worry, there are a number of stalls along the way which serve the usual assortment of Chai, Maggi and other snacks. However if you are planning to go up to Chandrashila, bear in mind that there is no accomodation up there and you will need to carry your own tent, sleeping bag and cooking implements.
When to go: You can do the trek all year round, but the best time to go if you are going for the views is probably in winter when the mountains are stunningly clear and sunsets and sunrises are epic, but yes it will be really cold there and it does snow so plan accordingly.