What is in Almora? It's just like a big market!
It will be nice, its an old town! insisted Ambika
We were in Ramghar, arguing about our next stop. I wanted to move ahead to Kasardevi, which I had been told was a nice peaceful place to spend a few days with chilled out cafes, hippie vibes and good views of the Himalayas.
Almora to my mind would be like any other crowded market town that dot the landscape across India. Ambika however had a 'feeling' about the place, and I relented. If one of us had a feeing about a place, no matter how vague, the other went with it and frankly, more often than not, it worked out for the better. After 3 years of travel we've learnt to listen to our instincts.
The journey to Almora however did not start on a good note.
Though Ramghar was only 50 odd kms from Almora, it seemed there was no direct transportation there. Our homestay host in Ramghar had assured us that we could easily get regular buses and share taxies from the market, which is about 10 feet long with three shops, to Almora. But there we were in the Talla Ramghar market at 10 am, in the rain, with the weather looking like it was going to get worse, and the last and apparently only bus had left for Almora at 7 am.
There may be another bus at 2 pm, a local offered, looking less than convinced himself, but you will be better off getting to Bhowali. From there you will get many taxis to Almora.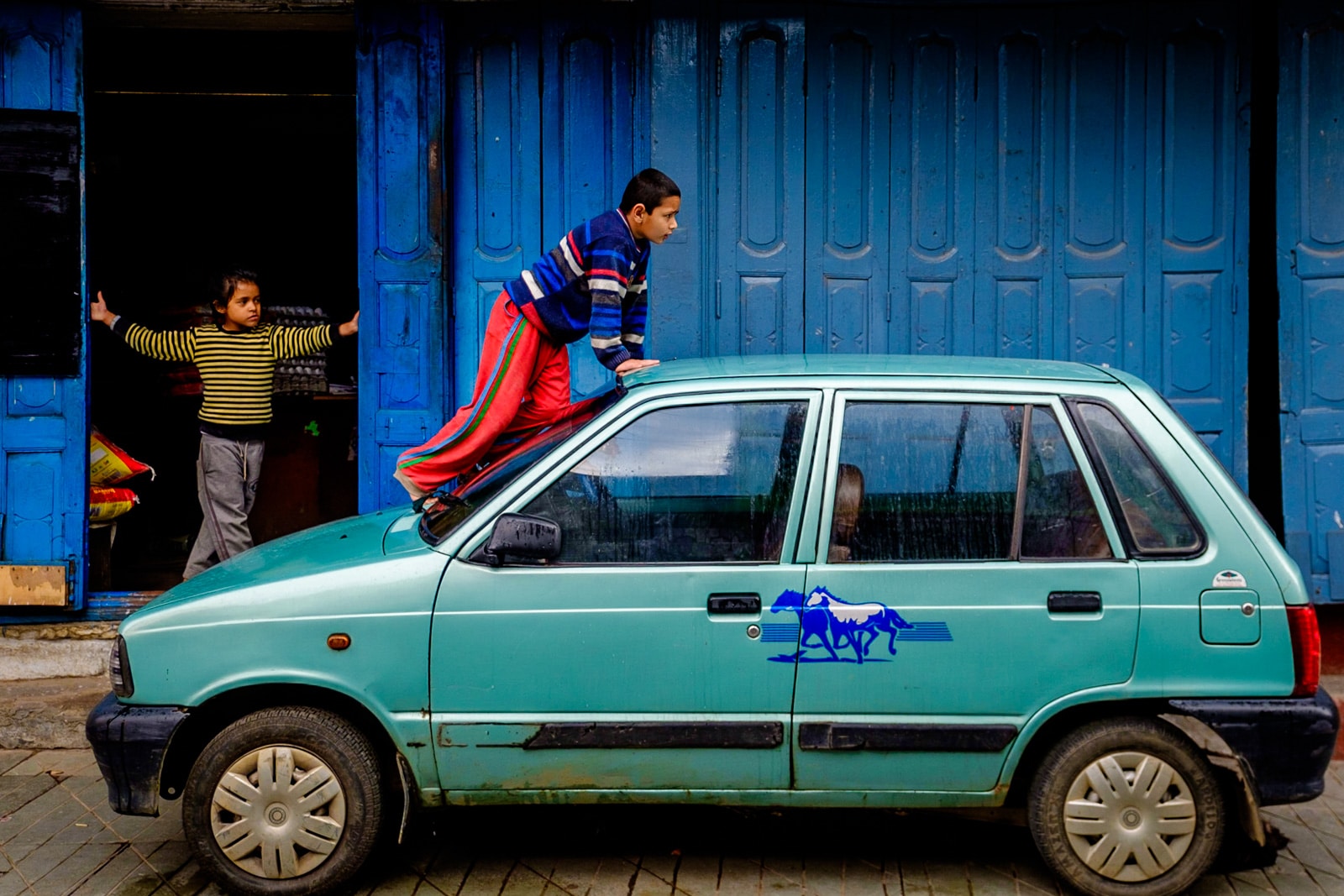 Except that Bhowali was 30 kms in the opposite direction and it meant that our journey would be 80 – 90 Kms instead of the 50 we had anticipated, on hilly roads, in the rain. Not a pleasant proposition. Having no choice we flagged down a car heading towards Bhowali, turns out he was a local plying people up and down for a small fee and a few hours and a couple of taxi changes later we pulled into Almora. Our room at the KMVN in Almora, a typical tourist rest house, had a lovely location, but that particular smell that the government has specialised in bottling and transporting all over the country to give these hotels their unique identity! From there we could see taxi loads full of tourists whizzing towards Almora town, a cluster of pink and green concrete structures literally piled on top of each other, covering the side of the hill. This was not the mountain paradise I had been promised.
It was only in the evening that we started to feel more agreeable towards Almora.
We were out for a walk through the old market, a one kilometre plus stretch of road lined with beautiful old homes. Like most places, homes in Uttarakhand too have largely moved away from traditional constructions, towards concrete and tin over the last few years, not only because these are easier to maintain but because they are more resilient to natural disasters like earthquakes and flash floods, both of which the region has seen its fair share of in the recent past.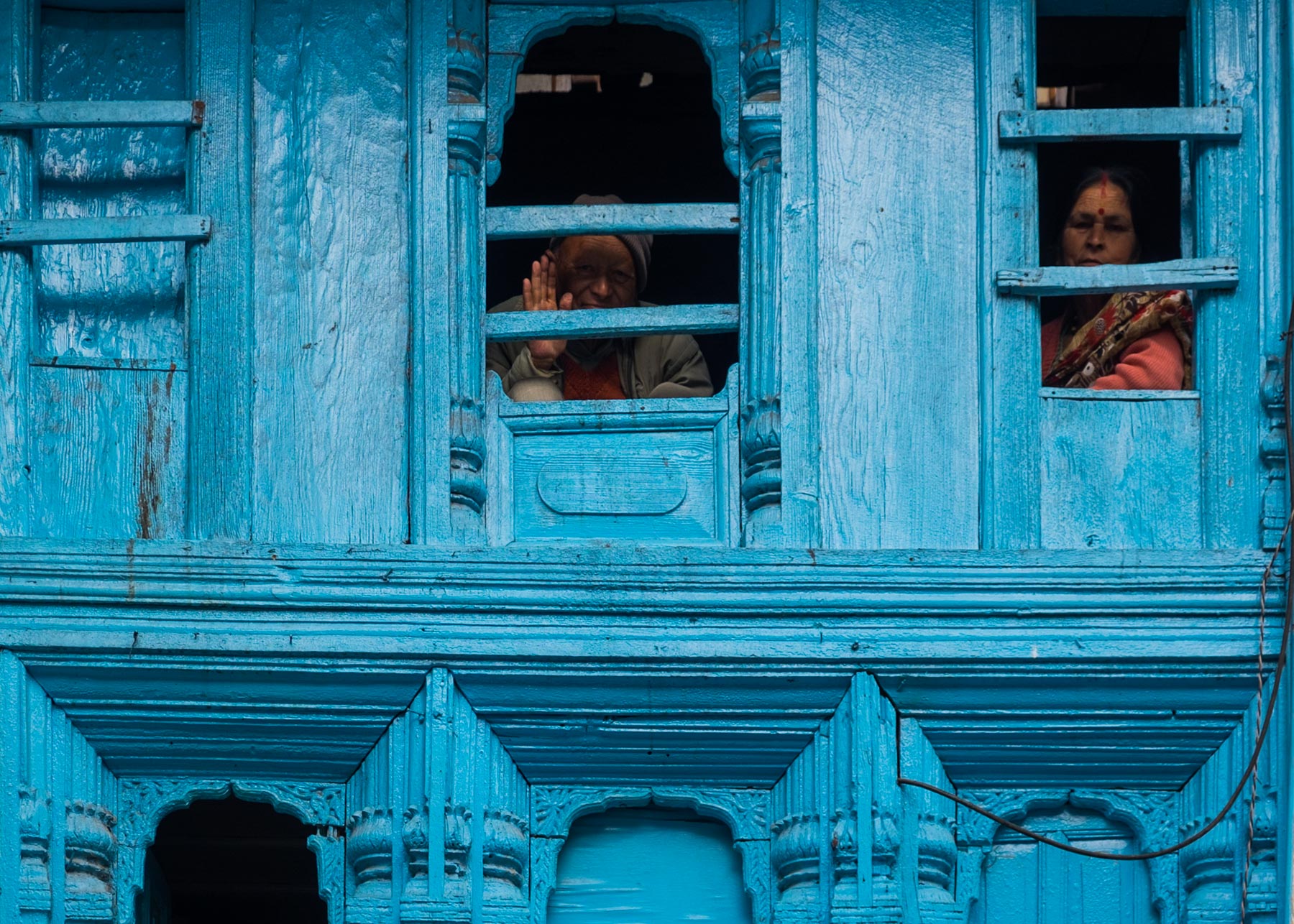 However here in the heart of Almora, with its bustling crowded vibe, it seemed one little row of homes had somehow survived. The street was narrow, giving it a cozy feeling with little white washed stone homes and slate roofs, people milling about and kids using whatever little space they could find to play cricket and football. And just above eye level were the most beautiful carved wooden windows and doors and tiny colourful jarokha style balconies. The windows were a throwback to an age when Likhai, a woodcrafting art, survived and thrived in Almora and the areas around, where the artisans, famed for their craft would travel around the region to put their mark on peoples homes. Not too many traditional likhai artisans survive today, at least we didn't see any evidence of that. 
On the advise of an old gent who was curious about what we were doing we walked down further to Khazanchi Mohalla an old locality which has the most lovely homes with intricate wood carvings in the entire stretch, with interesting designs including some that looked like English sepoys. Curiously a lot of the work and designs appeared as if they would not be out of place in faraway Rajasthan or Kutch. Could there be a link here between the old homes of Uttarakhand high up in the Himalayas and those in the dusty desserts of western India? It's something we would have to explore.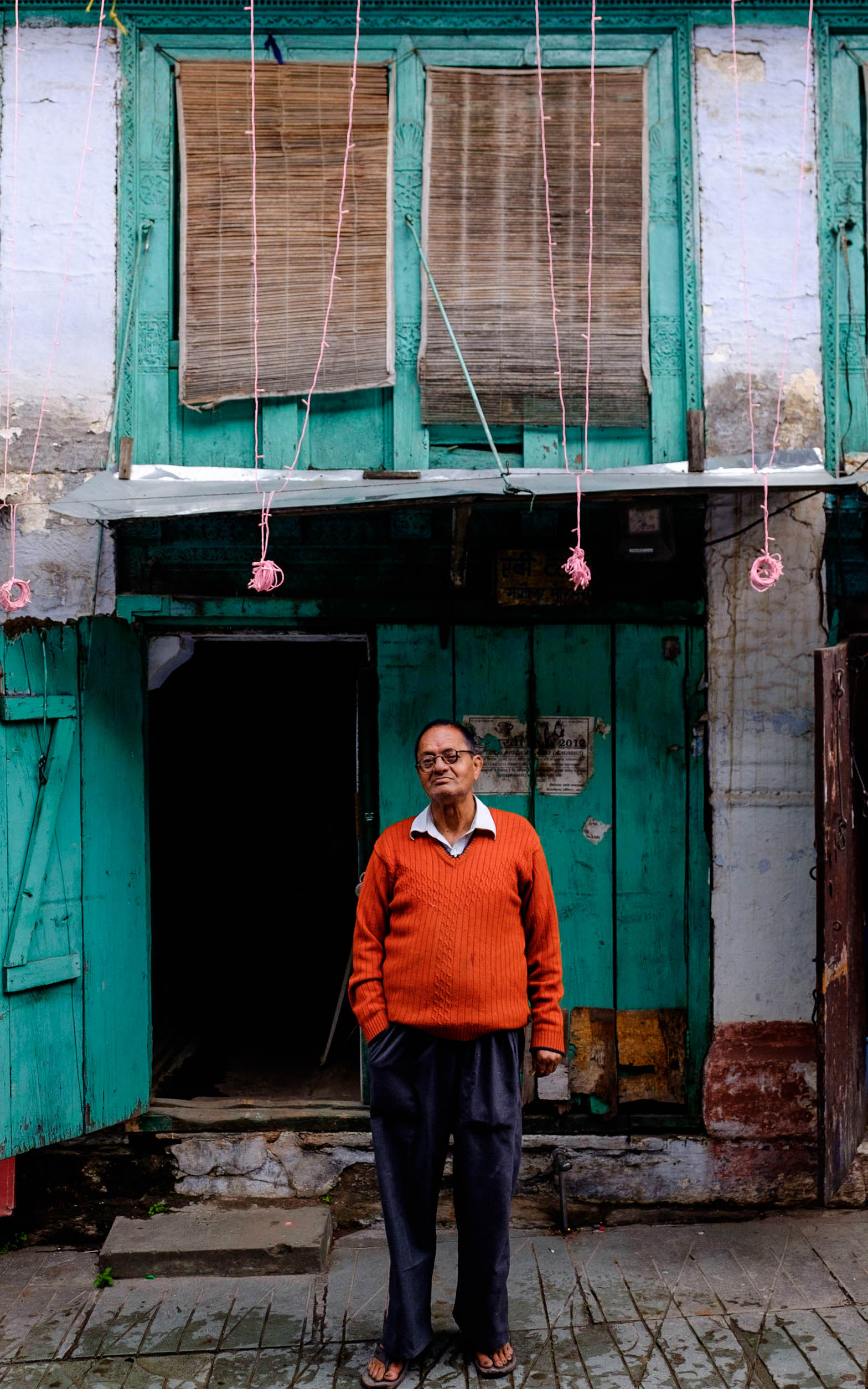 Feeling a lot better about Almora, we moved on to sample another Almora speciality, the mithai!
One thing I absolutely love about travelling (or just in general) in small town India, especially in the plains, is all the different mithai I get to sample. This is especially true in North India where they specialise in making mouthwatering khoya based sweets like my favourite, the ubiquitous milk-cake.
In Almora it seems they were not very big on milk cake but instead make another version of khoya called Singodi and a chocolate coloured barfi covered with little sugar balls called baal mithai.  While the main market street in Almora is full of sweet shops the place to go is Khem Singh Mohan Singh Rautela, an old institution which apparently serves the best baal mithai this side of the Nanda Devi.
A bit of a walk later we found ourselves outside a small establishment bursting at its seams with customers. Khem Singh seemed to be doing brisk business and I could see the mithai selling out before my eyes. In a bit of a panic I bought one of each of the mithai they sold, lest I miss out on my sugar fix!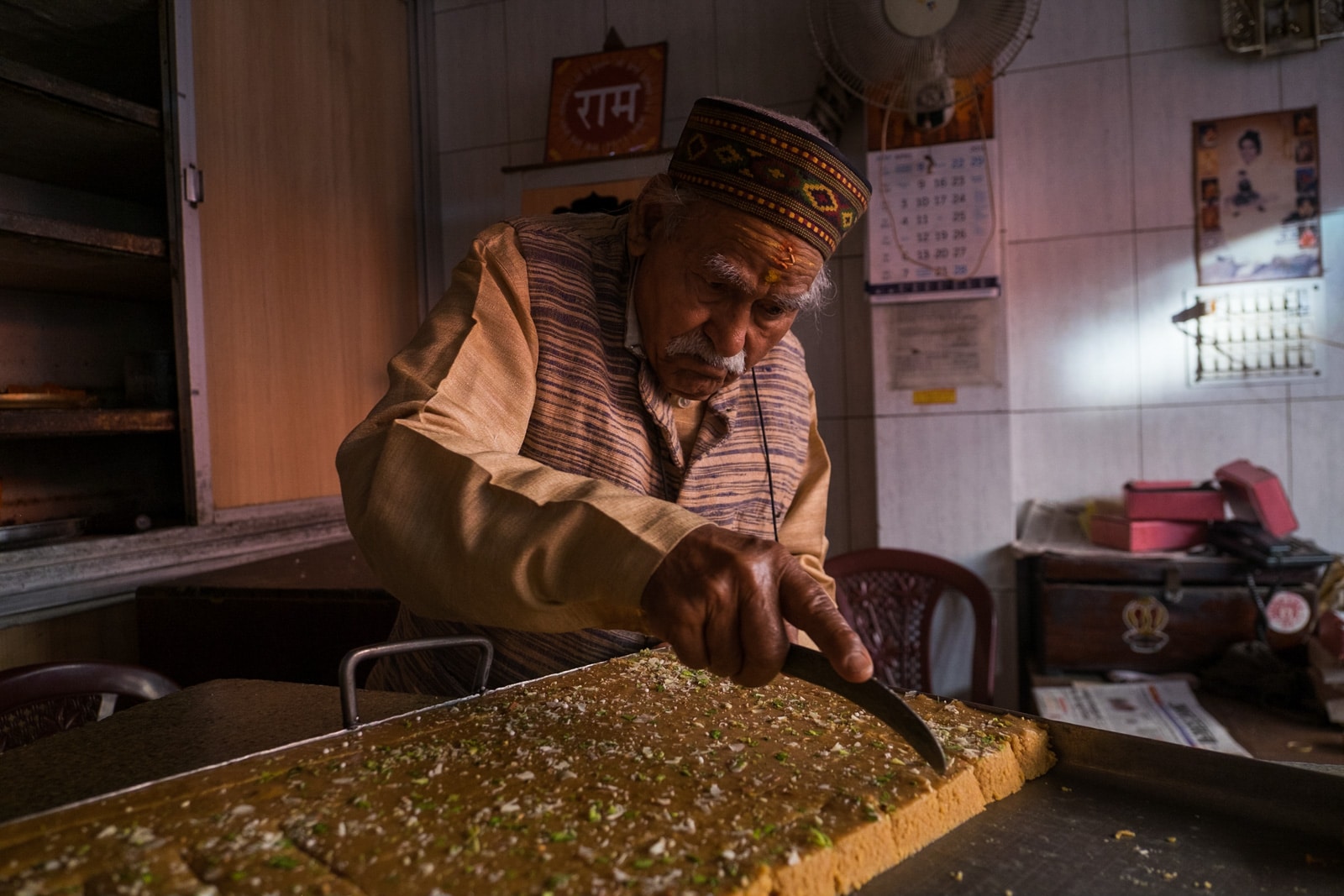 Whilst the baal mithai was in my opinion all right, the tiny sugar balls made it too sweet and distracted from the barfi flavour, it was the Singodi that won my heart!
Basically a generous helping of khoya topped with a hint of coconut and served in a conical oak leaf such that it looks like a bit of an ice cream cone, this was heaven for a sweet fiend like me! Not one for sweet stuff, Ambika took one bite to taste and left the rest for me. I guiltily asked for one more, knowing full well that I was overdoing it. The man behind the counter who had been selling mithai here for the last 20 years assured me that I was not.
Here, people have half a kilo, khade khade (standing right here), he remarked dryly. I looked horrified and informed him that diabetes, heart trouble and a bouquet of other illnesses run in my city bred family. He scoffed at my concerns, retorting that in the mountains with the fresh air, water, and all the walking I would be just fine.
Not needed much more convincing I picked up one more cone of happiness wrapped in a leaf and we made our way back to KVMN. In my sugar haze, Almora appeared significantly more pleasant. The town was green and full of colourful flowers, the large trees bursting with purple ones our favourite.
The next morning I awoke early as I had been for the last few days and stuck my head outside the window. Mountain views in the summer (which here is relative as you can see from Ambika all bundled up) are hazy and fleeting, but it had rained the previous evening and amidst all the thunder and lightening the sky had cleared offering us a couple of hours of snowy mountain views. It was our first sight of the Himalayan peaks on our trip thus far, and this morning I was hopeful for a clear sight of the Trishul and Nanda Devi ranges.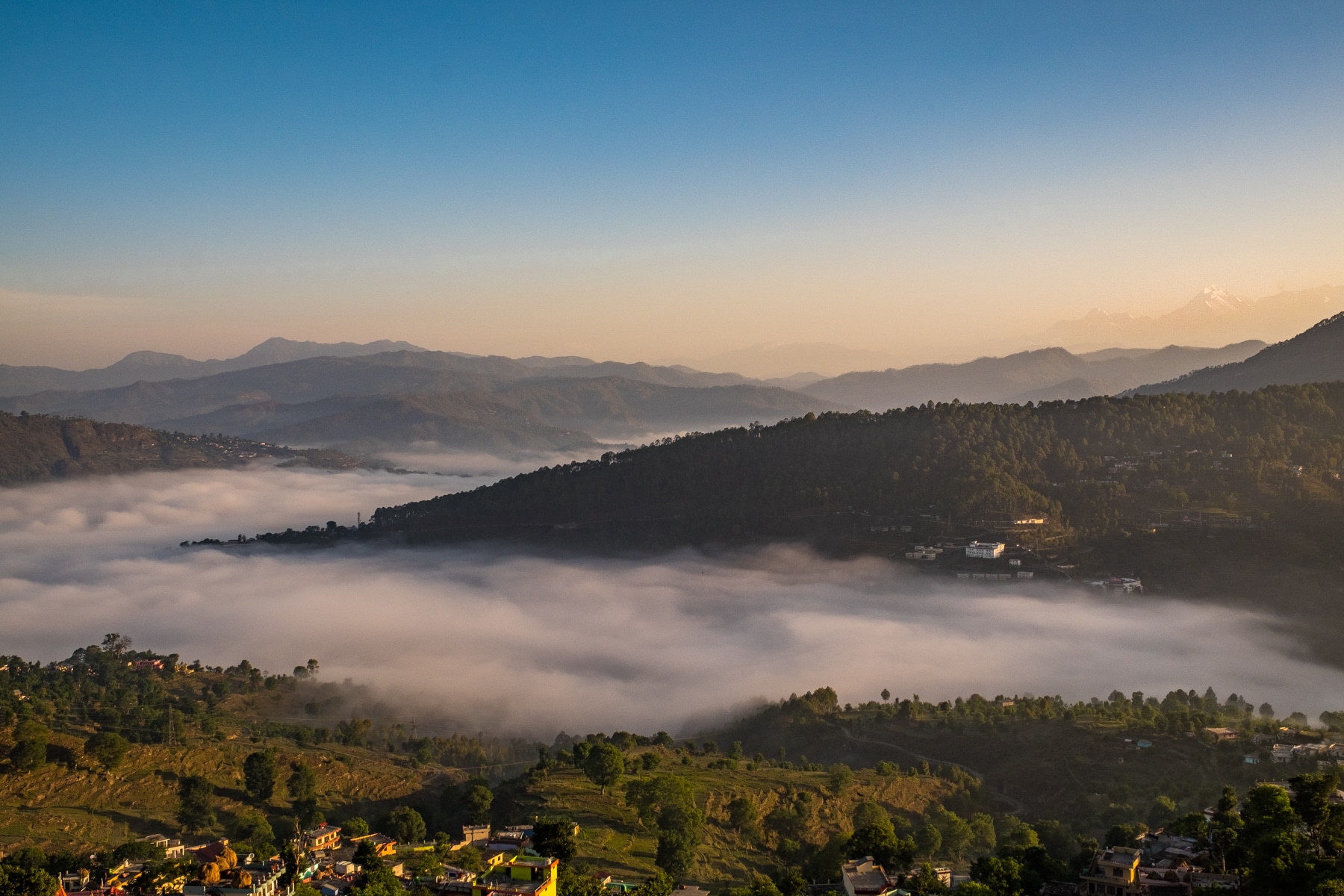 And I am pleased to say, Almora did not disappoint. As I walked out of the KMVN and on to the roof of the tourist information center opposite us, I was greeted with the most surreal sight. The valleys below Almora were covered with a thick layer of fluffy white clouds, bordered by sunlit green hills. And like an wondrous stark white crown poking out of the clouds, backlight by the rising sun were the beautiful shimmering peak of Trishul, towering over the city, valley and everything else around.
They weren't the best mountain views we would see on this journey, but they were our first and whet our appetite and resolve to move slowly and surely closer and higher into the Himalayas.
Turns out Ambika was right, and as always we were glad we chased a 'feeling'.
Some Useful Information:
Almora is located 82 km from Kathgodam which is the nearest rail head, and regular taxis are easily available to get there. Almora offers great Himalayan views and has many places to stay suiting a range of budgets.
Stay: We stayed at the KMVN which is located about a kilometer before the market area and offers clean, comfortable rooms which start at approx INR 2000.
Things to Do: For unobstructed Himalayan views, jump onto the roof of the tourist information center bang opposite the KMVN or the parking lot at the nearby mall which is about a 5-7 minutes walk down from the KMVN.
Visit the beautiful 9th Century Jageshwar Temple complex which is located about 30 – 40km from Almora.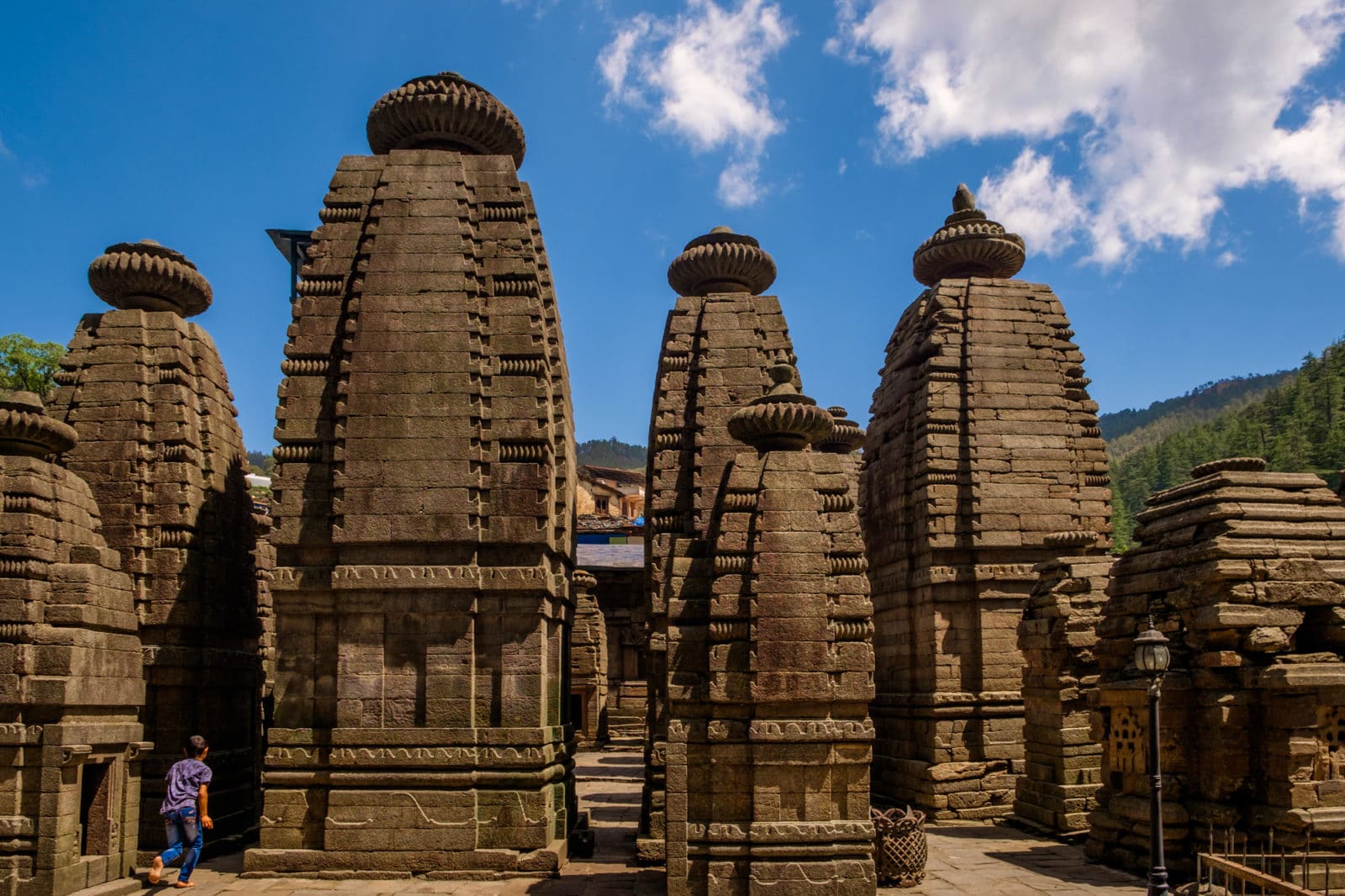 Eat: Dont miss the Singodi and Barfi at Khem Singh's and the Momos and Chicken soup at Kamla's little stall which is located on the road to the main market from KMVN.