One of the first places I ate at after moving to Bombay was Gajalee, thanks to a Maharashtrian friend. We went to the one in Vile Parle, an old establishment and local favourite as evidenced by the crowd outside. My friend ordered and we stuffed ourselves with several plates of fried bombil that simply melted in the mouth, prawn biryani, a mutton sukha and assorted roti.
It was probably one of the best meals I had ever eaten, my first introduction to coastal Maharashtrian food and I was hooked.
I have subsequently over the years eaten in several places across the city, many amazing dishes at well-known establishments like Highway Gomantak and Trishna or little thali joints with no names, but nothing has come close that meal, till recently.
While planning our recent Maharashtra coastal road trip, we crowdsourced ideas, checked Instagram feeds and carefully mapped out a list of places to eat. The road trip was largely sounding a lot like a food trip, which we love! We ate some amazing food, some average stuff and some forgettable meals in between. Here is a small list of the places we really loved, in no particular order, that we would definitely make the drive for again.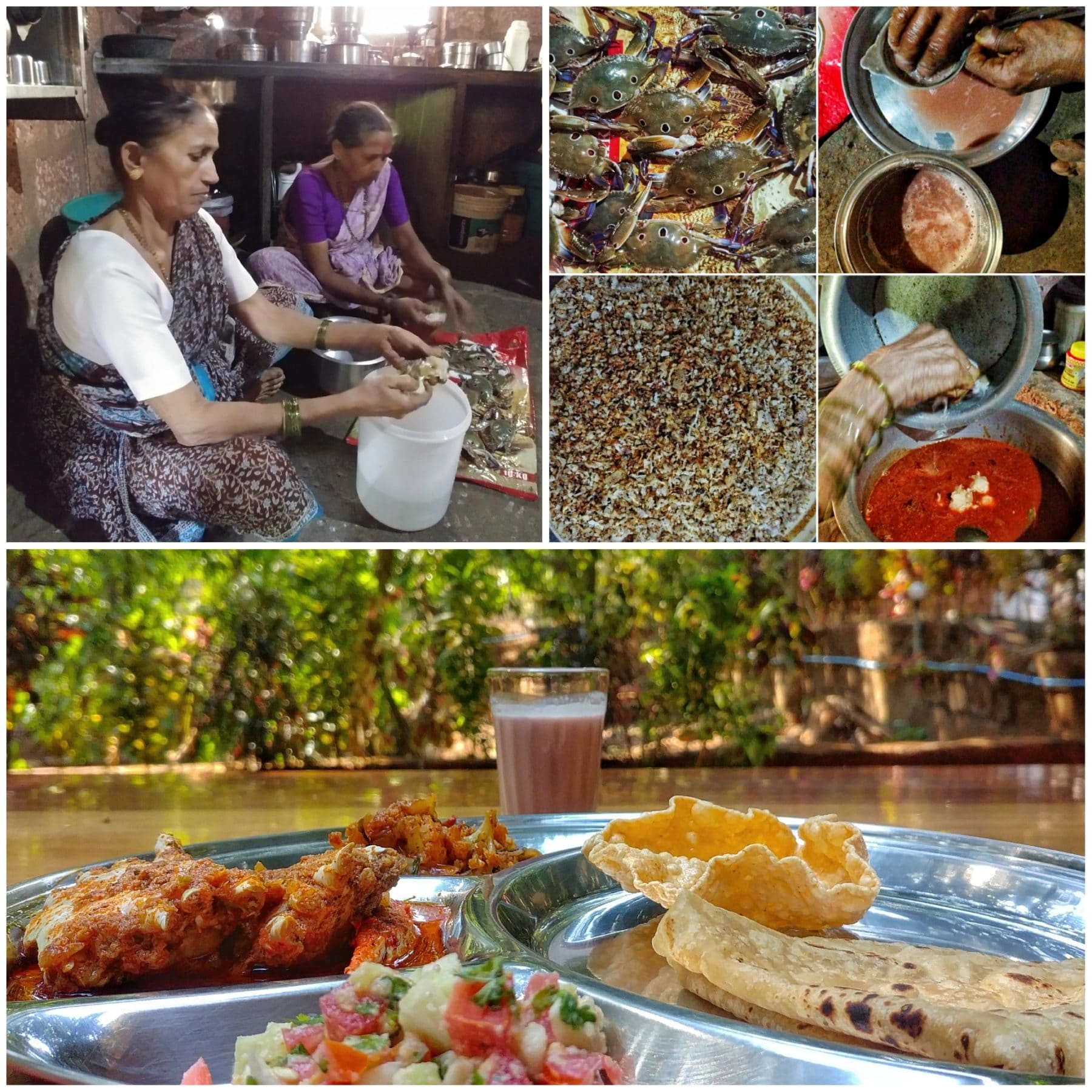 Village Nirvana, Naringre: We stayed at a serene homestay in this tiny village for a few days and while we will write more on that later, the food we had gets a special mention. Priya, a lovely young lady from the village takes care of everything you need and cooks the most amazing food.
I had finally found what I didn't know I was looking for.
Our first meal was the famous Malvani dish of Kombdi Vade, local greens, Malvani style dal with coconut bits, salad and the ubiquitous sol kadi. The dry-ish chicken was lightly flavoured with coconut and onion and went perfectly with the hot round vade made with a mix of rice and wheat flour. The meal was sublime and we couldn't wait for the next.
Priya makes her own Malvani spice mix involving over 15 spices, a recipe passed down from her mother, and has large vats of dried kokum in her home. There is a welcoming smell of coconut in her kitchen and she is happy to teach you a few konkani recipies. We gorged on crab rassa, rava fried prawns, surmai fry, assorted veggies and buckets of sol kadi, slightly sweetish unlike what we have usually had, all homemade.
We ate Valache Birdhe,  gravy made with field beans, coconut and lightly sweetened, a traditional CKP dish which was new and different. Village Nirvana is the perfect place to spend a family weekend, relaxing, playing games, reading and eating what is probably the most authentic Malvani food you will ever have (obviously for those not from the region, and if you are please feel free to invite us over for a meal ☺)
Vitals: Village Nirvana is a farmstay located in Naringre village in Devgad, Maharashtra. Its about 450 km from Mumbai and Kankavli is the nearest railway station. If you want to stay at the homestay you can book through Trippin Traveller here.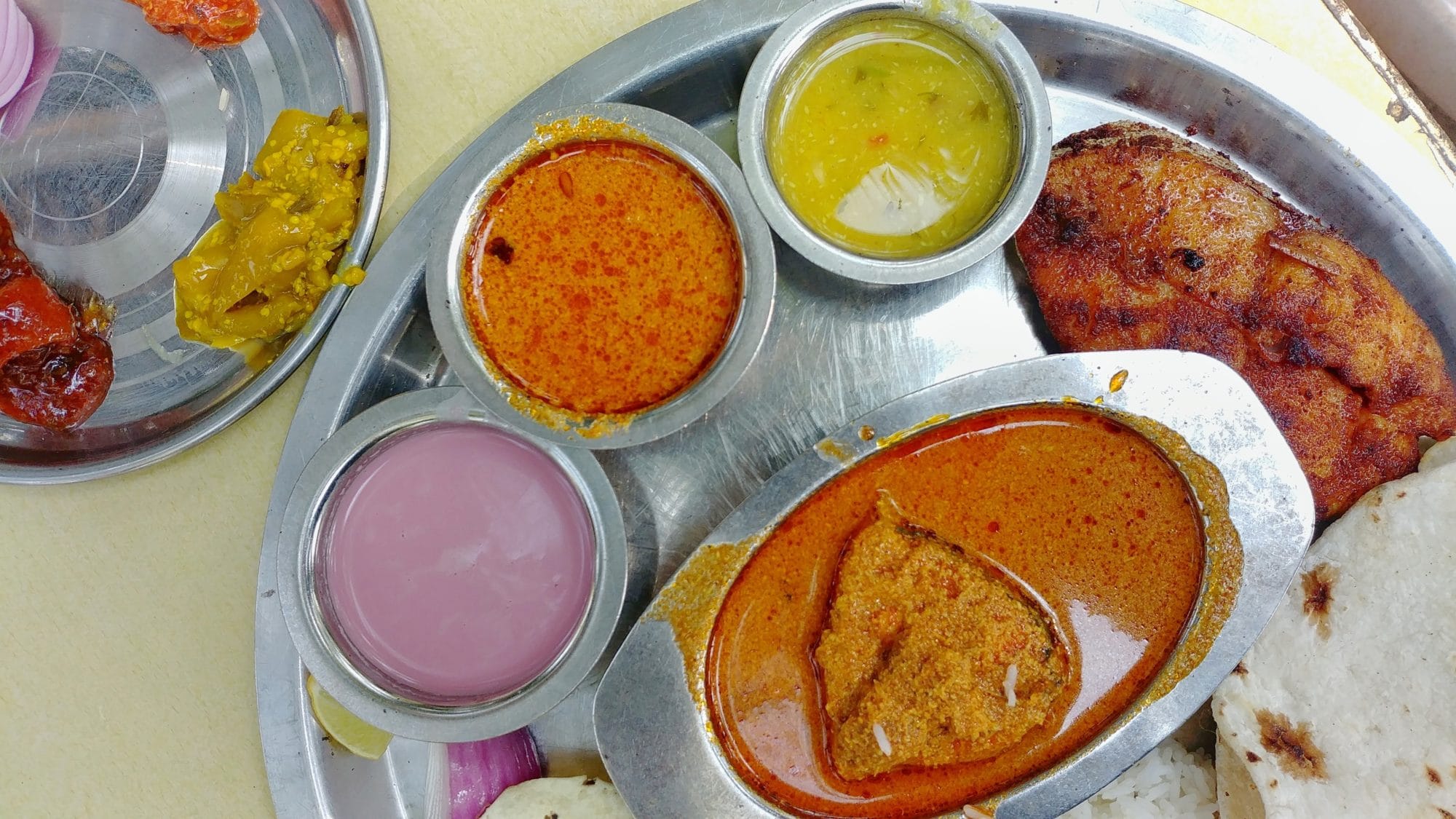 Patil Khanaval, Murud: A popular weekend destination Murud has an interesting fort to visit and a unique story of the Siddhi community attached to the region. It was our second stop in the Malvan region and as we entered the town we headed straight to Patil Khanaval for lunch.
Khanavals are traditional eateries along the Maharashtra Konkan coast that earlier used to serve lunch in or around their homes. Patil has become rather famous and now has a large indoor space and garden seating, though the kitchen is still rather modest. On the waiter's recommendation, we had one surmai thali and one mutton thali. While the mutton was good but ordinary, the fish thali that he is most famous for lived up to its reputation. Soft, moist and well fried, the surmai piece was cooked to perfection and the accompanying rassa was thick with coconut and yummy masala. As most local thalis, this one also came with a side of rice, sol kadi, varan dal, and either the regular wheat roti or the Konkan bhakri, a rice flour chapatti, which by itself is rather tasteless but serves to accentuate and balance the masala in the gravies. The meal, under tall coconut trees and cool sea breeze was immensely satisfying.
Murud is also great for the variety of seafood that is caught fresh every day, and you can pop over to the market, buy your fill of prawns, lobsters, crabs or whatever else you fancy and have one of the local small dhabas whip up something for you. We did that on our last day and had an excellent meal of fried prawns, lobster masala and roti all for Rs. 500.
Vitals:  Patil Khanawal is located on the main Murud beach stretch, there's usually a guy outside waving down cars, you can't miss it.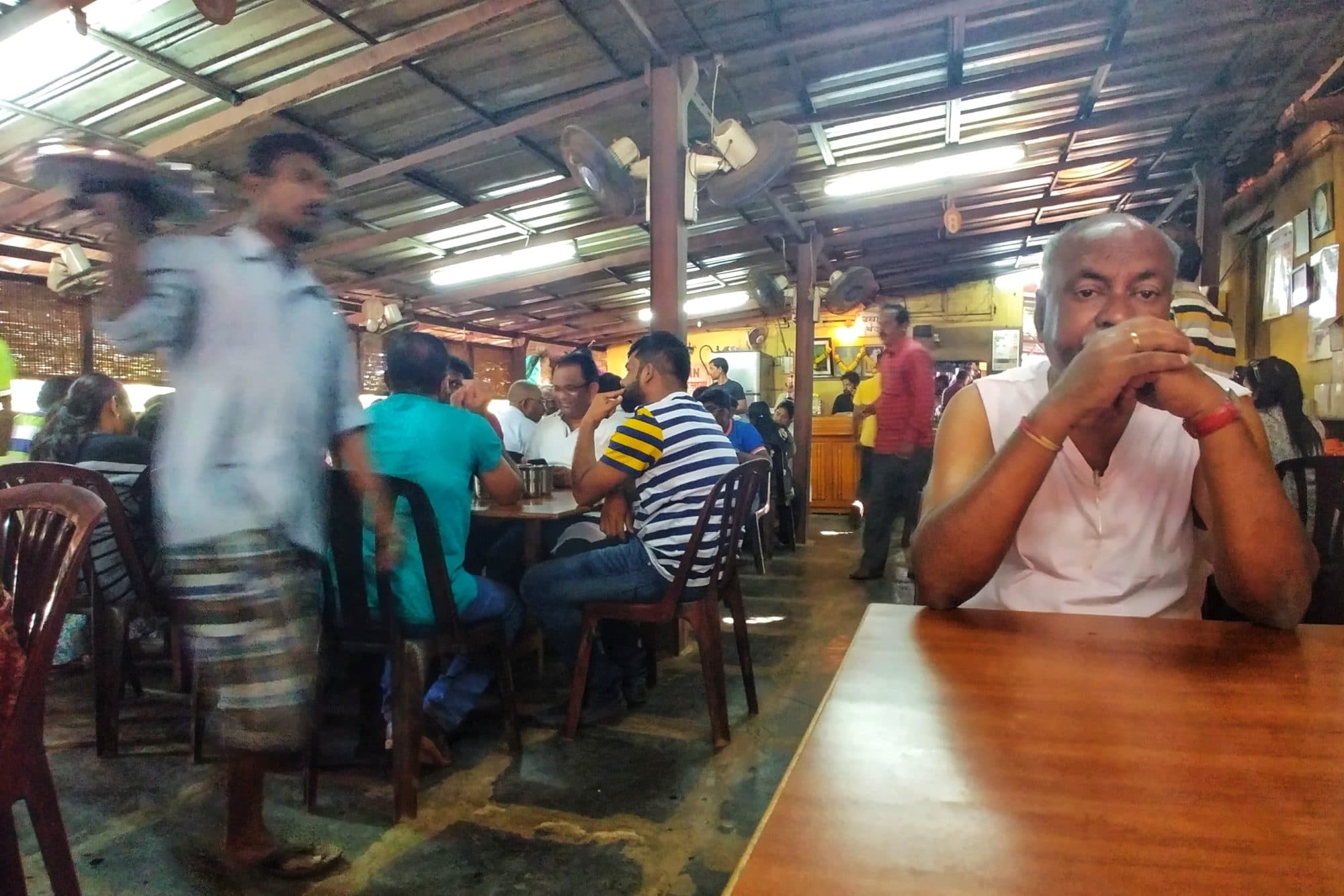 Bhalekar Khanaval, Sawantwadi: Less than an hours' drive to Goa, Sawantwadi is quite a nice little town with a large manmade lake in the middle, the old palace at one end and a row of shops and restaurants lining the other.
The palace is worth a visit, the Rajamata has brought back to life the old Ganjifa art tradition. While we didn't stay in Sawantwadi and decided to move ahead to the beach, we stopped at Bhalekar Khanaval for lunch.
It was a Saturday and the wait time was over an hour. We left and went back during the week and got a table in the tiny eatery packed with everyone from the local labourer to the fancy tourist. Upon recommendation from a local we had the mutton thali and a prawn thali with pomfret to share.
The mutton was probably the best we'd eaten, almost 10 days into the trip, and the prawn gravy was something we could drink buckets of. This close to Goa I expected a more Goan style gravy, but this was definitely Malvani with the now familiar kokum flavour fused in with the coconut. The eatery is rustic and basic but has a huge variety of seafood, including Gobra, Shark, Kalava (Grouper), Crab and a whole lot of others we didn't recognize on offer and while one doesn't come here for a leisurely meal, on our travels we have found that some of the best food is usually in these sort of places.
Vitals: Bhalekar is located about 1 km from Sawantwadi town and about 6 km off the old Mumbai – Goa highway (Highway 66), and makes for a good lunch detour if you are headed down that way.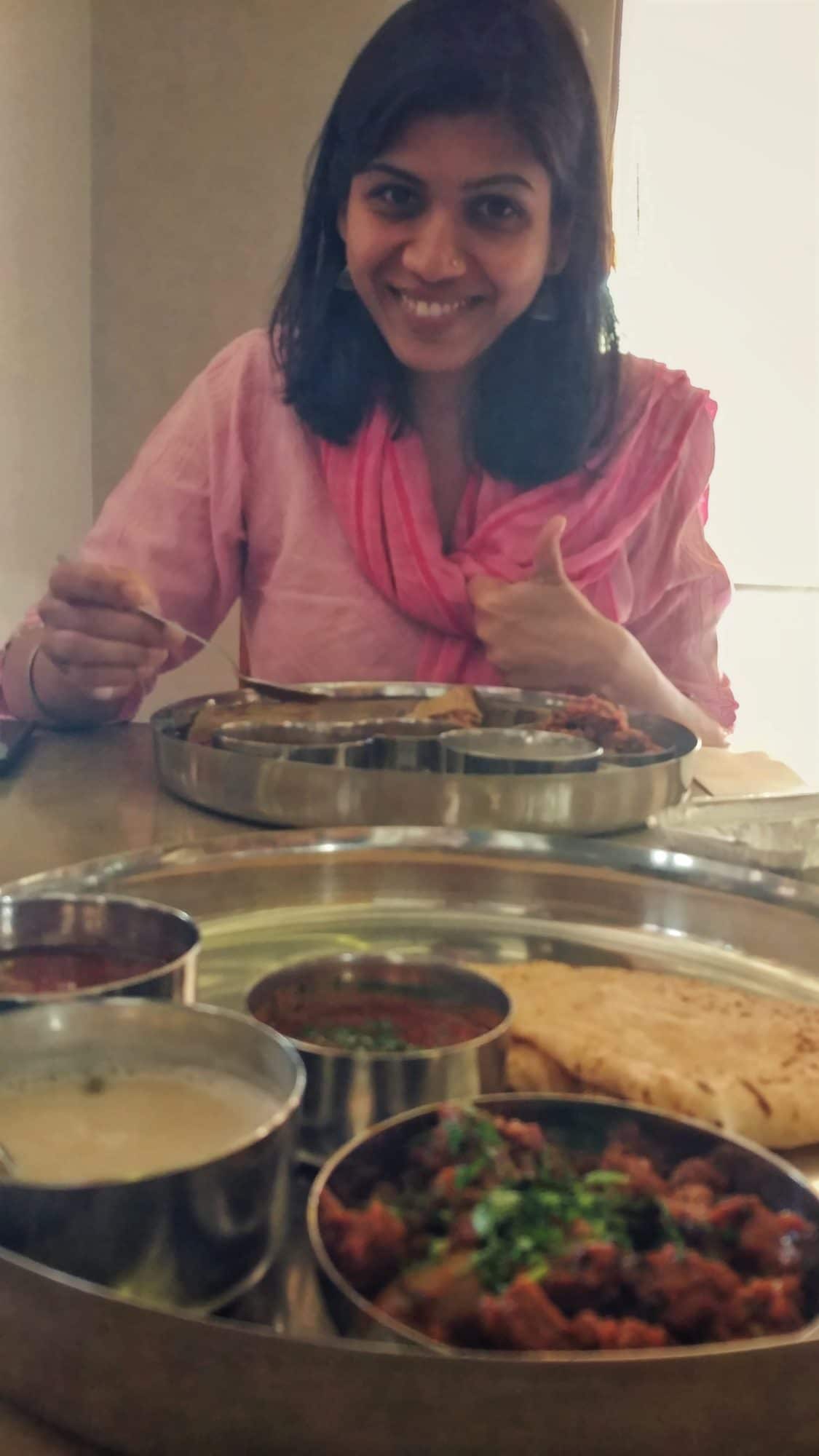 Dehati , Kolhapur: there is a common notion that Kolhapuri food is spicy, and the few dishes I had eaten before had been spicy. So when we tried a few different places on our Kolhapur stop, I was a bit apprehensive. But contrary to misconception all Kolhapuri food is not spicy and any place that makes everything spicy is not doing it right.
The cuisine uses a variety of local red and green chilies, and while some are spicy, some serve to add to the other flavours. Far from the coast, Kolhapur has its fair share of mutton dishes and our favourite was probably the unique Lonche, a traditional pickle flavoured with onion, garlic and cooked with coconut, sesame and poppy seeds, a recipe designed to last as the pickle was meant for travellers. The thali also comes with the spicy Tambda rassa, a red chilli based mutton broth and my personal favourite, the Pandhra rassa, a white mutton broth with coconut milk that one can drink like a soup. Excellent for winter evenings!
As always the sol kadi is present, as is the Koshimbir, a salad of cucumber or tomato and onion mixed with yogurt and sometimes chopped chillies. The city is also famous for its missal, and while we didn't sample any on this trip, we hear Chorge in the old town is the best.
Vitals:  Kolhapur falls conveniently just 4.5 kms off the new Mumbai – Bangalore highway (NH48) and makes a good stop if your are driving to Goa or Bangalore from Mumbai. Besides Dehati, Opal is also a great option for a typical Kolhapuri Thali and offers larger servings than Dehati with a unique cold Mutton Lonche. Both places also offer vegetarian options.