I've grown up surrounded by a free floating concept of Buddhism that has always been there in the air; in the stories of Tibet from my grandparents, in the vibrant thankas that hung in our home and in the heavy brass Tara Mata that dominated my mothers dresser. Like all school children in India I'd learnt about the quest of the prince who gave up his kingdom to find enlightenment and dutifully visited Buddhist temples with my grandmother, a follower of the faith. It wasn't until I first went to Dharamsala as a young adult and met His Holiness The Dalai Lama in a private audience with my family that I began to wonder about his convictions and struggles and about a faith that is so entrenched in India yet peacefully co-exists and is neither loud nor in your face.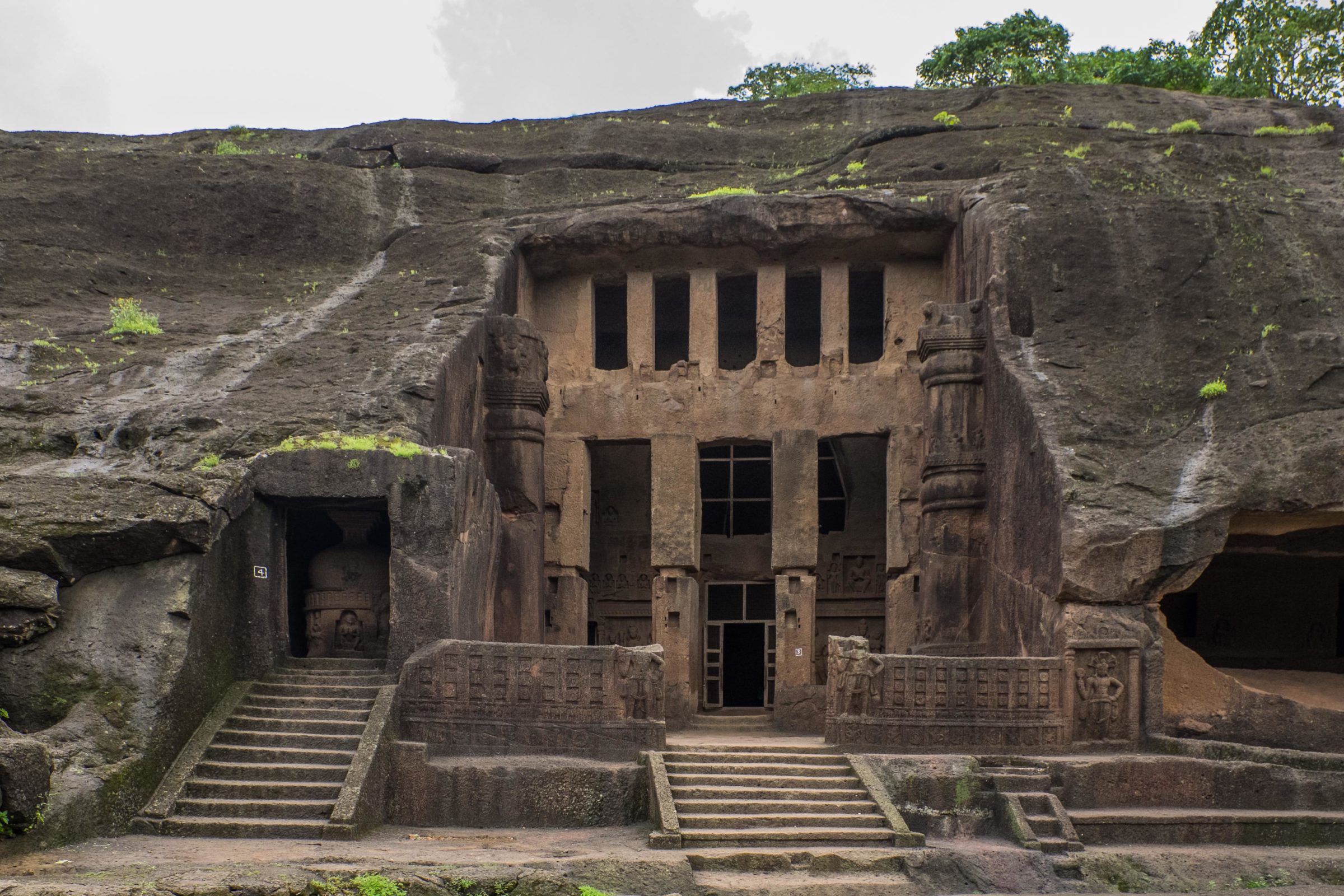 During our travels in the last two years we have come across many Buddhist sites, from the smattering of caves in the heart of Bombay to the stunning caves of Ajanta and the sprawling monastery and stunning temple in Coorg, Karnataka, the first major Tibetan settlement in India. Little known caves and stupas dot the coastline from Odisha down to Andhra, the monks travelled far and wide, and the second largest monastery in the world can be found in Tawang, Arunachal, a serene place with striking colourful frescos that cover the walls. Yet in India, it is Bihar that holds place of pride in the Buddhist circuit and trail, not only for Bodhgaya and the famous Mahabodhi Tree, but also because this is where that young prince spent the majority of his life, attempting to understand life and man, spreading his scholarship and new religion.
If Bihar is the historic centre of Buddhism in India, then Bodhgaya is its heart. It is here that 25 centuries ago, young Siddhartha sat under a Peepul tree, perhaps confused and disheartened, vowing not to rise till he attained supreme awareness. And thus was born the Buddha, and a philosophy that spread through all of Asia, largely without the support of military crusade and crushing destruction. The world's fourth largest religion finds its epicentre in tiny little Bodhgaya, filled with large monasteries, beautiful temples built by other nations in their own inimitable style and form of worship, and a serenity that pervades the air despite the constant bustle.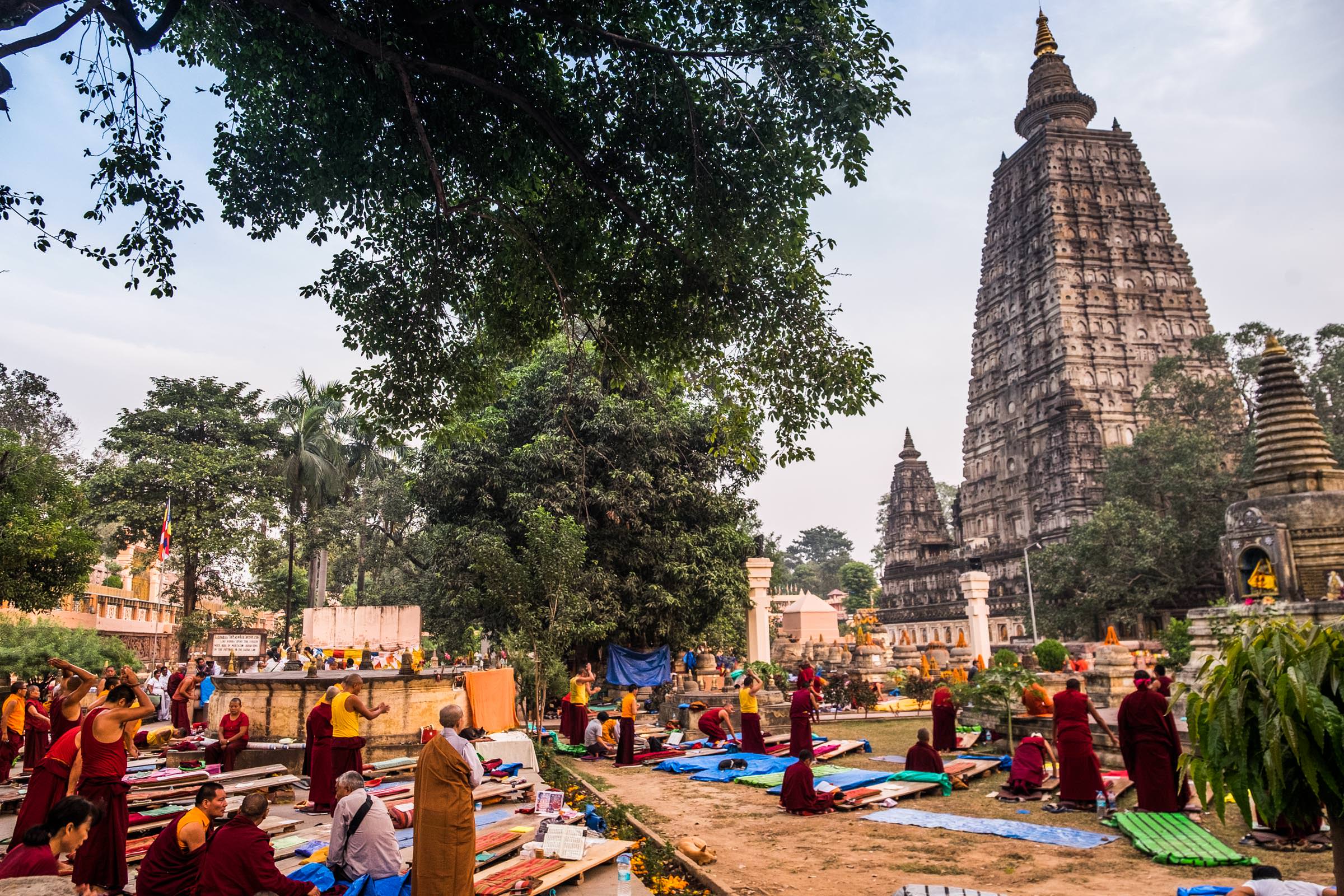 Winter sees an influx of pilgrims, monks and tourists, and Bodhgaya is transformed into a carnival of orange and red with several Asian languages mingling in the cool morning air. While time spent under the Mahabodhi tree, apparently the fifth descendant of the original tree, brings a sense of peace and tranquillity, a visit to the many temples and monasteries gives one a glimpse into the nuances of Buddhism practiced around Asia. This is where it all began!
But it is not just Bodhgaya that is venerated in Bihar, full of other important Buddhist sites. A couple of hours from Gaya is the ancient university of Nalanda, now a UNESCO site, and probably one of the best maintained ancient sites we have seen. Once a site of Buddhist learning, Nalanda University flourished under the Gupta empire in the 5th and 6th century, attracting students from as far as central Asia, China and Korea. Today, walking the same path as the Buddha and Mahavira, Aryabhata and Xuanzang, I thought about the other important centres of learning around the ancient world and their tolerance for different religions, arts and science. A tolerance that seems to be lost today.  The ruins of Nalanda now attracts tourist from around the world, with the ASI museum and Xuanzang Memorial Hall, an Indo-Chinese undertaking to honour the famed Buddhist monk and traveller, providing a glimpse into life centuries ago.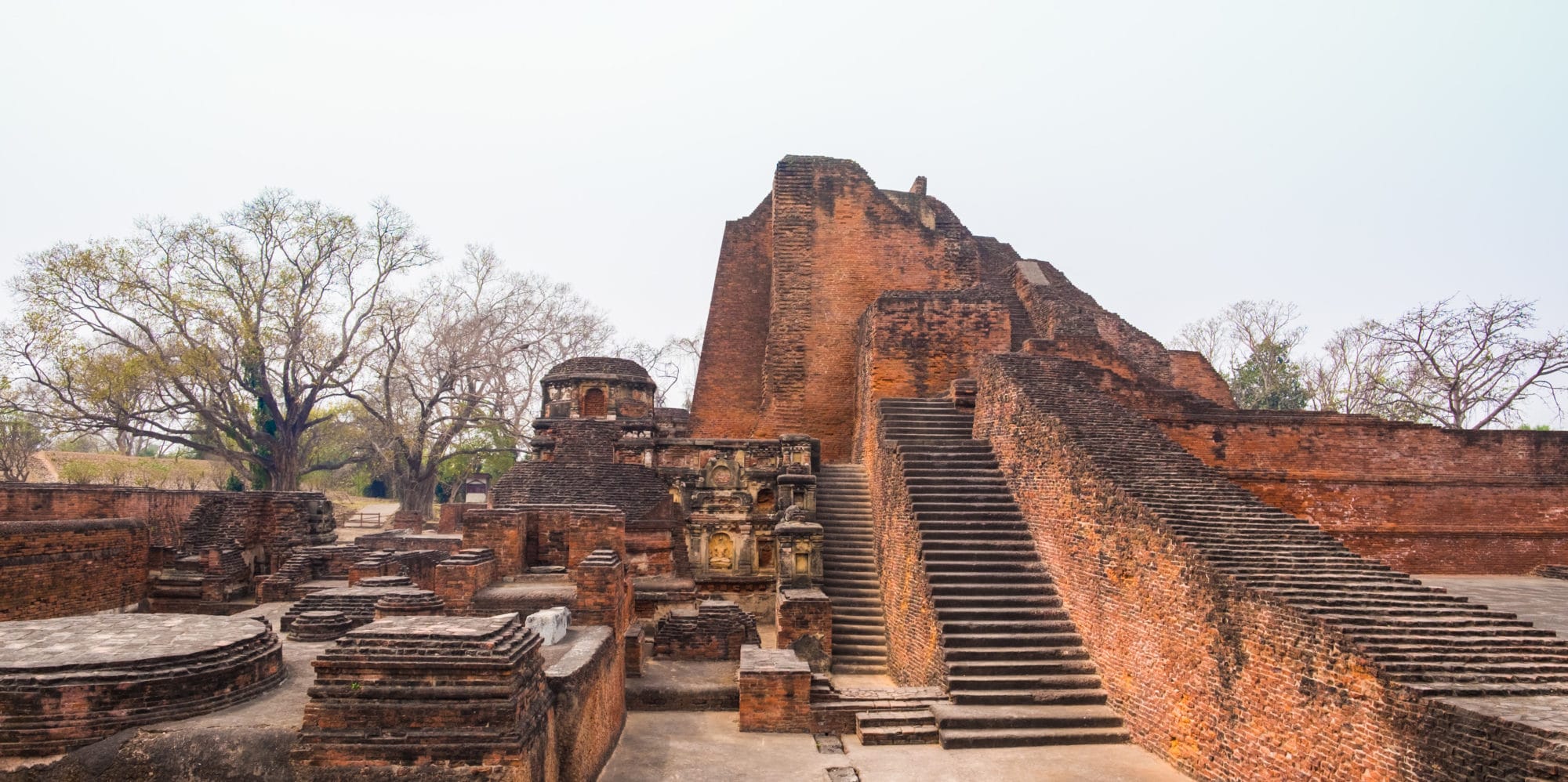 Not far is the Vishwa Shanti Stupa in Rajgir, where the Buddha is said to have taught for many years, gathering disciples and students. An important pilgrim spot for followers of Jainism, Rajgir is like any forgettable Indian hamlet, with one small exception. The only mode of transport in town is the horse cart, rather a fun experience, albeit a bit bumpy. Just outside town is the Buddhist stupa and peace pagoda built in 1969, accessible by a ropeway, which looks rather rickety but is quite safe.
Much like other peace pagoda's, this one too is painted a brilliant white that reflects the harsh sun with four golden statues of the Buddha on four sides. The design and plan is similar to the stupa in Vaishali, a couple of hours north of Patna. Both Rajgir and Vaishali, along with two sites in UP, form the second tier of important Buddhist cities, each having an important place in the life of Gautam Buddha. It was in Rajgir that he delivered some of his famous sermons, King Bimbisara of Magadha converted to his faith, and the first Buddhist Council was convened. In the ancient city of Vaishali Gautam Buddha preached his last sermon before his death in 483 BC.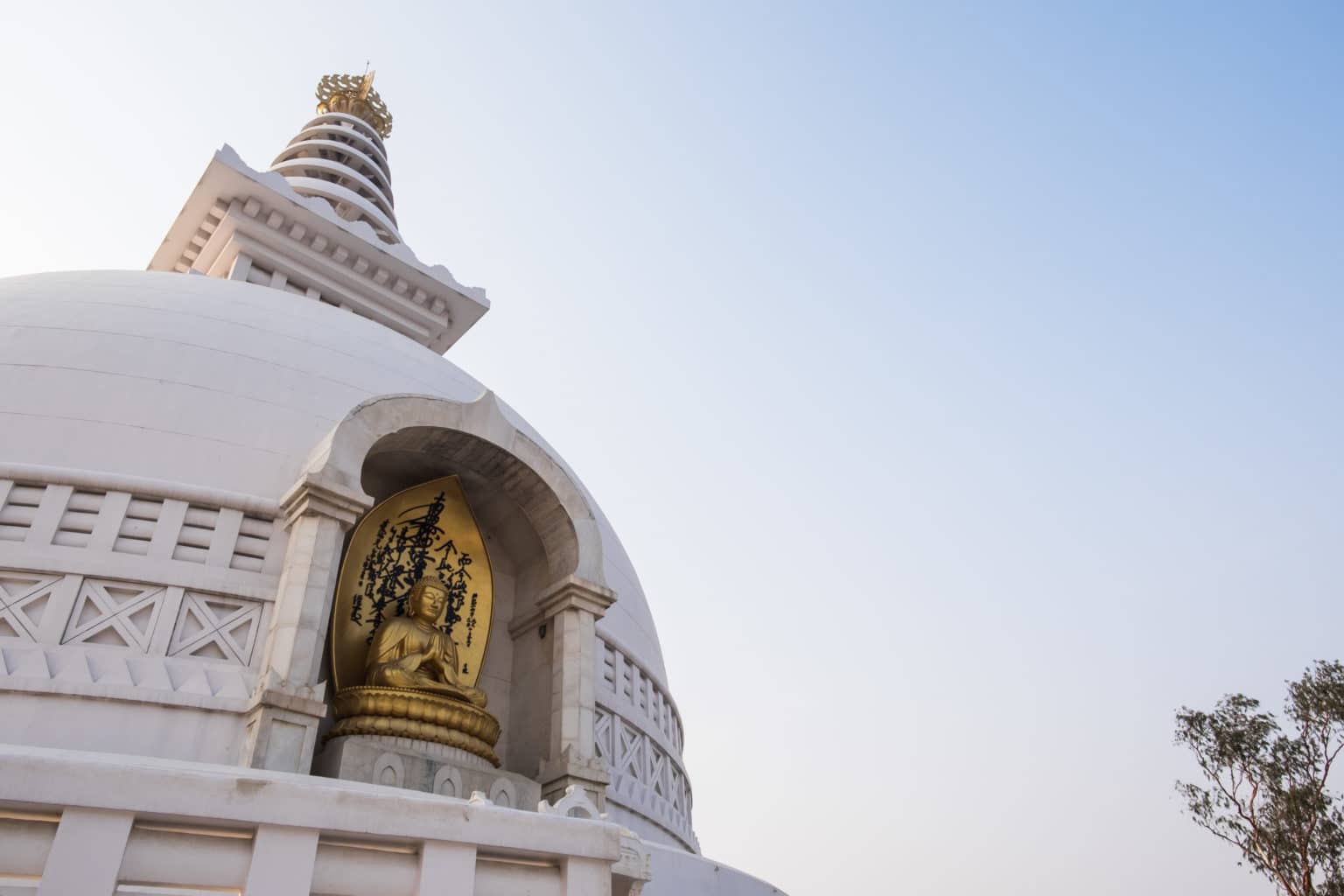 At the site of the ruins of Vaishali, reconstructed red mud bricks similar to Nalanda, also stands an Ashoka pillar. Of the many erected by him only 20 remain, some with inscriptions and few still with the famous lion. The one in Vaishali has no inscription but stands tall in the memory of one of Buddha's earliest and most famous disciples. The site of the stupa at Kolhua is also where a monkey is said to have offered a bowl of honey to the Buddha, one of the 8 significant events in the Buddha's life. Vaishali is also where the Buddha is said to have inducted the dancer Amrapali into the Buddhist priesthood, thus paving the way for generations of women to become Buddhist nuns.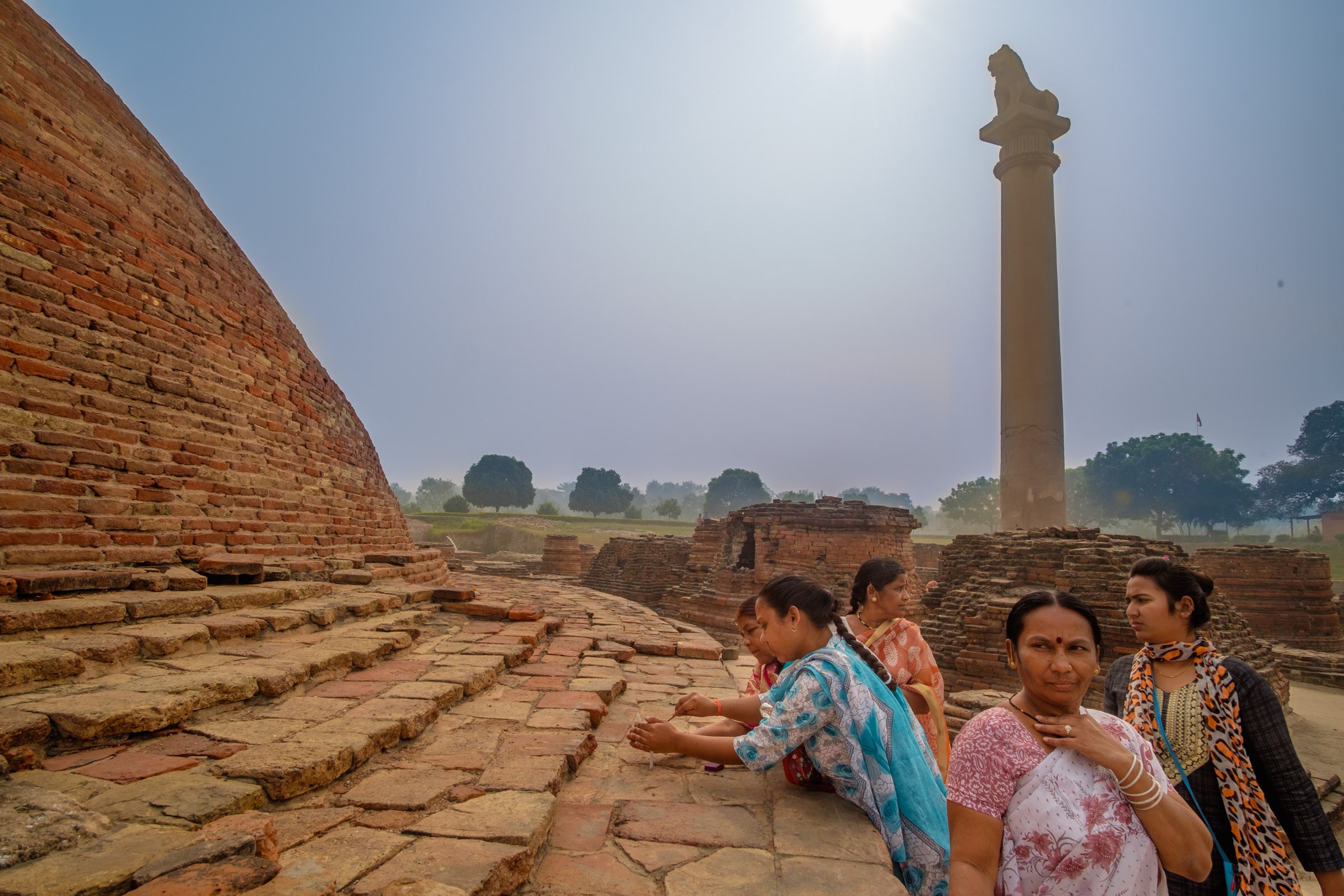 Through Ashoka, the teachings and ideology of the famous prince who renounced his life in search of meaning spread far, and in Kesariya, one finds the two-thousand-year old stupa, purportedly built by the Lichhivis to venerate his life. It is also believed that the present day stupa might have been built a few hundred years later, though investigations by the ASI are underway. The Kesariya stupa was only recently discovered and much of it is still covered in thick vegetation and soil. The largest in the world, the stupa, which deceptively looks like a hill from a distance, has five large terraces with niches all around that would have once held grand statues. The empty niches and defaced statues speak of an unpleasant time in history that attempted to stem the growing appeal of Buddhism and root out the teachings of the Buddha.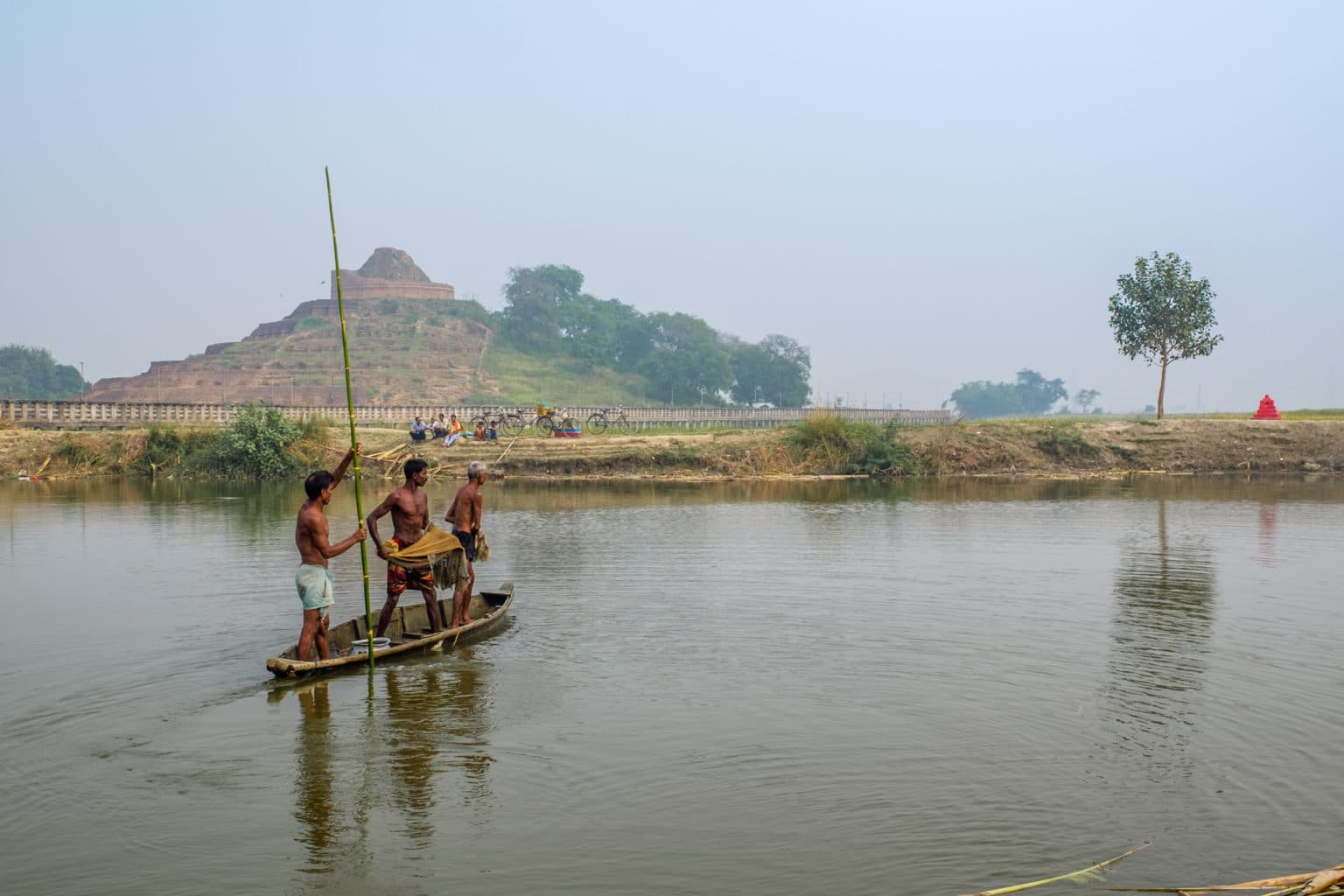 Interestingly the Stupa here, said to be built somewhere after 200  AD looks like an early version of the stunning Borobudur temple built 500 years later in Java, Central Indonesia, over 6500 kms away.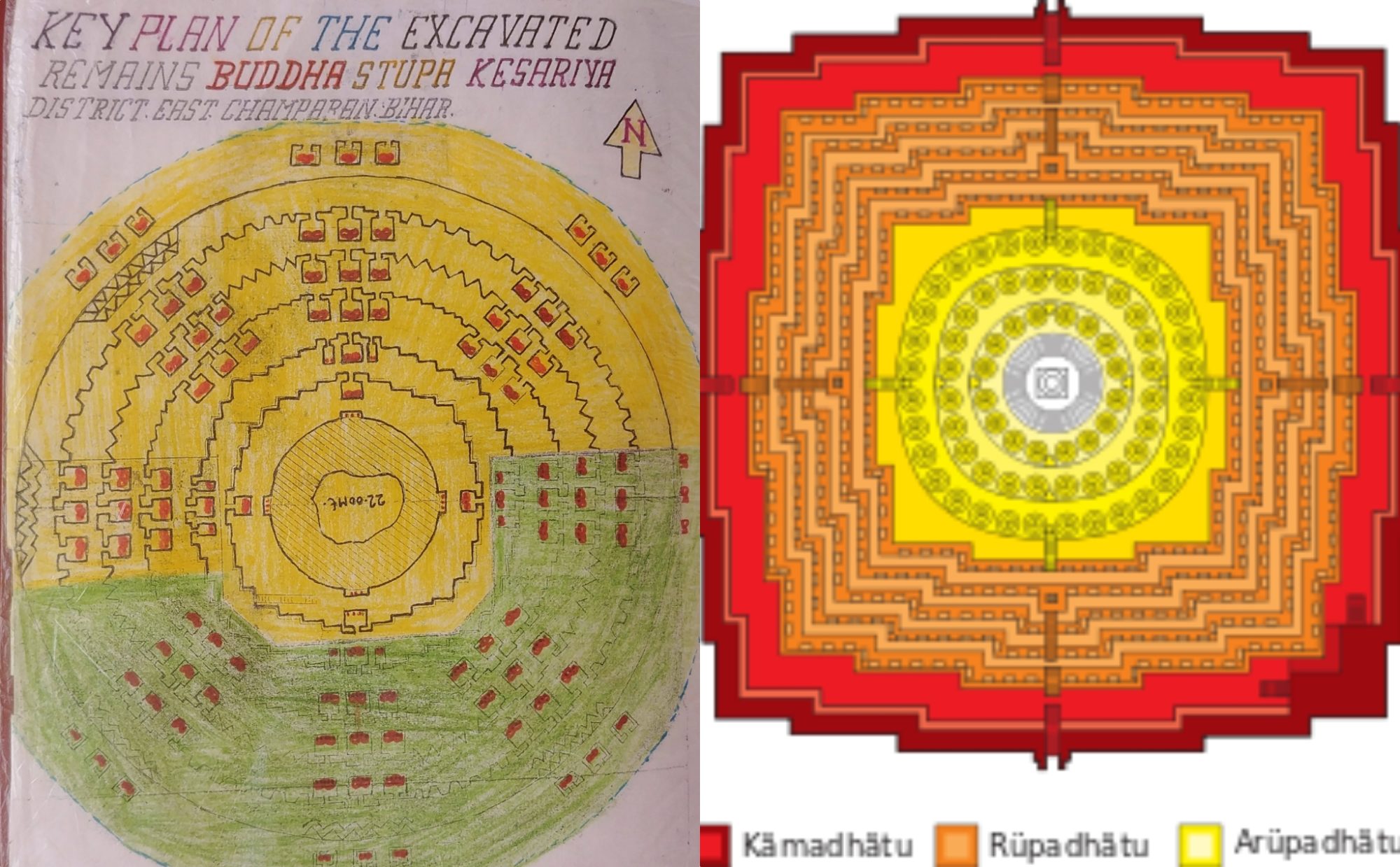 It is said that Siddhartha went through many years of severe deprivation, living in austere meditation, having left the confines of lavish comfort in Kapilavastu, till he found salvation. Following in his footsteps on the Buddhist trail in Bihar is not easy. Information is sparse, infrastructure is minimal, travel long and on our meagre budget tiring. But each site, well maintained or in a state of disrepair, has a certain aura of stillness, that time and humans have not been fully able to destroy. His life and teachings are well documented in a new museum in the Buddha Park in Patna, through art, audio visuals and sculptures. In following his footsteps, through whatever means possible, one can attempt to put in context that extraordinary life, that above all teaches balance and moderation and universal love, values that are much needed in today's world.