Long before we started our travels across India in trains and buses and became so called travel bloggers, long before we travelled as individuals, we travelled in our minds, aided by the words of those who went before us. The travel book or travelogue style of writing has always intrigued and inspired and filled us, and many others, with a urgent sense of wanderlust. The best travel books will not only paint a picture of a place but include you in the journey, placing you right besides the author, where you see the same vistas, smell the sweat and spices, taste the same food and experiencing if you will, through your own prism, the highs and lows of the journey.
More than anything, good travel writing will stir you to set off on your own journey of discovery, or perhaps even reDiscovery ;). If you're looking for some motivation to set off on your next adventure, beyond our humble little blog, we recommend some of our favourite travel books. Whether by giants in the fields and or perhaps others who are relatively unknown, these stories will urge you want to set off on the next trip and we dare say teach you something about life and people along the way.
There are off course too many great travel books to list here, but these are 7 of our favourites in no particular order.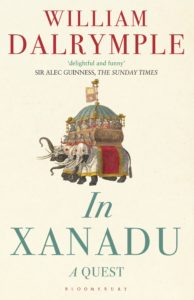 William Dalrymple is probably one our favourite travel authors and in our humble opinion, probably one of the best to ever write about travel. In his first book, In Xanadu, a young Dalrymple sets off on an epic journey from Jerusalem to Kubla Khan's former summer palace of Xanadu in modern day China, tracing the 700 year old journey of a young Marco Polo on the old Silk Road. Travelling however he can with very little money, he backpacks through wastelands and deserts, disputed borders and regions fraught with strife and incredible history. His willingness to go many an extra mile just to see that one remaining wall of a once flourishing empire is something that resonates with and inspires us. Dalrymple transports you, as only he can, to the scene of his adventures always providing a historical context to his experiences, writing with empathy and humour and a rare understanding of the people and cultures he encounters along the way. Never tedious and always entertaining, this book signalled his arrival to the world.
Once you are done with In Xanadu here we suggest you read The City of Djinns, Dalrymple's fascinating account of the year he spent in Delhi, tracing its history and those of all its colourful characters through magnificence and plunder, all the way back to the time of the Mahabharata, and uncovering many of its secrets along the way.
Once Upon a time in the Soviet Union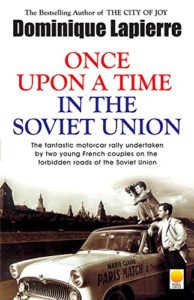 Dominique Lapierre is probably best known for City of Joy, his story about life in Calcutta's Pilkhana slum and Five past midnight in Bhopal on the union carbide explosion that cost hundreds of lives and changed a generation forever. This book however is one of Lapierre's earlier and lesser known works, about a journey he undertook with his then colleague Jean – Pierre Pedrazzini from the French news magazine Paris Match, and their respective wives, across the length of the Soviet Union in 1956.
The journey is path breaking, as they were the first western journalists to obtain permission from the Soviet Union government in the early days of the cold war to drive (and photograph) the length and the breath of the country in their own car. This epic 13,000 km road trip opened up a place and people, behind the iron curtain, in a hitherto unprecedented way, to the wider world, at a time when there was apparently only one fuel station in the whole of Russia selling high octane fuel and automobiles would remain an alien sight in the Soviet countryside for the foreseeable future.
Read Once Upon a time in the Soviet Union, for a experience akin to what it would be to travel in North Korea today and if you haven't yet do pick up City of Joy and Five past midnight in Bhopal, neither can be called travel books, but both are excellent reads.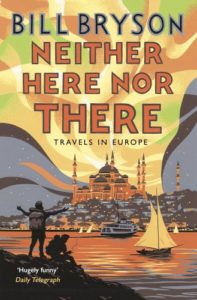 If there's one author in the world who has the ability to convert the everyday mundane into roll on the floor funny prose its Mr Bill Bryson. Most folks know him for his quirky take on science and natural history in a Short History of Nearly Everything, but what he excels at are his travel books. In Neither Here nor There Bryson retraces a journey he had first undertaken 17 years earlier through Europe, from Norway to Istanbul, and ruminates, in his own inimitable style and self deprecating humour, on the way the continent has changed over two decades. Sometimes romantic, sometimes dreary, but always caustic and snort out of your nose hilarious, this is typical Bill Bryson. We don't always agree on books, but Bryson, a perfect companion in random hotels in small town India or on a particularly dusty bus ride is the perfect companion to take life a little less seriously.
You can pick up any of Bill Bryson's many travel books about his journeys through Britain, Europe, Australia and American, they are all excellent reads! We are waiting for him to do a book on India, now that would be something!
The Last Pink Bits: Travels Through the Remnants of the British Empire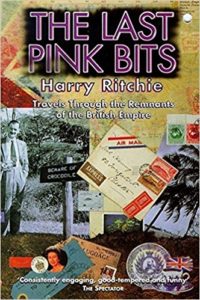 This is probably one of the lesser known books on this list and we chanced upon it in one of those second hand book sales where they sell books by the kilo, and boy what a lucky find! The book traces the authors journey through the last pink bits as he describes them, the last outposts of the British Empire so to speak. Probably unknown to most, Britain still holds on tenuously, though largely only in name, to 17 far flung territories, across the globe. Some of these are uninhabited and inaccessible but the author took it upon himself to visit a few including Bermuda, Ascension Island, the Falkland Islands, Gibraltar, the Turks and Caicos Islands, Tristan da Cunha, and St. Helena. In an engaging and easy writing style Ritchie takes us to each of these territories to let us in on the truth about the current state of the British Empire and the fact that its no longer very British!
If It's Monday, It Must Be Madurai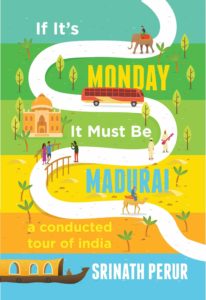 We have never been group travellers, except for our one foray with a group in Kerala, and so when someone suggested Srinath Perur's book on his experience of travelling with tour groups across India and abroad, we were intrigued to say the least. Perur's style is breezy and his description of travelling on a tour bus filled with religious tourists singing devotional songs falls somewhere between excruciating and hilarious. One can identify with his flabbergasted reaction when on a tour of Rome, the group does not visit the Colosseum but instead stops at a nearby hill from where a good view of the monument can be had for photographs and selfies! A scene we have seen too many times on our travels across India! From travelling with a group of sex tourists to Uzbekistan to participating in the western tourist ritual of the 'authentic' Dharavi tour, Perur's ten stories and the insights gleaned from them are varied, honest and entertaining. What are his thoughts on conducted group travel? Is he a convert? You'll just have to read and find out!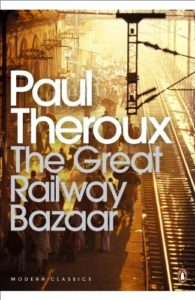 Trains have always held a special place in my heart; as a kid the journeys were frequent and fun. Long haul cross country trains meant tons of Archie Comics, Tintin, assorted other books, snacks at every station and the ever changing landscape of India. When we embarked on our journey two years ago, trains were an integral part and we both found that little had changed. From the clang and rattle of metal to the numerous wares on sale, the experience of an Indian train is unique.
Theroux's four month journey by train in 1973 from London through Europe, the Middle East, India and South-East Asia felt at once familiar and exciting. A classic in the genre of travel writing, Theroux paints a picture of what he sees from the train and people he meets on the journey, not necessarily of the places the train goes through. Like that middle aged uncle on an Indian train, Theroux is ever ready for conversation and you see the world through his lens, almost wanting to bump into him on your next train journey.
While the world has changed in many parts, the book is still a great read, especially on those long journeys where the Indian railway 'bazaar' is still alive.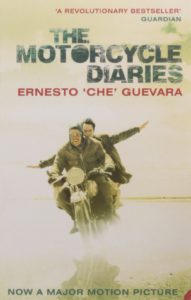 The travel memoirs of Ernesto Guevara needs little introduction. Along with his friend Alberto Granado, a biochemist, a young Guevara, a medical student, leaves Buenos Aires in January 1952 on the back of  single cylinder Norton 500cc to explore a Latin America he had only read about. By journey's end they had covered over 8,000 km, and the revolutionary 'Che' as the world knows him was born. This classic coming of age story has resonated with people through the years, prodding many to undertake similar journeys, but at the very heart of this honest telling, is the adventure of a young man into the lives of people he didn't realise existed. He brings to the forefront the struggles of many, struggles he later takes on as his own, forging a bond with indigenous tribes, awed by ancient civilisations, troubled by the poverty he witnessed, and the literature he was inspired by. While we are no Guevara, in our own small way, we attempt to bring to the forefront the myriad experiences that is India, and thus take inspiration from his journey and adventures, and constant resilience.