Our journey across Goa was full of new revelations, adventures, uncovering different parts of the state and exploring areas that we hadn't even realized existed. From stunning waterfalls to pre-historic rock carvings Goa seemed to pack in a lot and was this weird curious mix of Goan, Konkani, Portuguese, Hindu and Christian history and culture. So in keeping with the theme of travelling across Goa that was everything but the beach, we decided to spend a few days on the state's largest riverine island, Divar.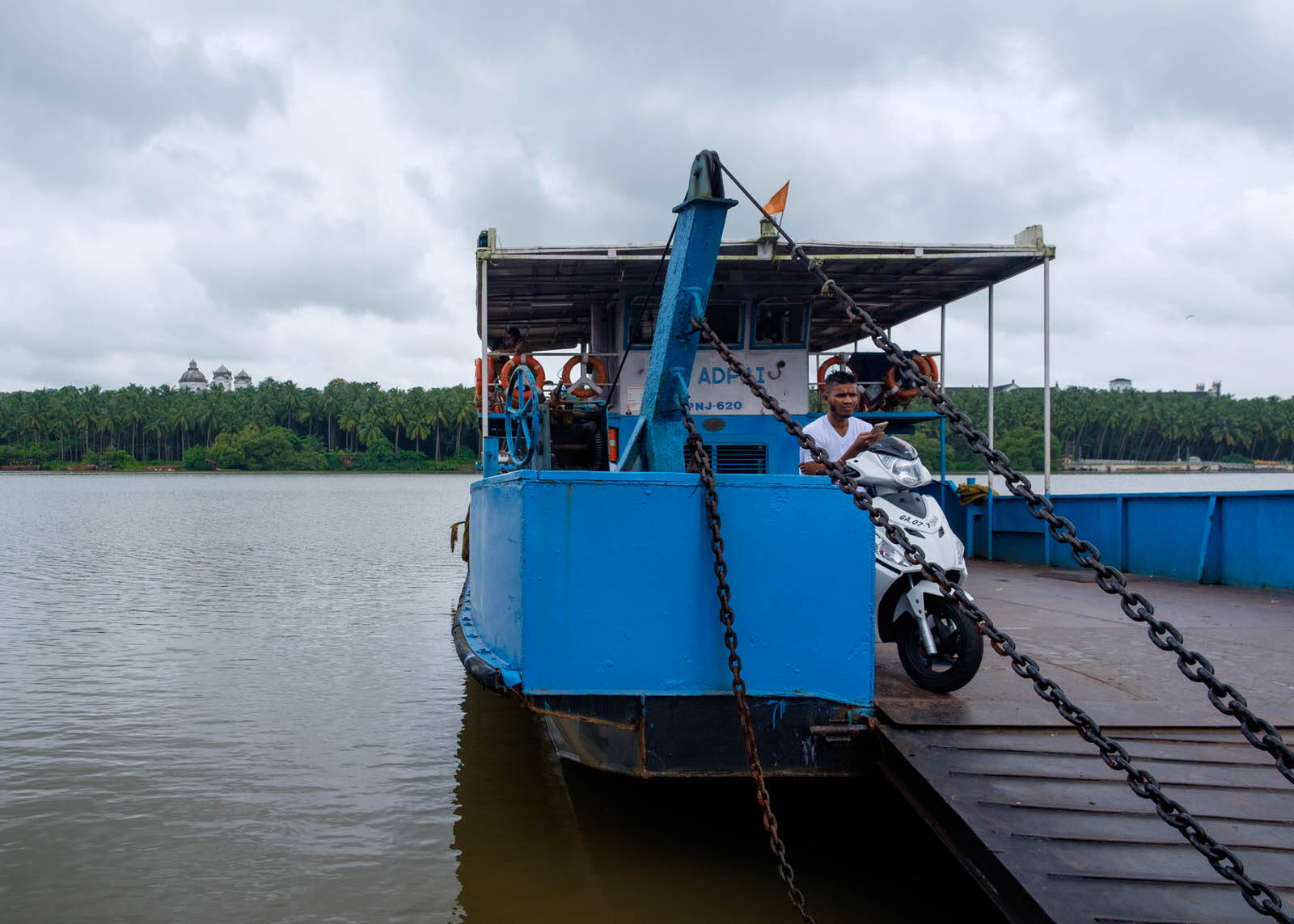 Accessible only by ferry, Divar Island was once the home of the rich and (probably) famous of Panjim society and to some extent still is. Many had holiday or second homes on the island, large sprawling mansions that were surrounded by lawns, trees and a lot of silence. Apparently the affluent collectively ensured that a bridge was never built to connect the island to the mainland, to maintain exclusivity and its unique character, and though the reasons have changed, resistance to a bridge  remains till today.
Which is really not a bad thing!
For one, driving your car onto the ferry and making the short ride across the Mandovi is in itself a pretty fun experience, especially when the ticket is a princely sum of Rs 7 !! (only for cars, free for folks on foot or bikes!). However when we drove off the ferry onto Divar Island, it is easy to see why locals resist an influx onto the island and we were glad for the limited access.
Surrounded by marshlands with a small network of single lane roads that see more birds than cars, it sort of feels like you've entered another space or dimension, one where time has slowed down (even by Goan standards!) allowing you to feel and savor the moment.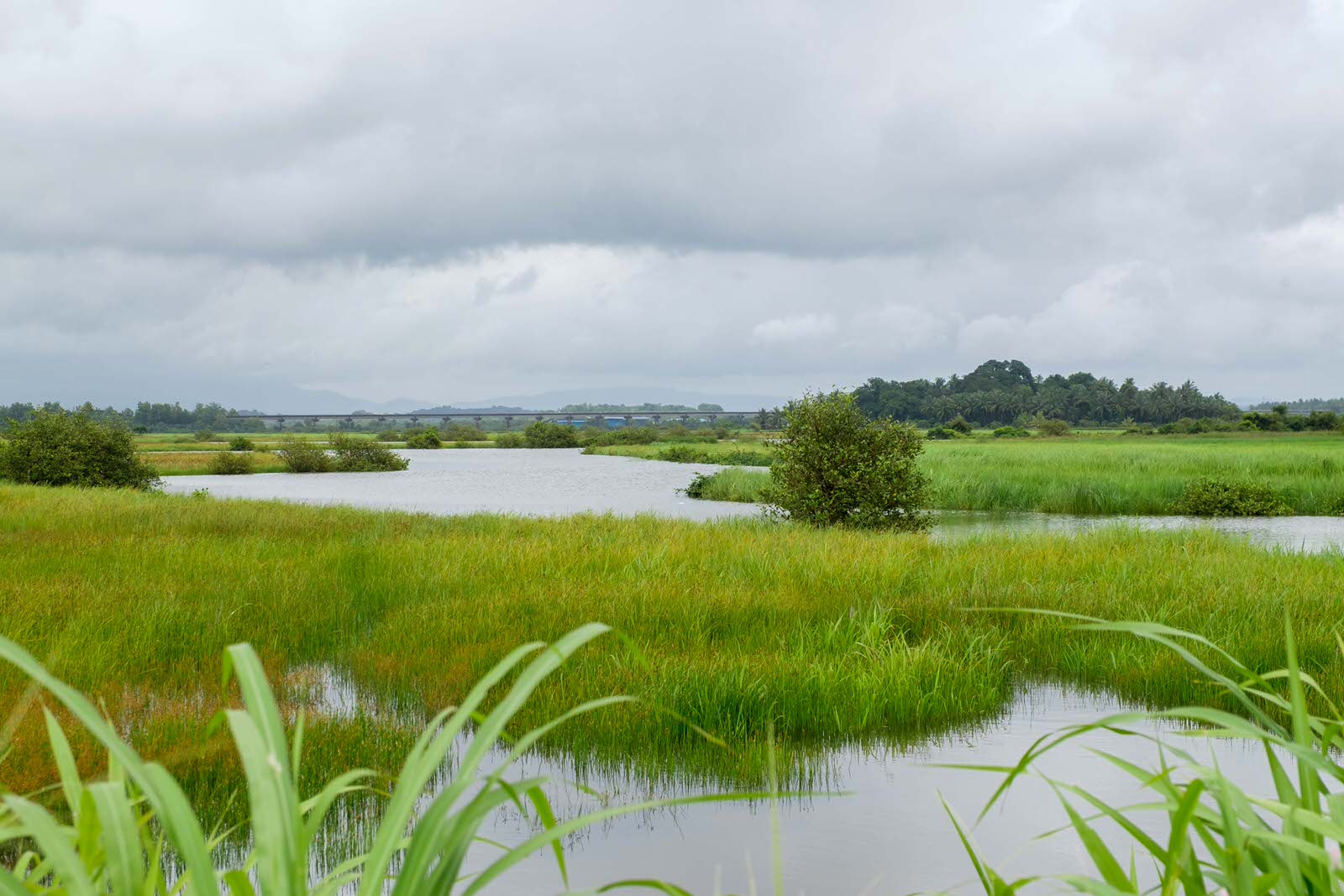 We'd already spent a few days in Panjim exploring the lovely little area of Fontainhas, similar to the old Barrios of Lisbon, and marvelling at the grand churches of Old Goa. We'd seen some splendid old Goan mansions with strong Portuguese influence in colour and design, and driven through many cute little villages with the trademark yellow and ochre homes, red tiled roofs and sleepy lanes. Time had already slowed down for us, something that is characteristic of Goa. But driving through Divar, stopping every few minutes to take photographs and soak in the absolute beauty, was something different.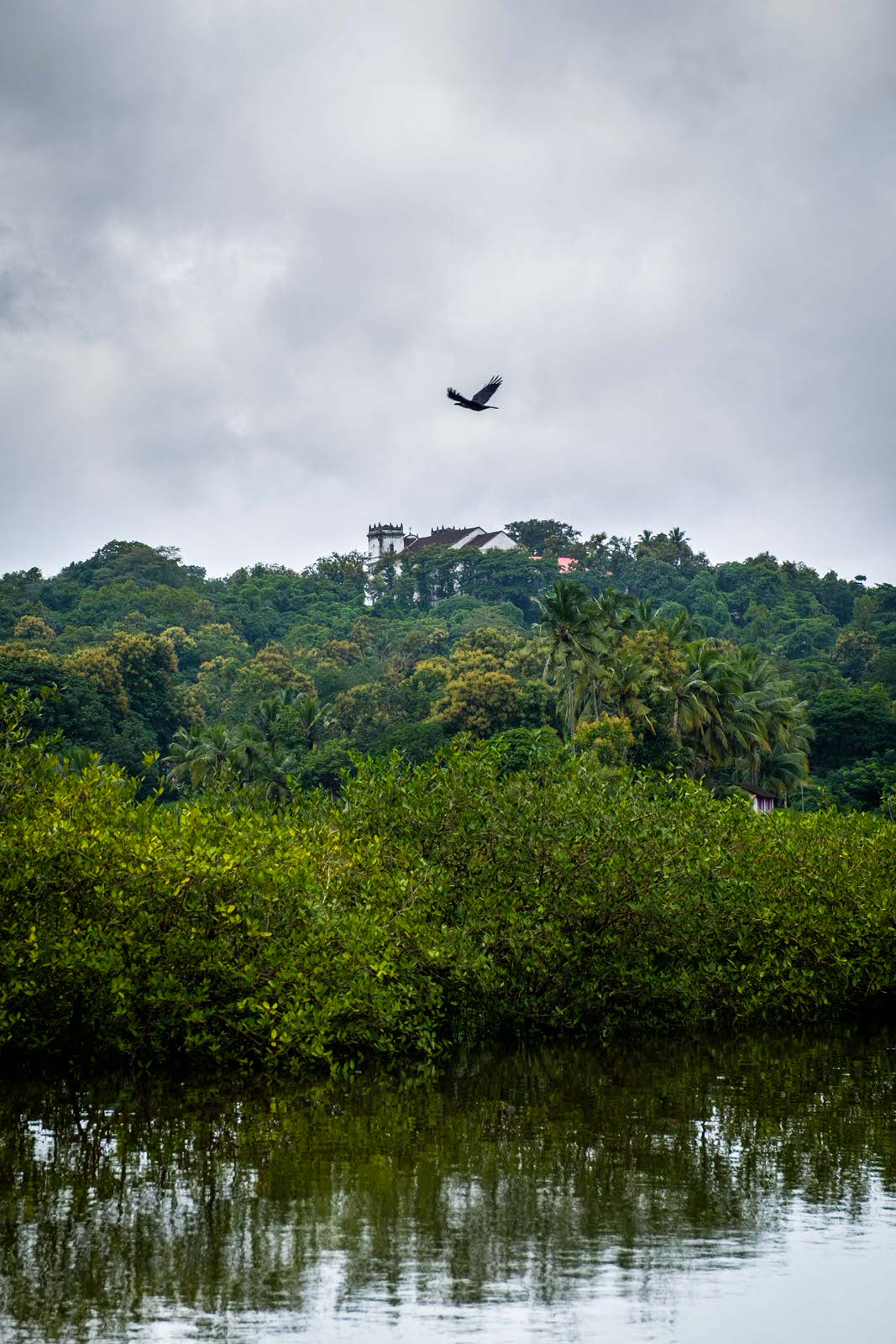 A half hour later we arrived at our destination, Island House. Beautifully restored by Jay and Susan, the 18th century Goan-Portuguese house is one of many in the main village of Piedade on the tiny island, which interestingly boasts 4 different village zones. Piedade is at the base of a small hillock, the highest point on the island quietly watched over by the Church of Our Lady of Compassion. The hill provides a great vantage point and one can see the tops of Old Goa in the distance, the same view we had on the ferry ride over, thick greenery interspersed with white domes and towers.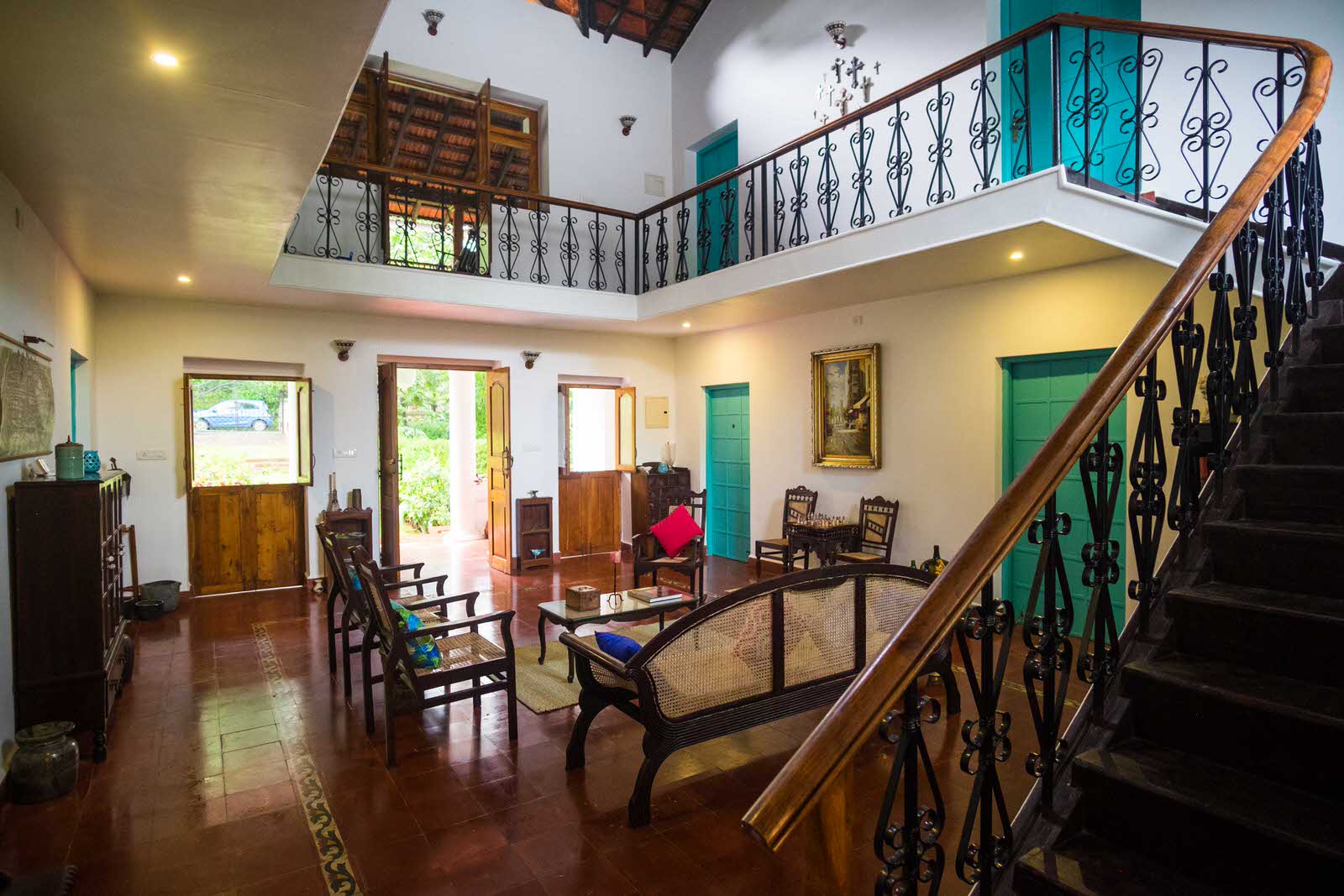 We were looking forward to staying at the Island House. It was a real Portuguese era heritage home, and after seeing all the beautiful homes in Chandor and Loutolim  it was really exciting to finally be living in one. The house itself is stately and charming and as Jay walked us through it, the love and passion that had gone into preserving this piece of Goan heritage was apparent.  As we walked through the grand living room with its original red oxide handmade tiled floor and beautiful wooden staircase, Jay showed us old photos of the house, pointing out modifications that previous owners had made, and explaining their own efforts to take the home back to its Goan – Portuguese roots.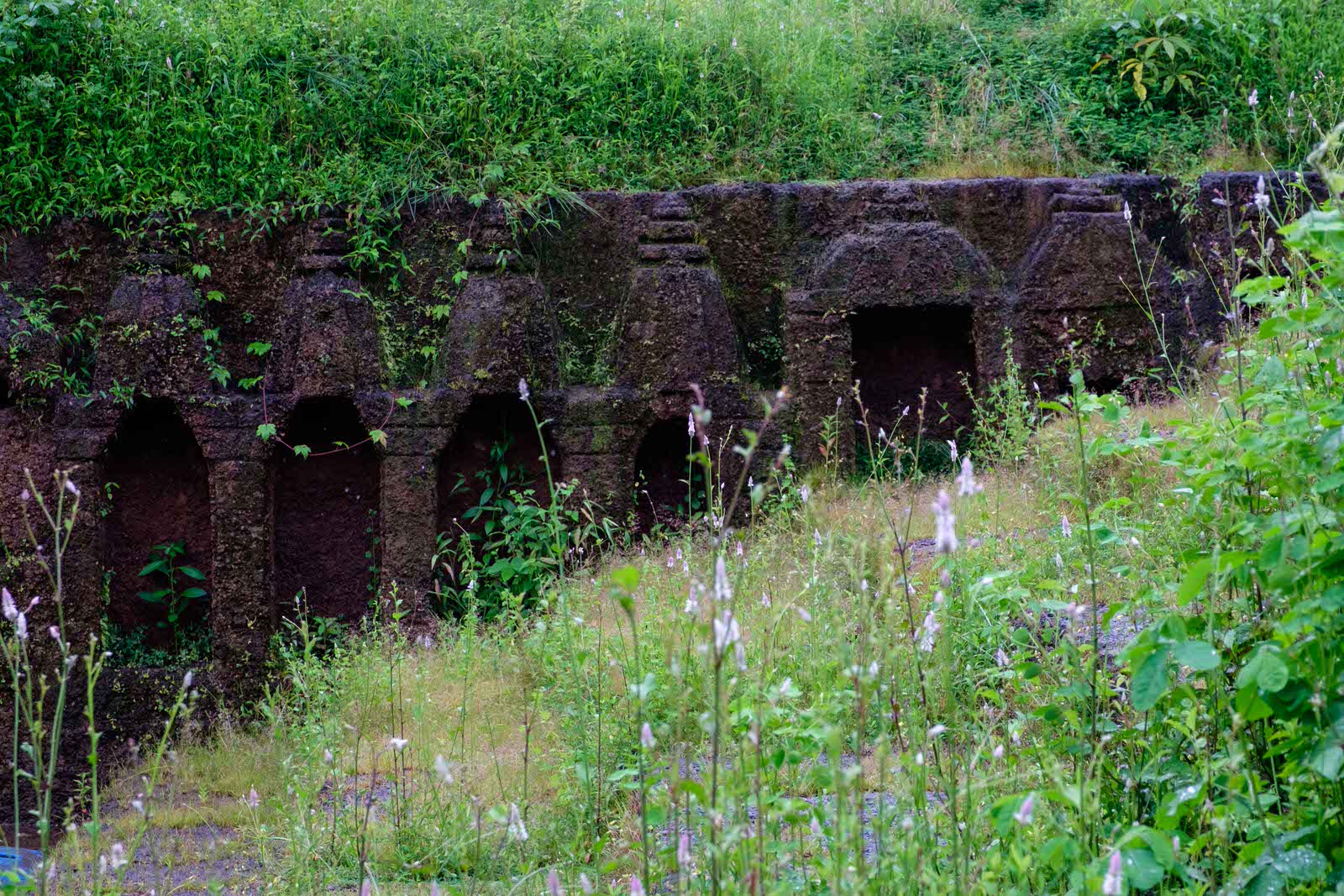 We spent our time walking the old sleepy villages and leafy bylanes of Divar where the streets are lined with quaint old mansions and the occasional liquor store and bar. The bars were actually fewer in number than one might expect, but seemed like more in number than what we had seen in Panjim. Then again this is Goa and they do love their home brewed alcohol.
Island House was the perfect place to unwind, read by the pool and gorge on yummy local cuisine served on beautiful old crockery similar to the famous blue and white ceramics that came out of Macau, another former Portuguese colony. When we were done poking around the stately old mansion and lazing by the pool, we set out to explore the villages of Divar. Jay helpfully charted out a route for us and we set off in the little blue Brio. There were hardly any cars and driving slowly around the serene island, with the windows down was a joy. Jay's route plan was soon abandoned as we meandered around Divar exploring the churches and cemeteries, the lovely old homes and the very interesting remains of a Hindu stepwell with simple carvings.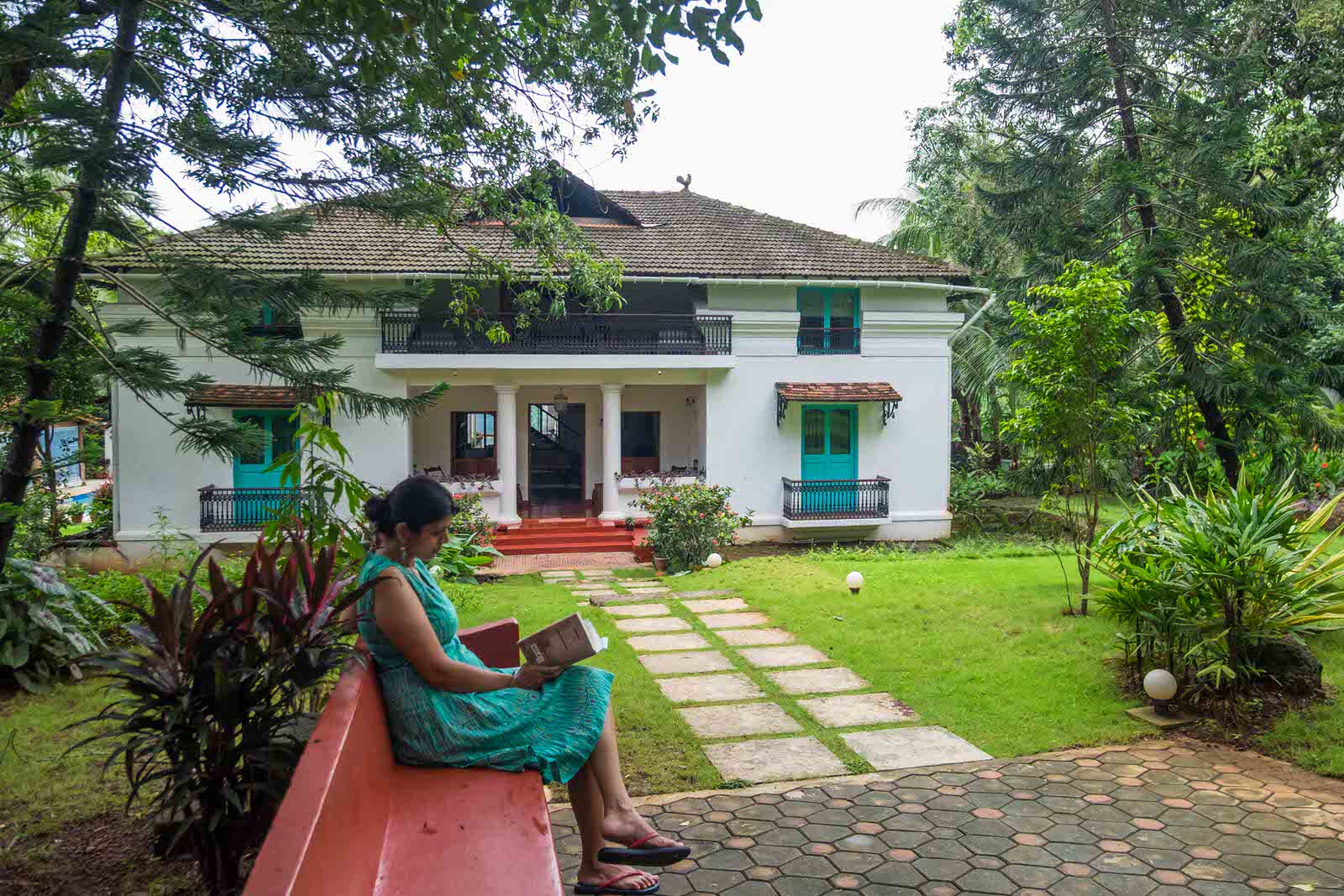 Not unlike other villages, the main square or junction saw old folk chatting in the evenings as they drank tea or maybe Urak and snacked on freshly made pav. Some of the houses were decorated for Ganpathi and we could hear strains of religious music playing softly as we passed by. Thankfully there was none of the loud Bollywood dance songs that seem to accompany Ganpathi celebrations in the city; here it was quieter, more serene and traditional in keeping with the vibe of the island.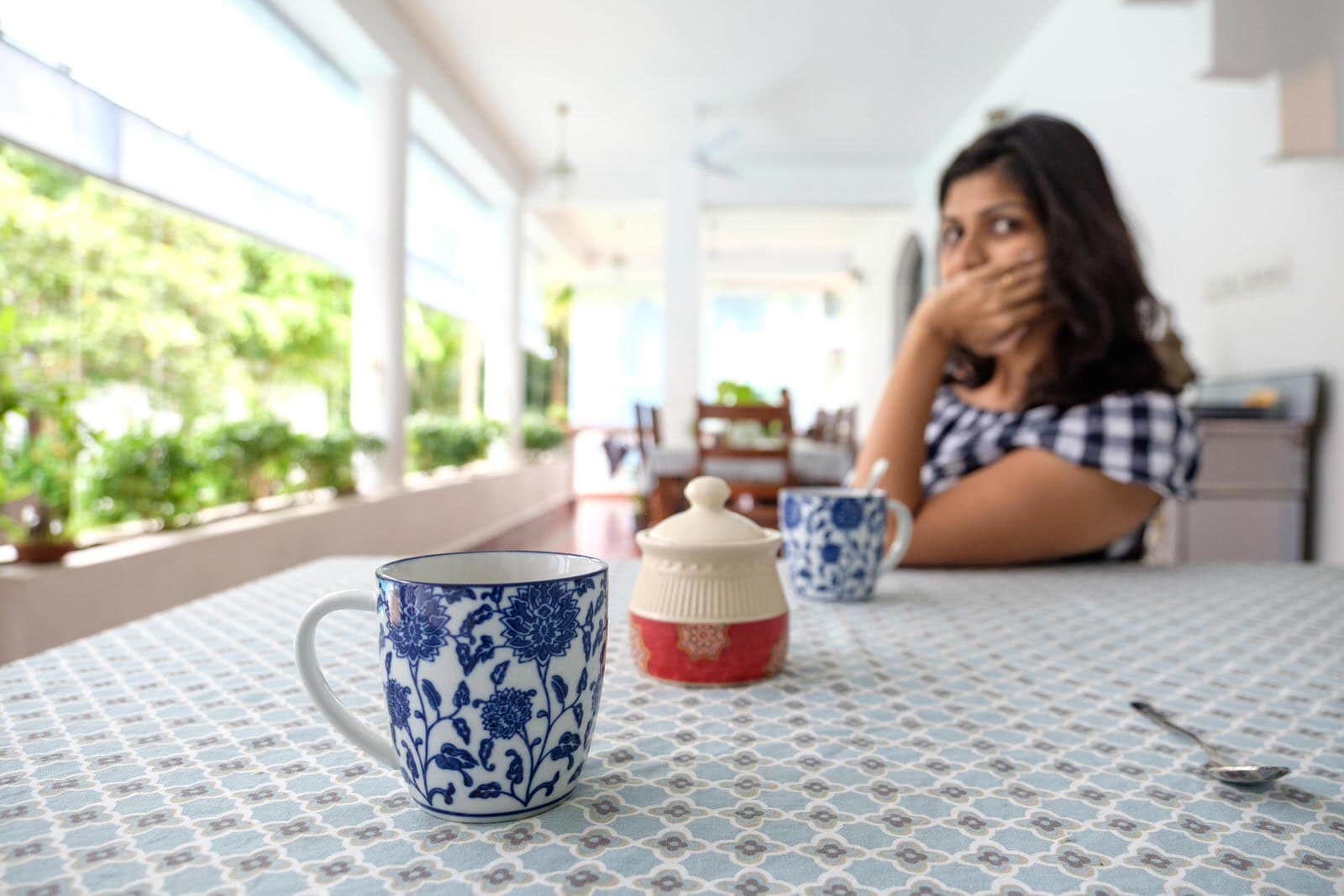 Life on the Island chugs along at a easy place and there isn't much else to do on Divar, but then if your are looking for lots of activity, Divar is probably not the place for you. 
With its stellar views, lush greenery and old world feel, Divar is a place for quiet contemplation, long walks and lazy days but if you absolutely must have some action, it's also a  great base to explore old Goa, Panjim and Chorao Island which is famous for the Salim Ali bird sanctuary and marsh crocodile.
Come to Divar on your next vacation and immerse yourself in a completely different side to what is an otherwise popular destination and get a taste of life on an island in a region that wasn't always a beach and party spot.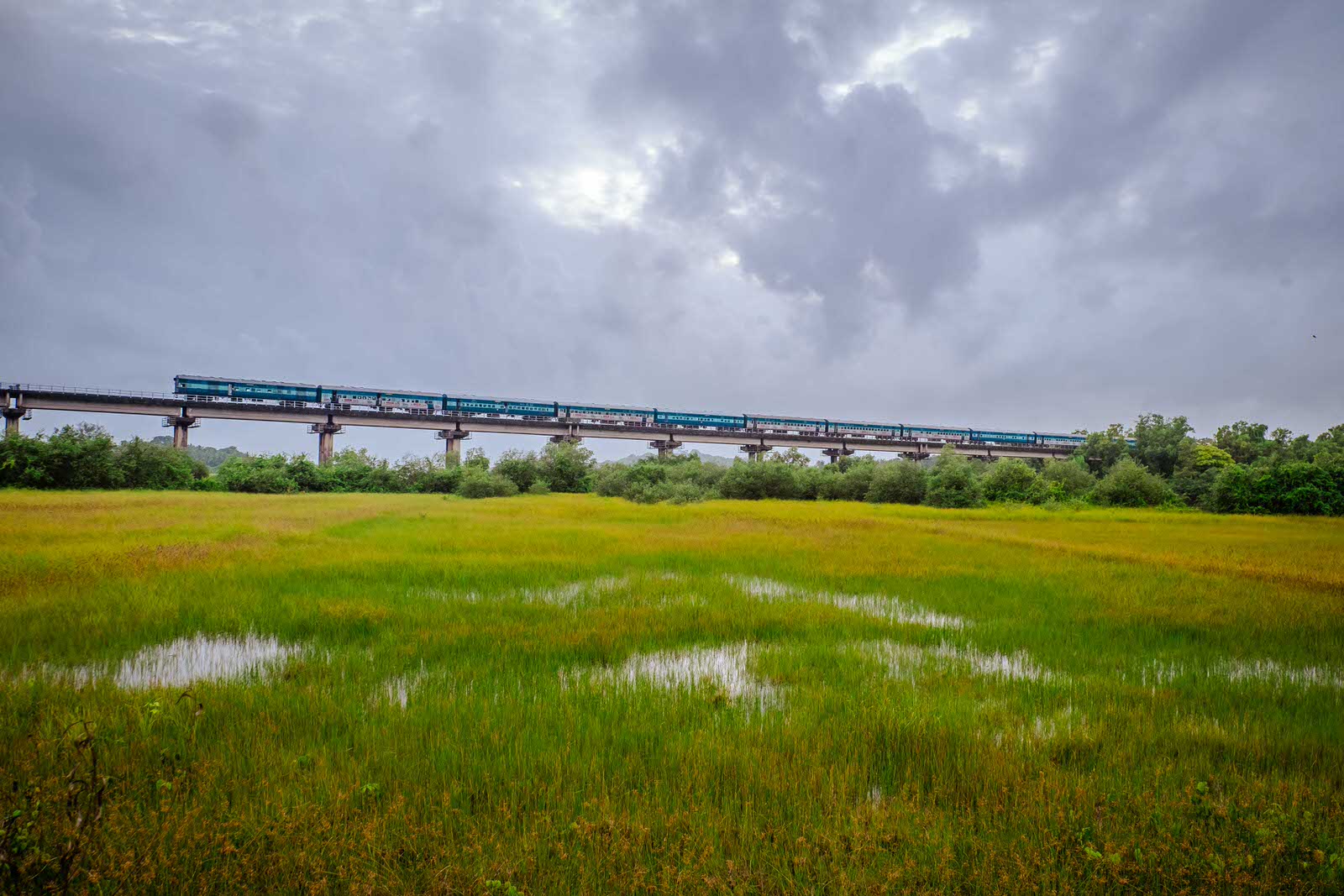 Some Useful Information:
How to get there: Divar Island is close to Panjim but accessible only by ferry. There are two ferries to Divar, from Ribandar (Rs 10/- ) and Old Goa (Rs 7/-).  Both ferries run all day, but the Ribandar one runs only till midnight, and the Old Goa ferry runs till much later.
Where to Stay: There are a few homestays on Divar Island but our pick is the beautiful Island House, run by Jay and Susan. Stay there to experience living in an 18th Century Old Goan home, with excellent local food served up on Macau crockery for the complete Goan – Portuguese experience.
How much time to spend: We would say 2 – 3 nights is enough to unwind and explore the home as well as the Island. However you could always stay longer and make day trips to nearby Chorao, Old Goa and Panjim.