Travelling through the madness that is India can be in equal parts exhilarating, challenging and exhausting and it helps to travel with someone with who you share common ground and interests. If you have followed our journey you know that one of the constants on our travels through India has been our love of all things history and architecture from temples and maqbaras to old forts and homes.
Theres something perfectly magical about staring up at a 500 year old fort or palace, studying the workmanship and detail, walking under imposing arches, knowing that these walls have stood for centuries, seen empires flourish and crumble and will stand here in dignified silence long after we have turned to dust. But as much as we love forts and palaces, we reserve a special part in our hearts for old homes.  These old homes, no matter how large or opulent, hold within them the warmth, stories and the eccentricities of those who have lived, loved and lost within their walls and have a different charm.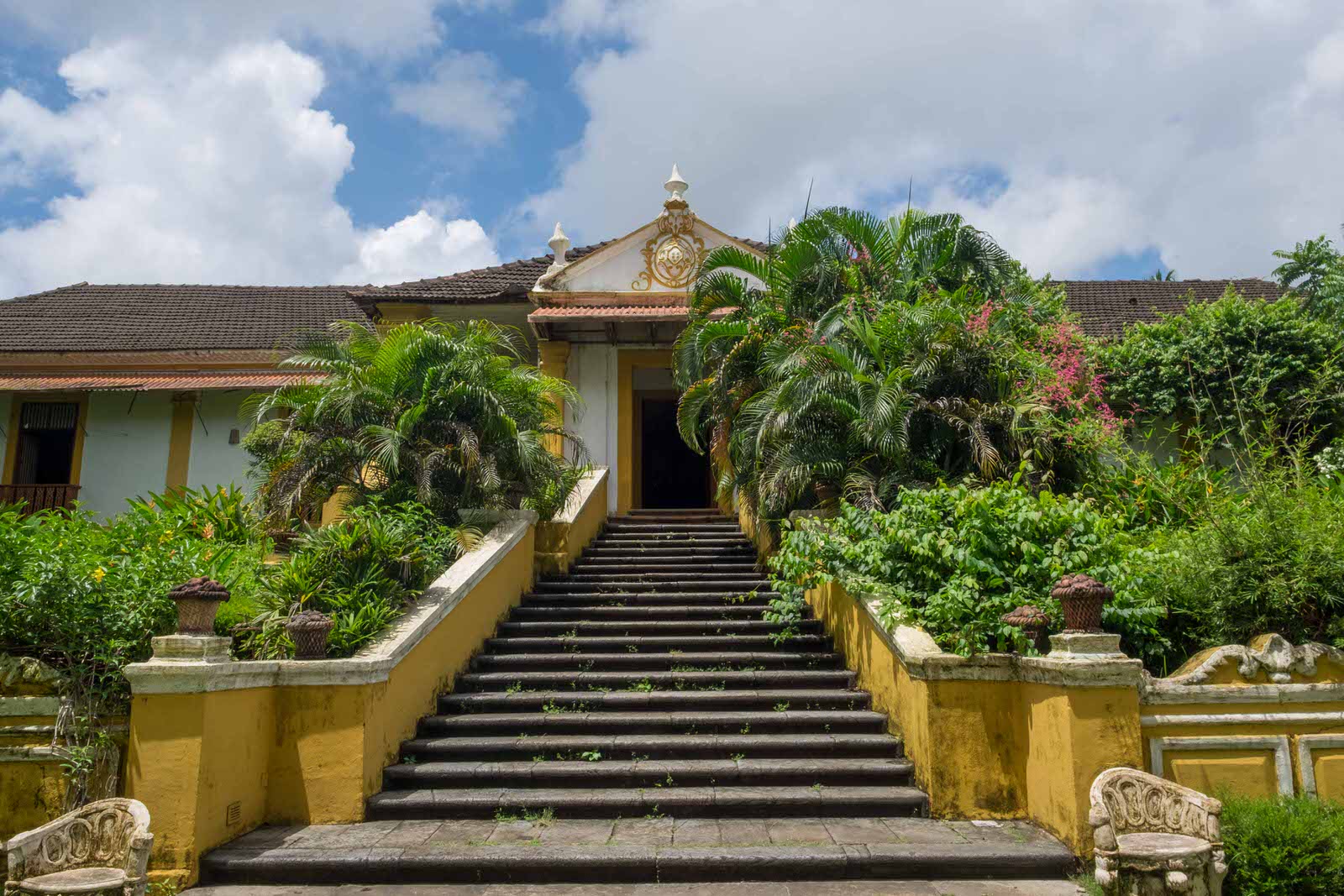 Growing up in cities, living in cubbyholes, surrounded by towers of glass and steel, the experience of walking past the verandah of an old home, through massive living rooms and and into the open inner courtyards always amazes us at the manner in people lives, and continue to in many places. It helps one understand the importance of spaces in shaping ones perspective of life and it certainly makes us city dwellers acutely aware of the lack of permanence in our lives. Discovering and living in such homes and hearing their stories has really been one of the highlights of our travels across India.
We have seen many of these homes, from the grand havelis of North India to the stately mansions of Chettinad and Kerala, but we somehow never imagined that we would come across homes of similar grandeur in little Goa.
During our Goa research we had come across fleeting references to massive old 'Portuguese' mansions, relics of the time when the tiny Mediterranean country controlled this corner of India, but nothing could really prepare us for actually setting eyes on our first Portuguese home.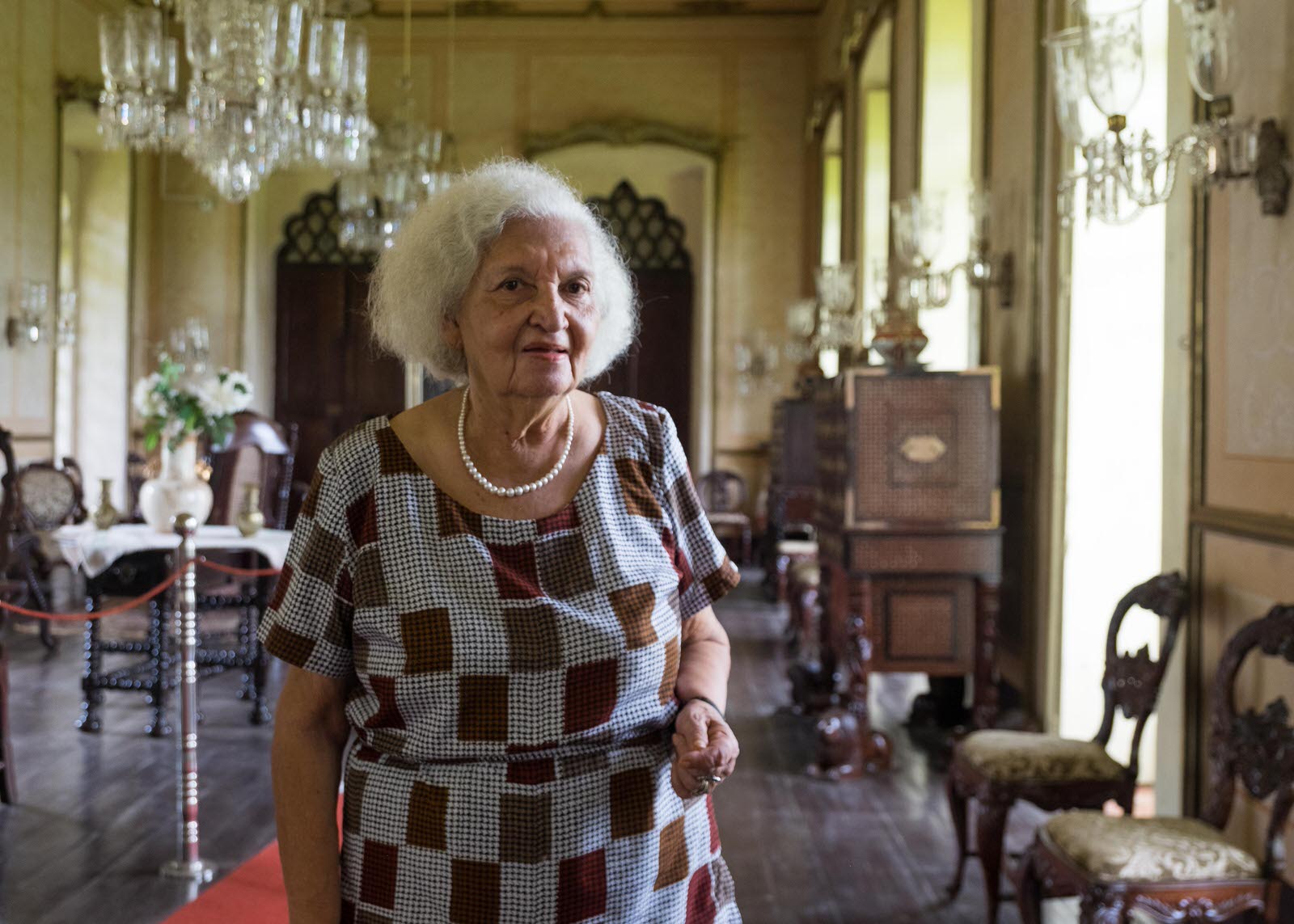 Just to be clear these are not really Portuguese homes but are, in the true sense of the word, Goan homes. They belonged to prosperous Goan merchants and landowners, most of them Catholic, whose fortunes flourished during Portuguese rule. Many even became Portuguese citizens and left Goa, some never to return.
Whilst the homes were no less grand than others we had encountered on our journeys, their character was unmistakably Goan. The are done in up bright colours, oranges, yellows, blues and greens and betrayed a distinctly European, largely Portuguese, flavour in their design. The distinctive blue and white Portuguese ceramic tile work, the Azulejos, can be seen outside almost all the home, some more elaborate than other. The houses all have large verandas and sit outs opening into rooms that welcome guests, which then further lead to the cavernous yet elegant living and dining spaces usually the nerve centres of these magnificent homes.
Much like the Chettinad mansions, these living rooms are large and ostentatious, with hardwood or marble floors, high ceilings from which hung massive crystal chandeliers and large windows with elegantly carved grills. earlier, oyster shell was used on the windows and while this has now been replaced some of the homes still have the oyster shell windows allowing in muted light. But whilst the scale of these homes and their outward appearances would appear European their soul remained Goan with warm hues and exquisitely carved furniture all executed by local Goan artisans.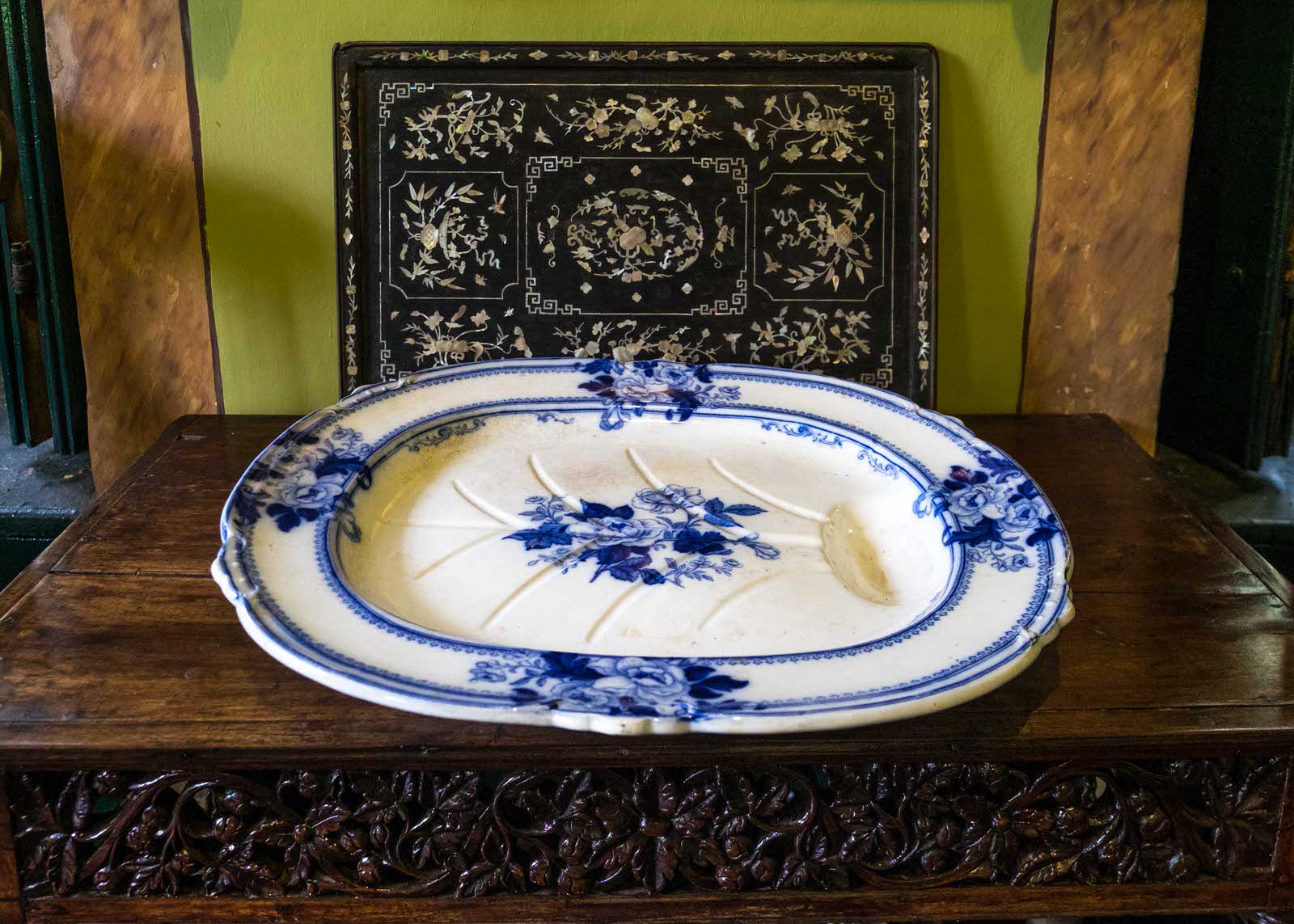 Many of these surviving homes have had the same families occupying them for the last 400 – 500 years and whilst the families may have once been rich landowners, independence, the departure of the Portuguese and subsequent land reforms meant that many of them fell on hard times.
We visited a few of the houses in Goa, including the opulent Figueiredo House, home of a former member of the Portuguese Parliament, Maria de Lourdes Figueiredo de Albuquerque, the beautiful Island House on Divar Island, the warm Cancio House, where we stayed for a few days with the lovely Raquel and Roberto, and the simple Palacio do Deao which once belonged to Jose Paulo the founder of Quepem and a devout man. But our favourite had to be the Braganza House in Chandor.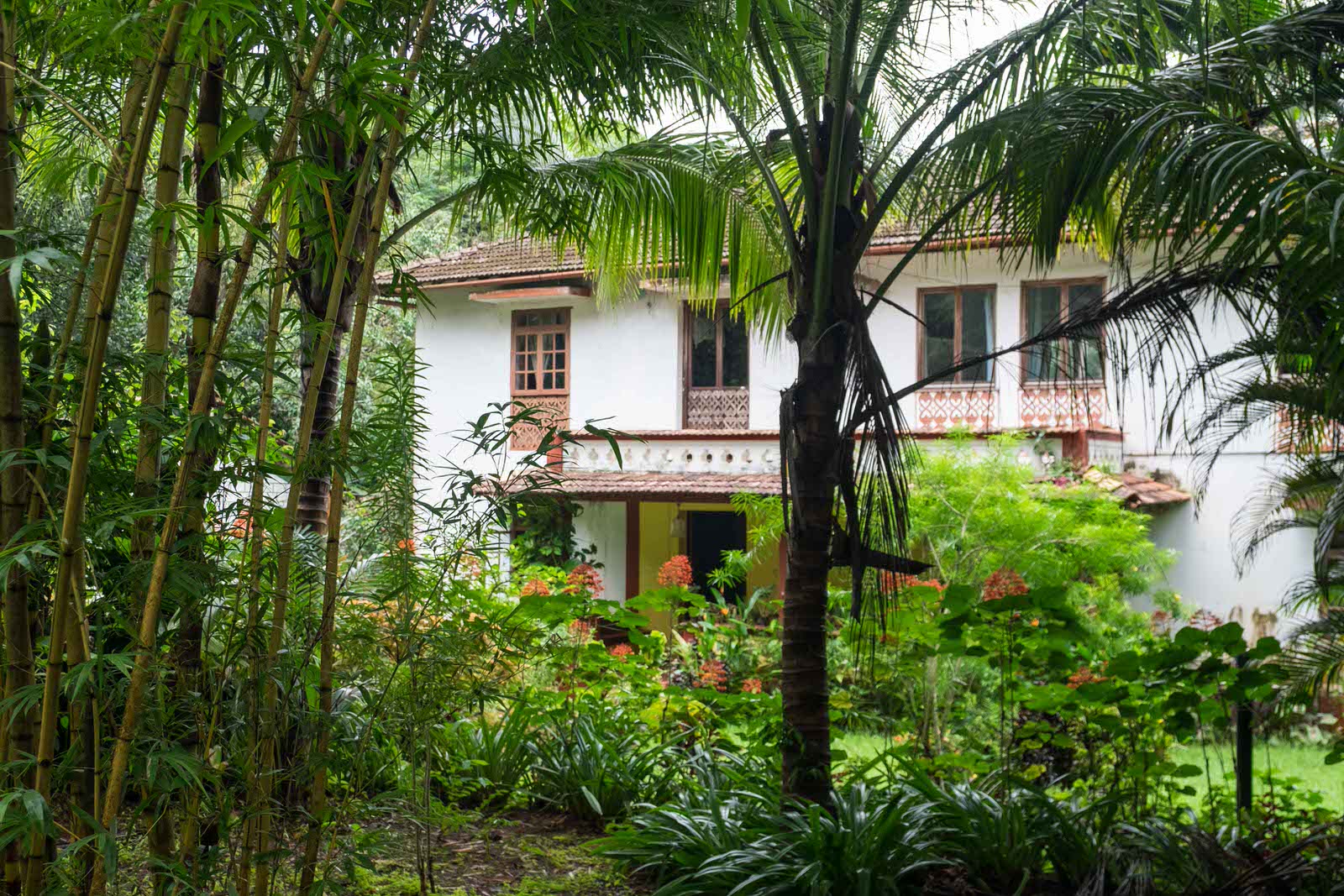 Stretched across one side of the village square, the Braganza house is the home of the once illustrious Braganza family. The house on land gifted to the Braganzas by the King of Portugal is now divided amongst two sections of the family. The Pereira – Braganzas occupy the East Wing and the Menezes Braganzas, the West Wing, but the undivided house probably stretches over a 100 meters.
We had been advised to visit Chandor and meet Mrs Pereira Braganza to understand just how opulent the life of the old Goan families was, and to understand how much time has changed for them.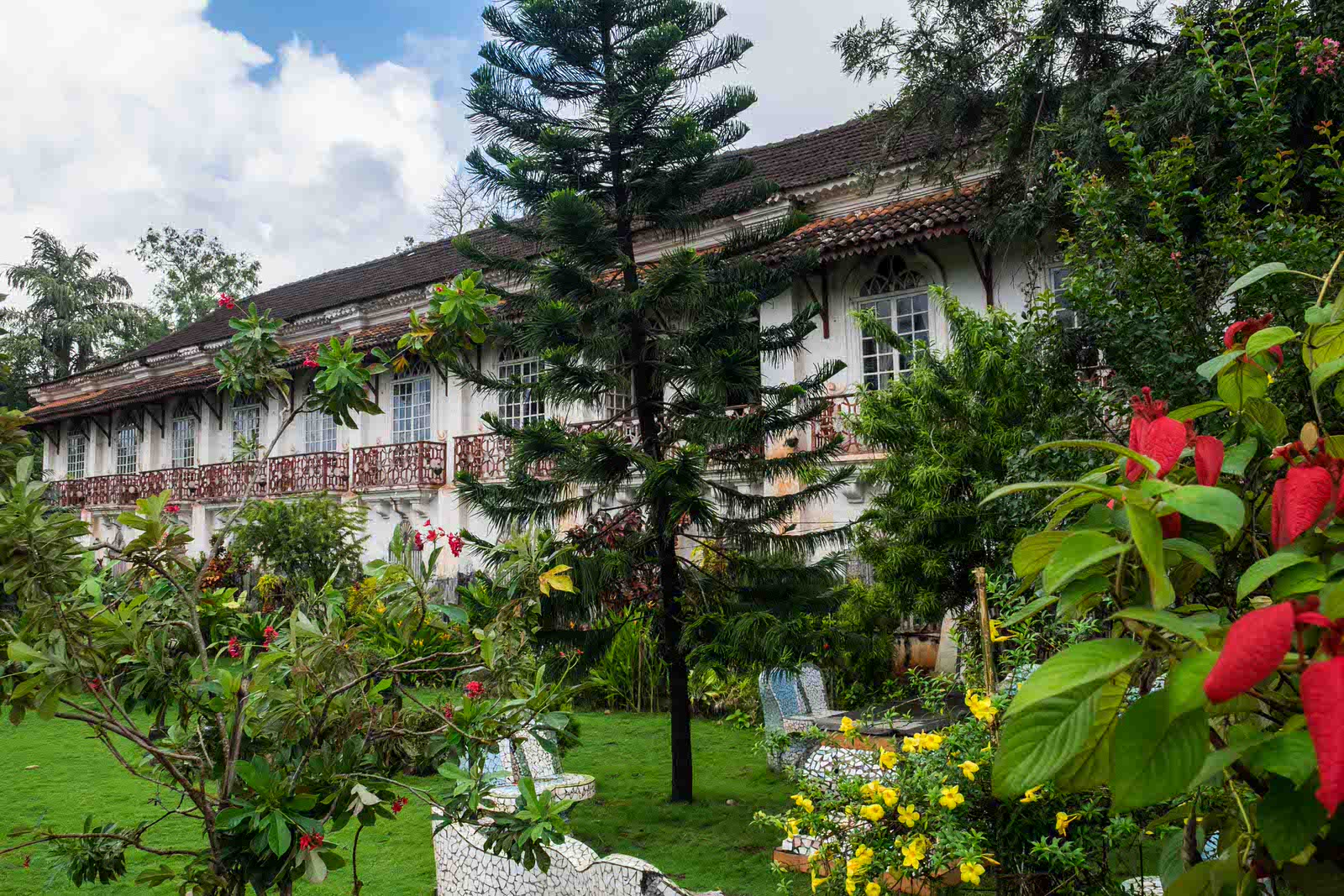 As we approached the house, we saw old Mrs Braganza sitting by the balcony watching the world go by, and she waved us in as she noticed us looking up for permission.
As we entered through the carved archway our eyes widen and we instinctively looked at each other, as if to say… Is this real? Do people actually live here? The living room was probably as large as our entire house!
Mrs Braganza looked back at us and smiled a slightly knowing smile, she had seen the reaction before.
Mrs Braganza belongs to the 16th generation of the original Braganza family and unlike the West Wing which now more like a museum than a living home, she continues to live in her ancestral home to this day along with other family members.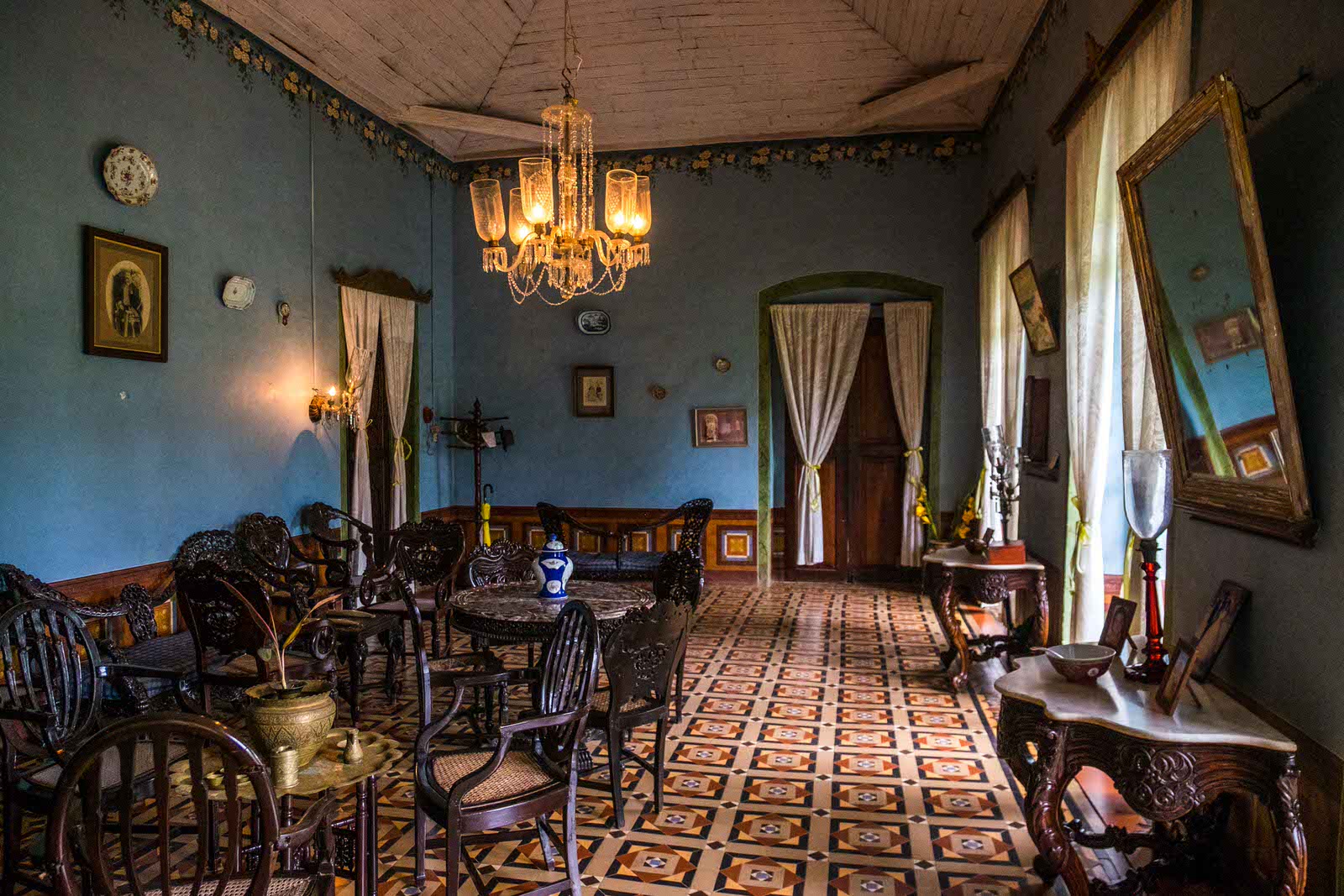 The home, unlike that of the Menezes Braganza, gives the feeling of a house that can tell you many a story and quietly holds family secrets behind its pretty walls. Chock full of antiques including massive 3 ft high ornamental vases from China, beautiful blue and white pottery from Macau, ivory from Africa, wooden chests from Goa, the Perreira Braganza House is a marvellous testament to the homes of the time. Despite the fact that it is 2017 you can almost see the house as it would have been in the 16th century, full of pomp and show with elegant ladies in beautiful gowns and liveried butlers. Though the house has lost some of its polish, it has clearly lost none of its charm.
After taking us down the never ending formal dining hall, rarely used now except on special occasions, Mrs Braganza lead us to the piece de resistance of the house, a beautiful old chapel, common in most old Goan homes, which houses a nail of St Francis Xavier, the patron saint of Goa. Guarding such an important relic and piece of their religion betrays the high standing of the family, despite Mrs Braganza's informal and friendly manner.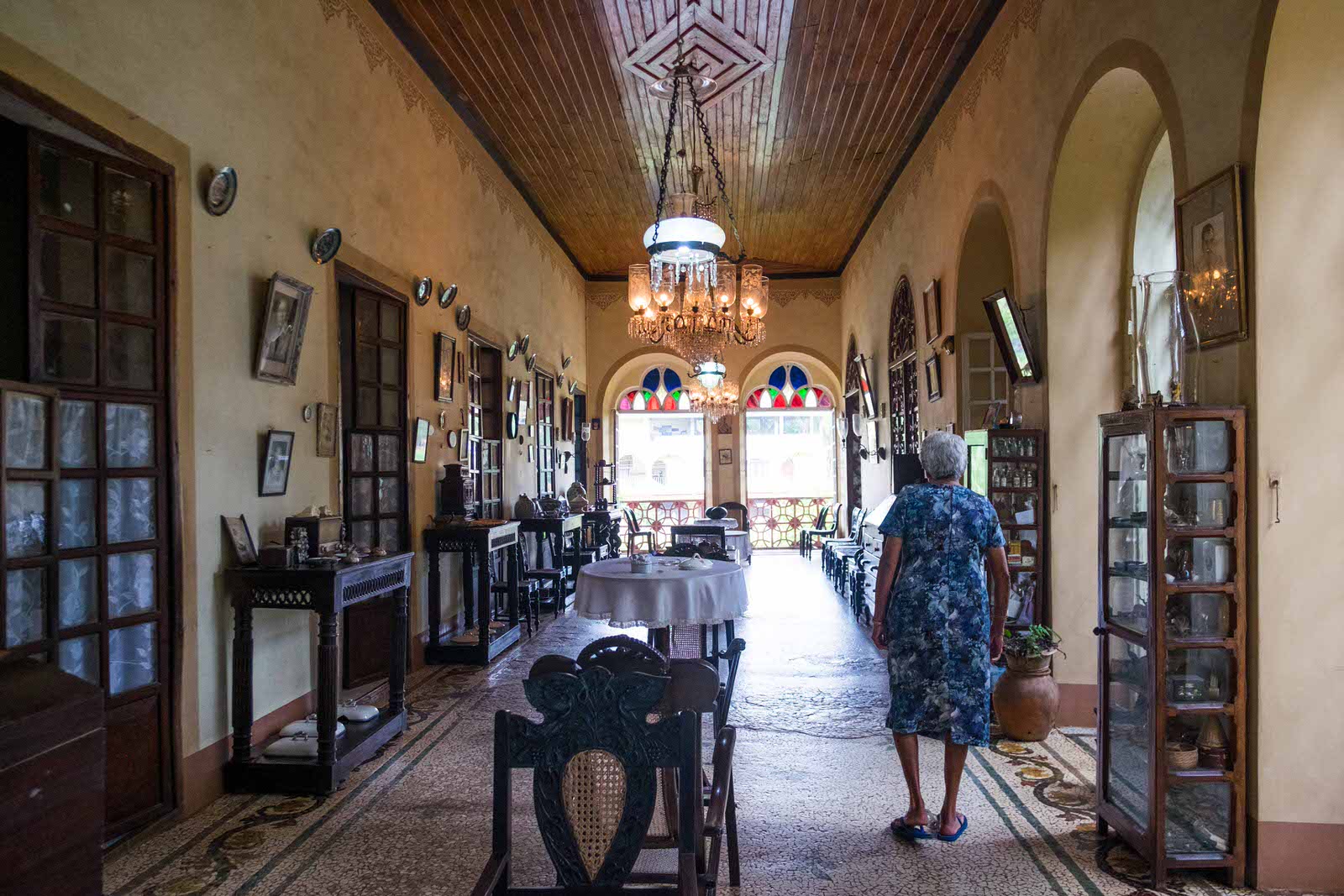 Our little walk around the house ended in the once grand ballroom with Italian marble flooring and massive chandeliers where the family would have held extravagant parties back in the day, attended by the who's who of Portuguese – Goan society. There were two massive gilded mirrors on either side, giving a sense of endless space, both fitted with Belgian glass, a common feature in most of these homes.
Mrs Braganza looks up at the roof and sighs, the ballroom is in urgent need of restoration and funds are hard to come by. The family may no longer have the wealth they once did but there is a regal pride as Mrs Braganza, well over 80, points us to a pair of chairs sitting at one end of the ballroom that bear the family crest, a gift from King Dom Luis of Portugal.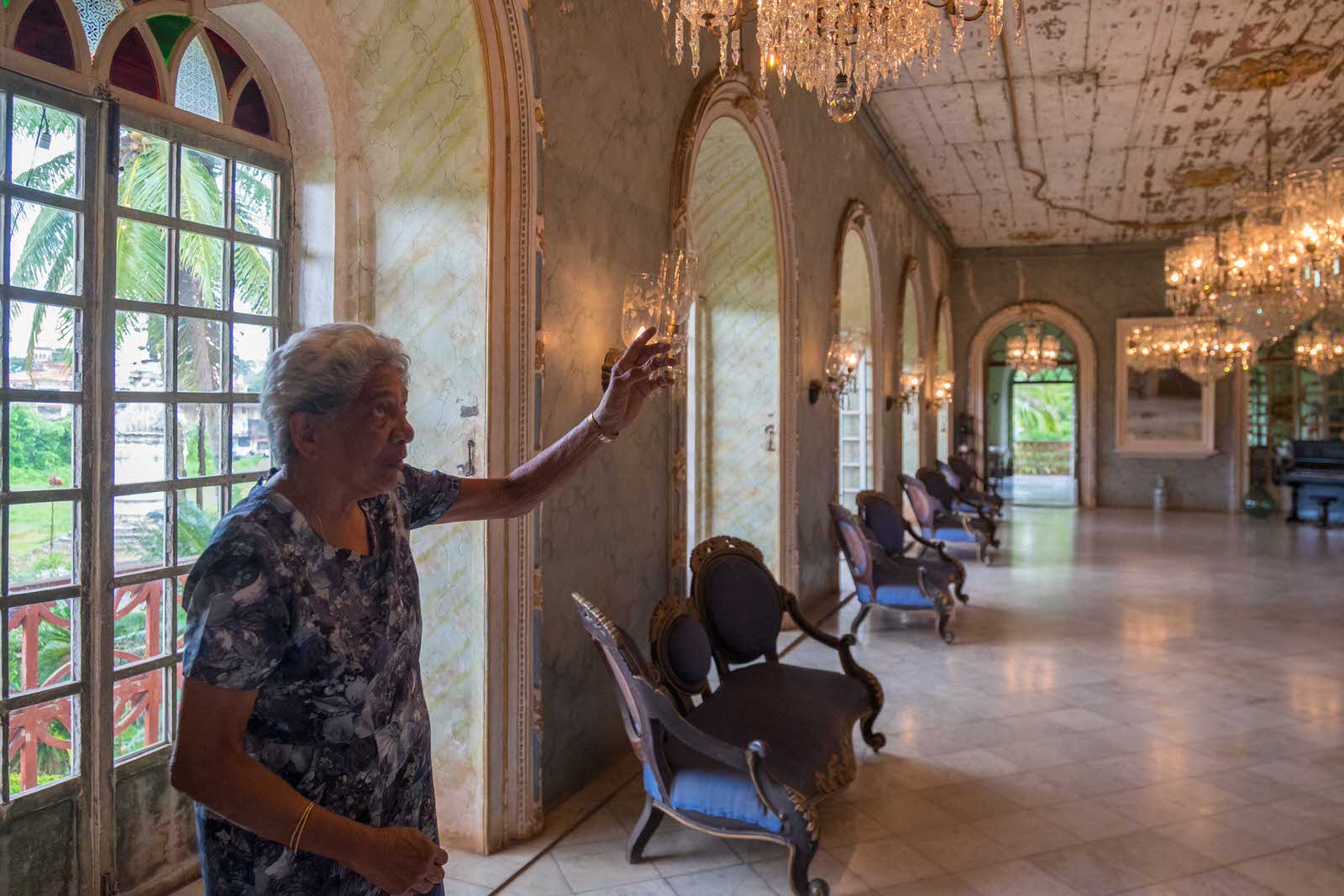 Some Useful Information:
Goa is full of lovely old homes which you will see as you drive through its interiors, however most of the ones which you can visit are south of Panjim
We visited The Braganza House (both the East and West Wings) in Chador, the Palacio do Deao in Quepem and the Figueiredo Mansion in Loutolim. All of these houses are open to visitors during the day and you will be taken around the home and for a small donation. Around Rs. 200 – 250 per person is appropriate.
The Figueiredo Mansion has recently opened a small section as a homestay where rooms can be had for Rs. 4000/- per night.
More a more luxurious stay in an impeccably restored 18th Century mansion check out the Island House on Divar Island.
However, if you are looking for something more warm and homely we would highly recommend the 400+ year old Cancio House in Aldona, run by Roberto and Raquel, who truly make you feel like part of the family. PS… Raquels cooking is to DIE for.
If you want to know more about the architectural style of the Goan homes, make sure you visit the quirky and interesting 'Houses of Goa' Museum set up by noted Goan architect Gerard da Cunha, about half an hour outside Panjim. There is also a lovely little gallery selling Mario Miranda prints and curios right next door!