I'm sitting on a swing, sipping tea with my host Vikramsinh, Maharana of the former princely state of Jambughoda. We've been walking around his gardens, and have settled near a large organic vegetable patch. A Great Dane and a Doberman lie at our feet, while several pups scamper around. Vikramsinh, whose estate is almost self-sufficient in terms of food, is full of excitement about his range of  organic produce. They don't use any pesticides and
all the produce is plump and flavourful, as was evident in the many sumptuous meals we had
already eaten. With cauliflowers bigger than my head, juicy tomatoes, Papayas, Cabbage and a whole lot of other fruits and vegetables, it was a true farm to table experience.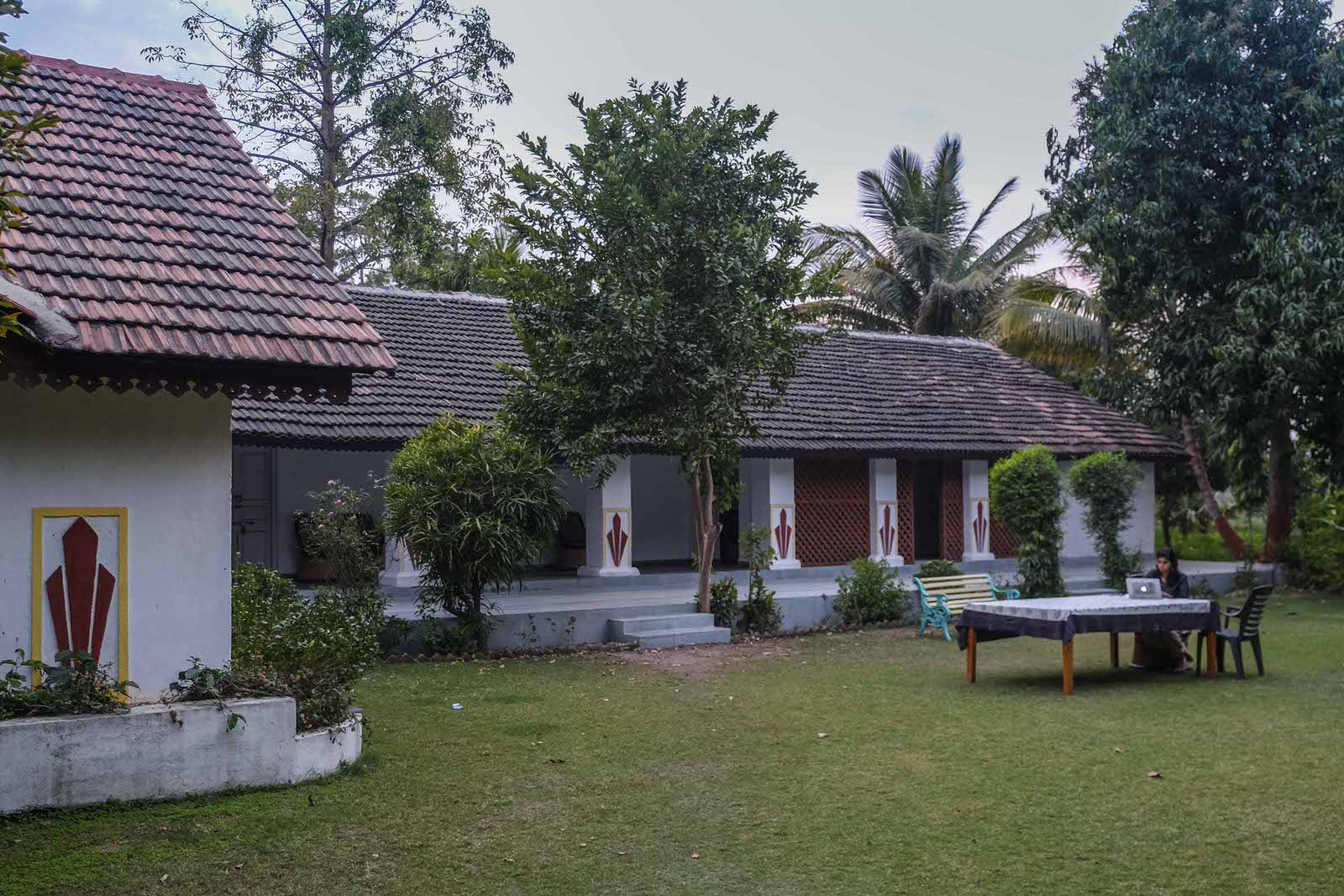 Jambughoda a lush estate, is a two-hour drive from Vadodara. On one end of the property is the 200-year-old palace, where Vikramsinh's family lives. One wing has been converted to accommodate guests; the former royal kitchens, stables, and staff quarters have also been refurbished as suites and rooms. The decor is old-world, with the Jambughoda crest emblazoned above each door. While not fancy or ornate, the rooms and the entire property is extremely warm and comfortable, making you feel at once at home and pampered.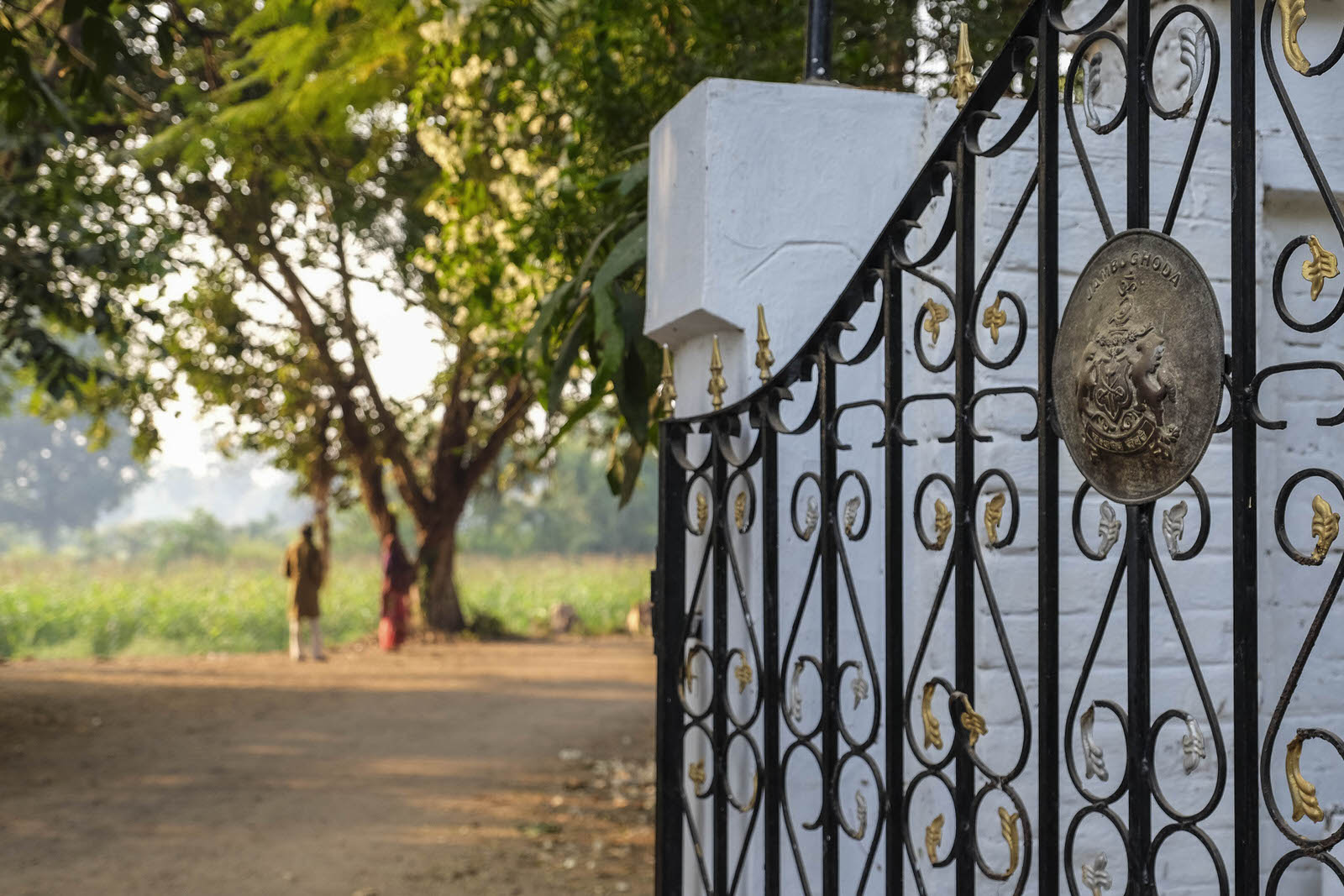 Each room has a veranda and a lawn, which are lovely places to read or drink a favourite beverage while looking out over the estate's canopy of Jamun, Mahua, Arjuna, Mango, and other trees. Just outside the grounds, the family has fields growing wheat, pulses, mustard, maize, and corn. I walk around these one morning, watching farmhands at work. Men scurry up trees to pluck fruit, and adventurous visitors can try climbing up the trees with the aid of a harness. I decline the offer, heading instead to a circular stepwell at the far edge of the property. Although it is no longer in use, there are plans to restore the structure. Similar to
other smaller step wells that dot this region, including a larger version in Champaner, it has its share of carvings and detailing.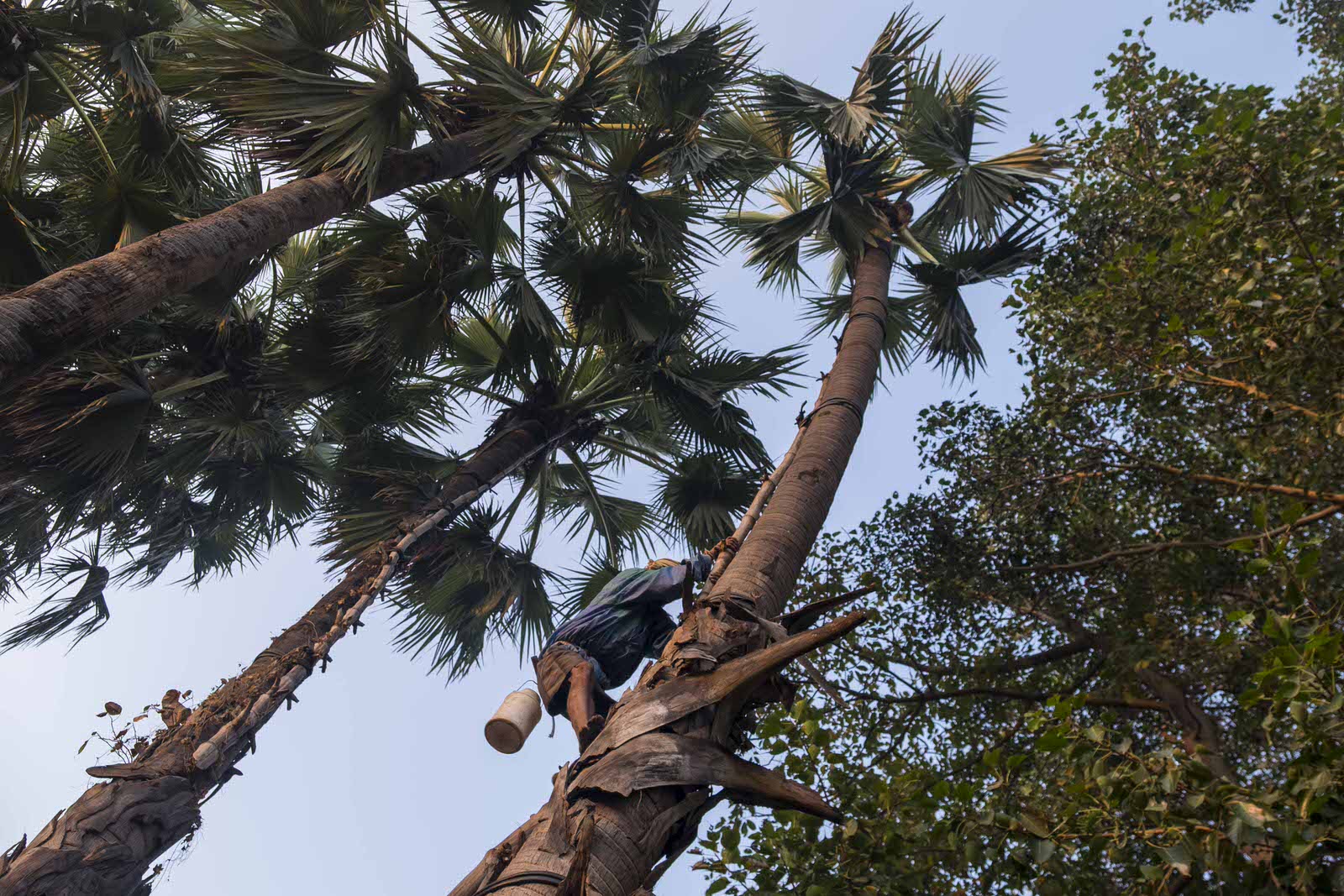 After the walk, I head to the house for an early lunch. Meals are typically served in the palace's main dining room, a large airy space surrounded by trees and floral curtains. Guests can also request a special meal with the royal family in their personal dining room; that's what I have opted for. The food is served, course by course, on family crockery and silverware embossed with the Jambughoda crest.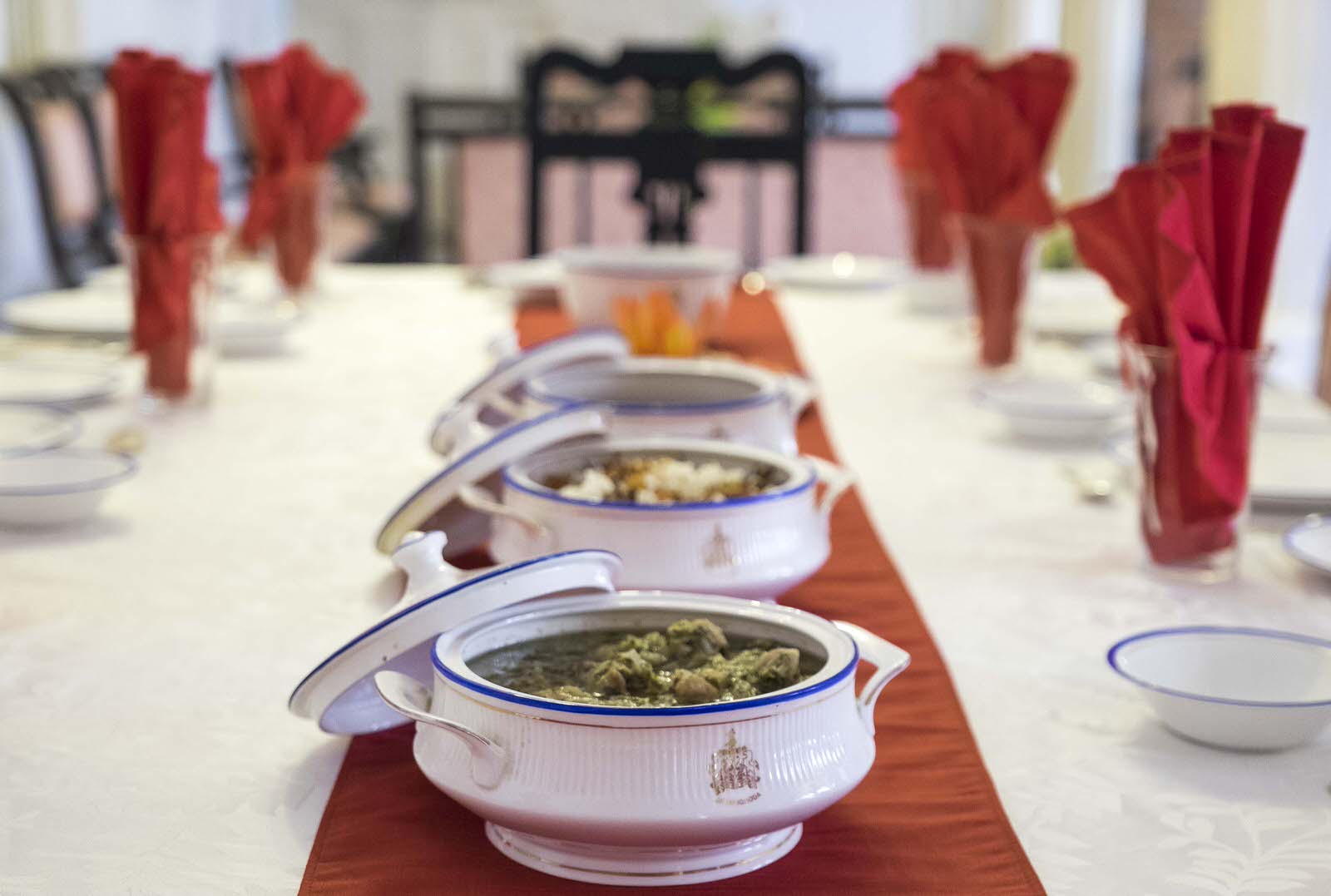 The food is a blend of local tribal flavours, with influences from Gujarat and the family's ancestral home in Dhar, Madhya Pradesh. The cook Vitthal, whose grandmother helmed the kitchen before him, whipped up a feast from family recipes and local delicacies. This included urad dal dhebras, potatoes cooked with sesame seeds, corn and bajra rotis, and pulao with fried onions. The delicious signature dish, the kalia rezala, consists of lightly spiced, succulent pieces of mutton. The rezala is a little different from what we'd eaten in Bhopal, and the matriarch of the house tells us that her in-laws have modified the dish a bit with local sensibilities. Mrs Vikramsinh is warm and serene and is quieter balance to her husband's gregarious self, though no less a funny storyteller. For guests who want more, there's a Durbari thali, with 23 different dishes served on a festive silver thal.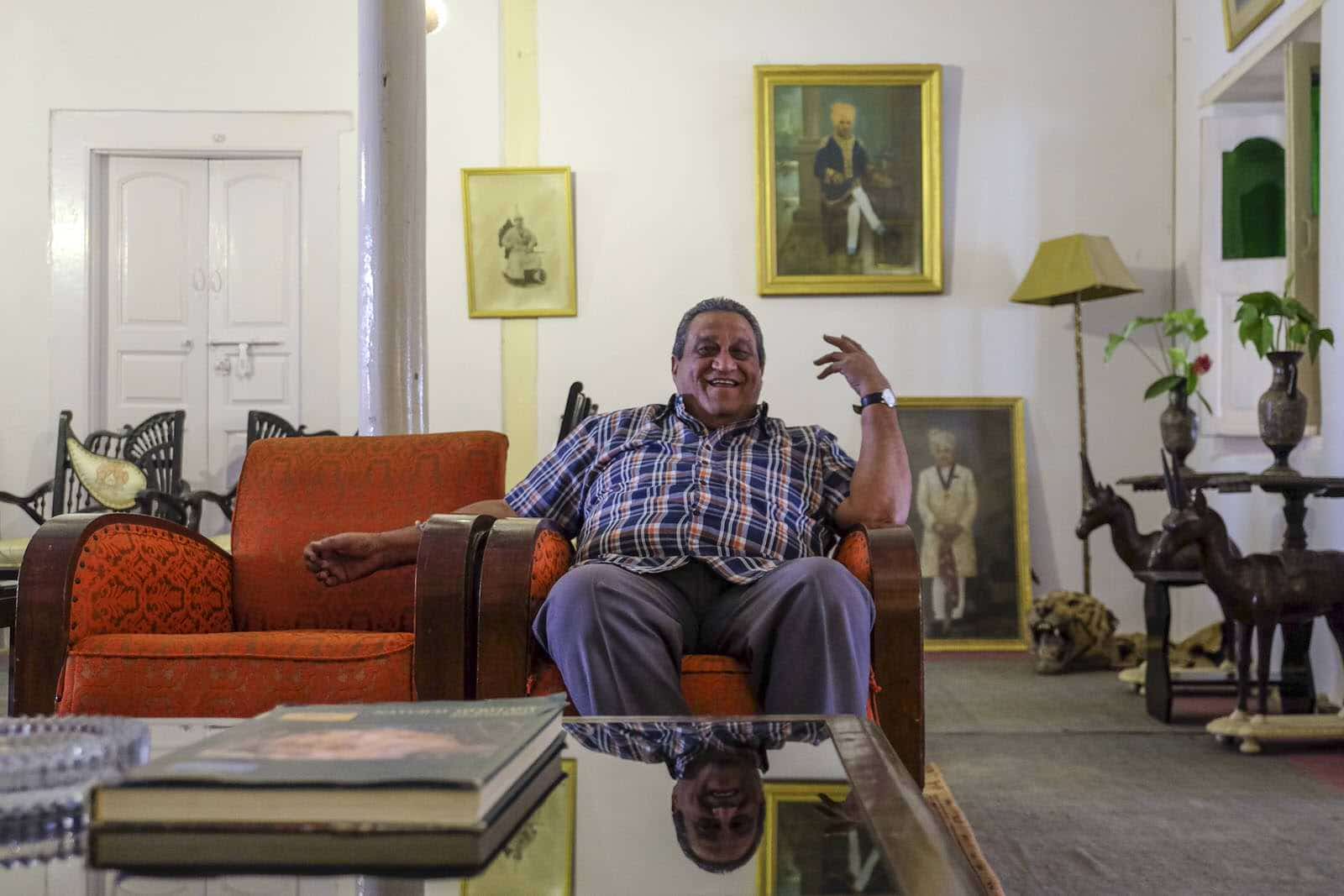 While we eat, Vikramsinh regales us with tales from his childhood at The Doon School. A warm and gregarious person, his commitment to Jambughoda and its guests is evident. He tells us about his illustrious ancestors, whose photographs line the ground floor of the house. This part of the palace is open to guests who wish to learn about the former princely state and its rather colourful rulers. He also tells us stories of boys he studied with, many names are now familiar in the political and business circuit and its funny to think of them as young kids doing what kids do best.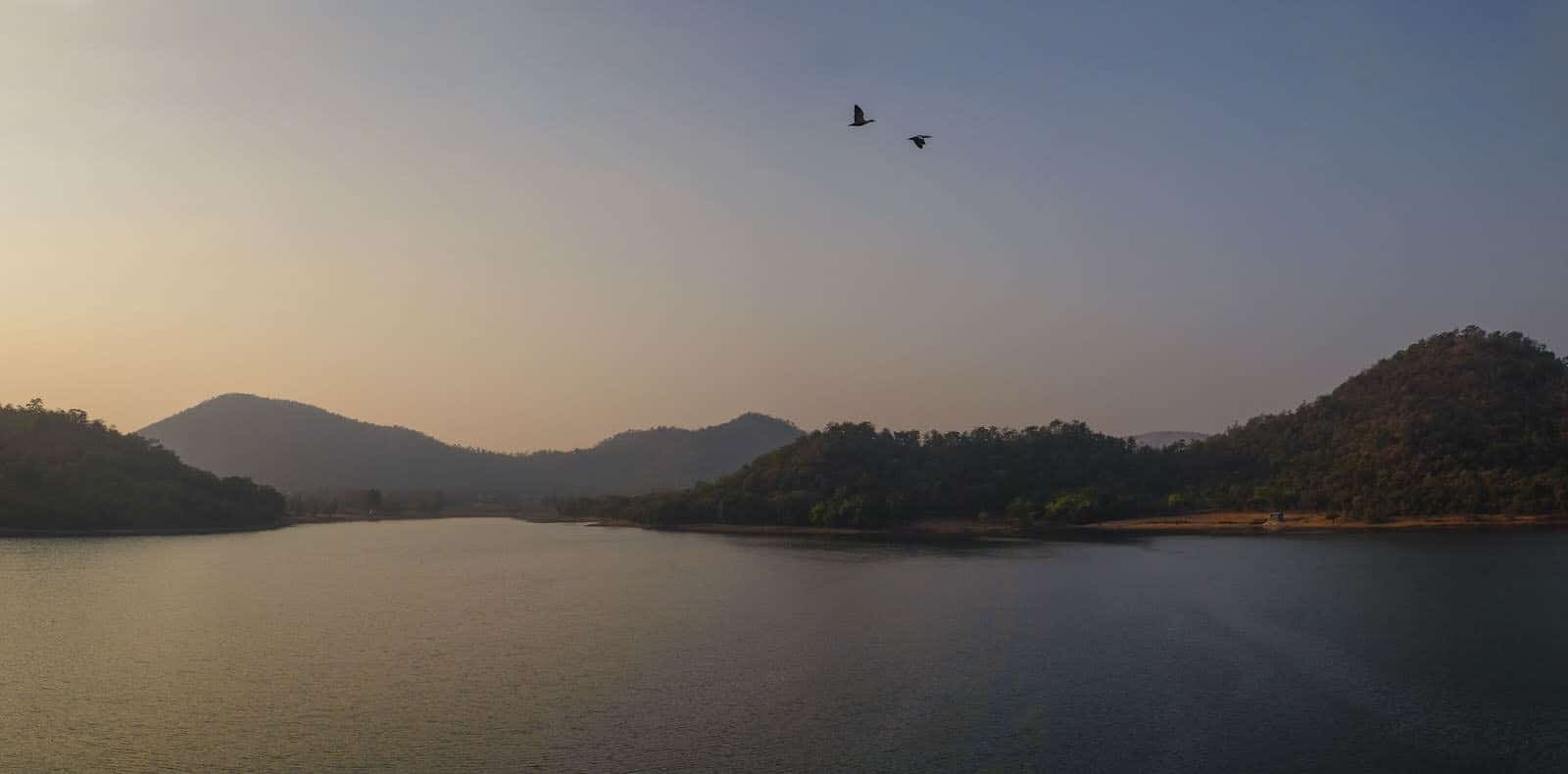 Visitors can also make a day trip to Jambughoda Wildlife Sanctuary, a 20-minute drive from the palace. The area was declared a sanctuary in 1990. Vikramsinh is now on a mission to ensure that the two-lane highway here is not converted into four lanes, as this would displace several villages and result in loss of habitat for the many leopards, panthers, four-horned antelope, and over a hundred species of birds that reside in this area. He is consistently and diligently writing letters to the local and national government, a bit the old fashioned way, but it worked for him when Rajiv was in power, and he hopes that he will be successful again. The small wildlife sanctuary is a beautiful natural space and we also hope that Vikramsinh is successful in his endeavours.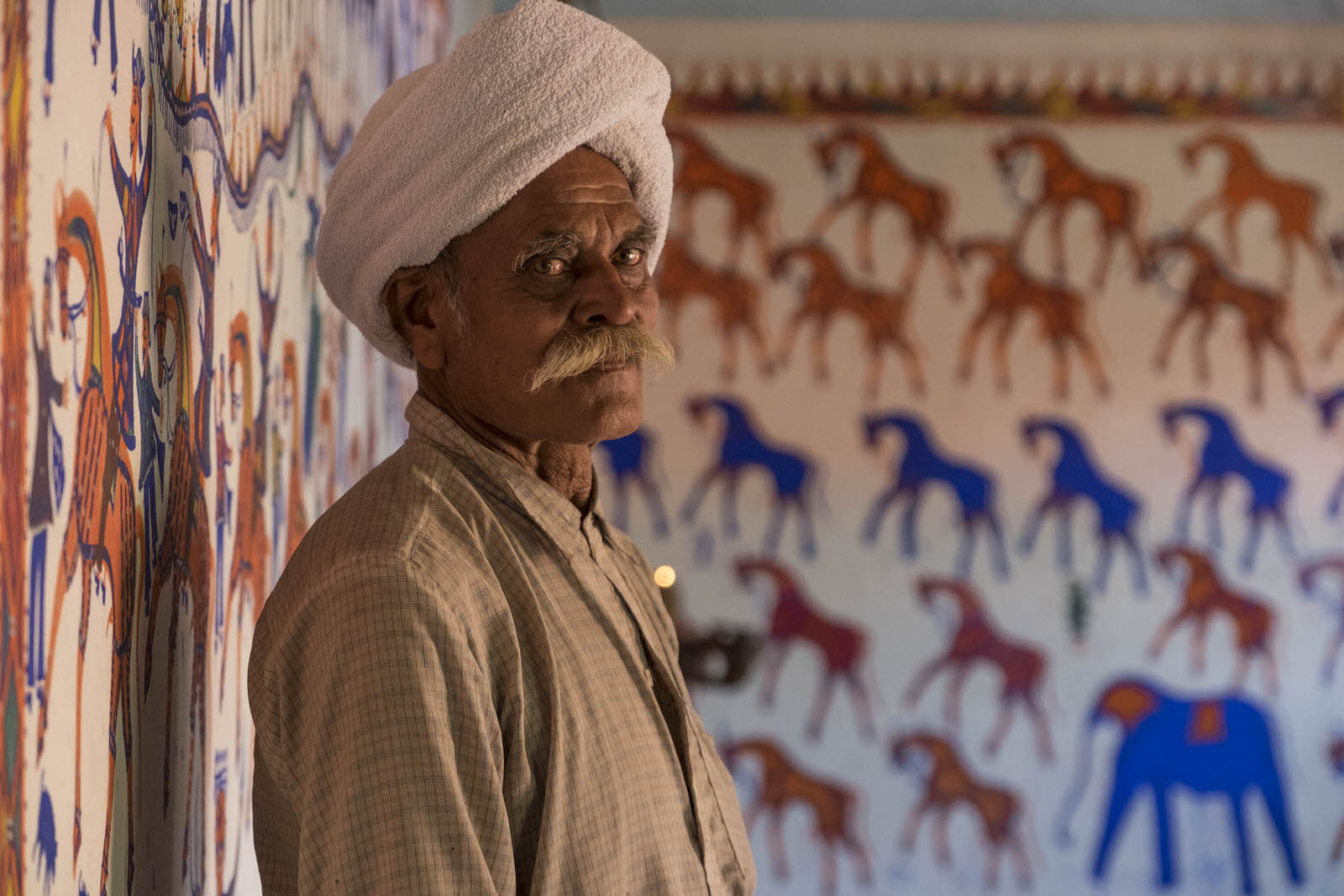 The palace staff can organize treks for guests, complete with a guide and packed snacks. The forest is perfect for hikes as well as slow sunset strolls around the Kada Dam reservoir.You can also visit the local tribal villages and spend time learning about the
11th C Pithorah Art, ritualistic paintings that adorn the homes of the Rathwa Tribe. The paintings are made by 'Lakharas' or religious painters, on the walls of the homes, during a ceremony that lasts nine days and is celebrated only once by a family. Also close by are the ruins of the eighth-century Champaner-Pavagadh Archaeological Park, a UNESCO World Heritage Site, with an interesting mix of Islamic and Hindu architecture.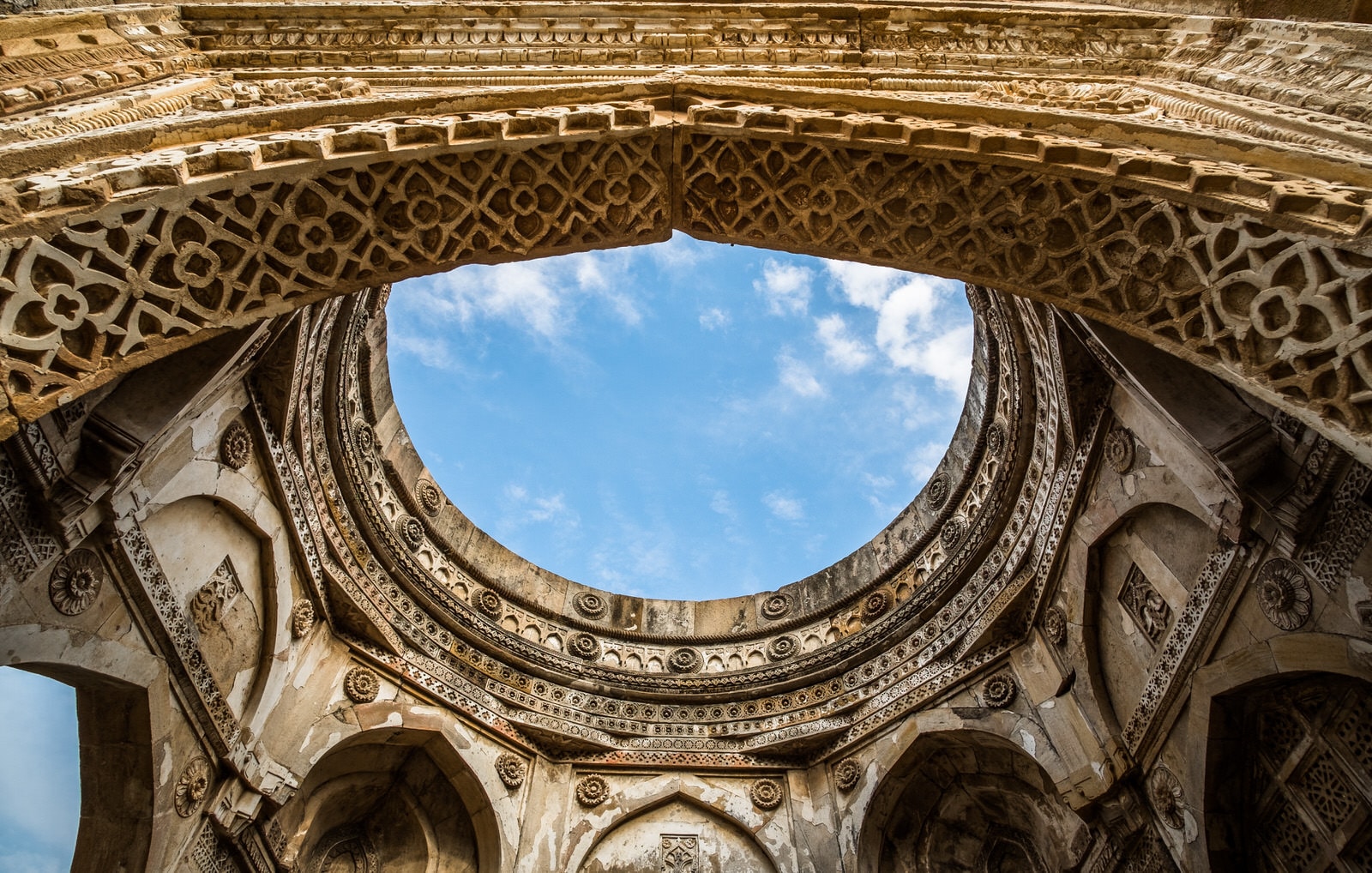 Some Useful Information:
Getting there: Jambughoda Palace is about 80 km/1.5 hr east of Vadodara. The hotel can arrange a pick-up from Vadodara railway station or airport (₹2,000 one way).
Eat & Stay: Jambughoda Palace has 20 rooms. The Piloo Mody suite with its vintage four poster beds is great for groups. There is a lawn outside each room and guests may bring pets on providing prior notice. Meals cost extra, but guests can opt for packages that include meals and sightseeing (www.jambughoda.com; room doubles from ₹2,500; Piloo Mody suite, two bedrooms,₹4,800 per room per night each; Durbari thali ₹2,000, special meal ₹850)
Dont Miss: Visit during mango season (mid May-mid Jun) to feast on the 12 varieties grown on the property.  The area is particularly lively around Holi, when there is a ten-day mela.
A version of this story first appeared in the March 2017 issue of National Geographic Traveller India Magazine as "Garden State".