One of our favourite things about travel is all the different food we get to eat, which India has no dearth of. While smaller towns and boring little hotels have the usual fare and we've probably eaten more palak-paneer and tandoori chicken than we care to admit, each region or city always has something different to offer.
Madhya Pradesh, at the heart of India probably doesn't have one overarching dish or style of food, like say the Bengali's or Punjabi's do, there is no MP cuisine for instance. But over the centuries, through migration, war and empires, Madhya Pradesh food has imbibed different styles of cooking and flavours from neighbours and made it its own.
Consider the poha in Indore, Maharashtrian in style, but eaten with hot large jalebis, or the Nawabi cuisine in Bhopal, reminiscent of the food in Lucknow or Hyderabad, though not quite as rich and heavy. So here are 5 foods of Madhya Pradesh you absolutely MUST try when you are travelling through the heart of India.
Bhopali Bun Kebab
Nawabi food in India conjures up images of rich dishes in the bylanes of Lucknow and Hyderabad with old Islamic monuments towering over you. But in the heart of Bhopal is a different kind of Nawabi cuisine, cuisine that seems comfortingly familiar and yet is distinct in taste. Here the cuisine was nurtured by a string of Begums who ruled, descendants of Dost Mohammad Khan, a Pashtun soldier  who founded the city in the early 17th Century. If you ever find yourself in Bhopal, and there are plenty of reasons why you should, don't miss out on some of the best Nawabi cuisine you can sample. Apart from the dum style cooking, the rice and meat called Biryan, and the famous Rezala dishes, one of our favourites was the unique Bhopali Bun Kebab.
The bun kebab is a flatted meat kebab, lightly fried and not very spicy, placed in between a pao style bun with a generous dollop of spicy green chutney and a few mint leaves. The bun is a bit sweet on its own and complements the spicy chutney quite well, balancing out the flavours. This unique bun kebab or a bhopali style burger if you will, is available only in the evenings in roadside stalls in the old Chowk area, known as Chattori galli and costs a princely sum of Rs 10.
So, once you tire of walking around the old city, have taken your fill of photographs, head to any road side stall for some refreshing namkeen Suleimani chai (a salted tea, topped up with cream – pictured in the cover photo) accompanied with a couple of hot bun kebabs, either beef or mutton. You will not be disappointed.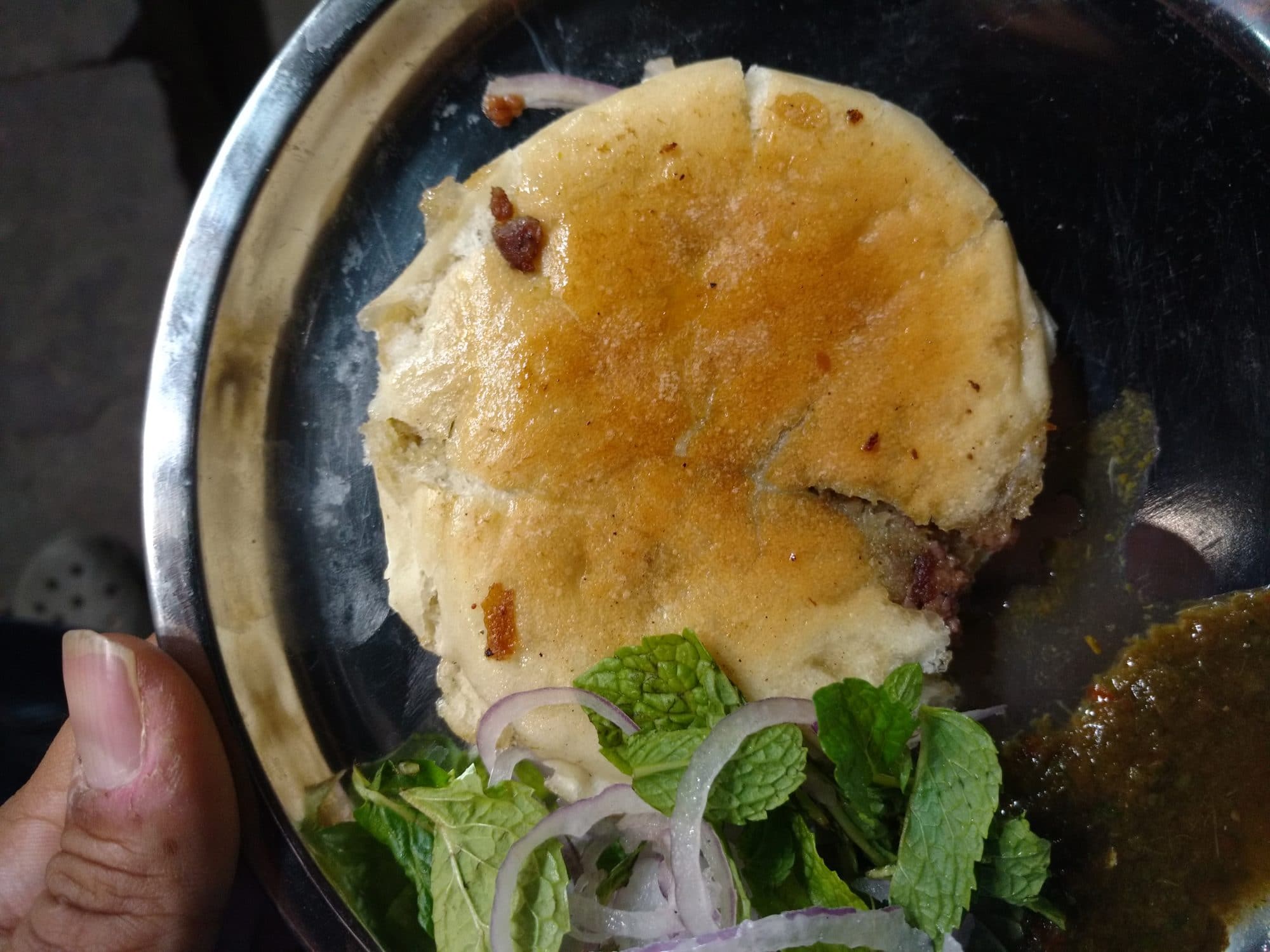 Mawa Jalebi of Burhanpur
Hoshner is a great one for sweets and he loves small towns around the country because all the neighbourhoods usually have a milk and sweet shop selling excellent dahi, lassi and sweets on the cheap. As we were in MP through the end of winter we gorged on everything from shikanji in Indore, milk cake in Orchha, lassi in Mandu and gajar halwa in Khajuraho. But the sweet that took the 'cake' was the unusual Mawa Jalebi we stumbled upon in Burhanpur in southern MP, a somewhat forgettable town popular for a few old ruins and an important pilgrim spot for the Bohra community.
Made the same way as jalebis, the batter here is made with mawa or khoya, mixed with bit of arrowroot (starch extracted from root stock) and deep fried in piping hot oil. The result is a dark brown thick jalebi that is shaped like a regular jalebi but tastes more like a gulab jamun. Divine!
Incidentally there is an old sweet shop in Muhammed Ali road in Mumbai that also serves the mawa jalebi, creatively called, Burhanpur Mawa Jalebi, a branch of a 45 year old shop in Burhanpur! The present owners uncle came to Mumbai and opened this outpost and Mumbai is glad for it. We were told that you can get Mawa jalebis in other parts of MP, UP and Delhi, but we didn't come across them anywhere except in the dusty little town of Burhanpur where you see in them in every sweet shop and roadside stall.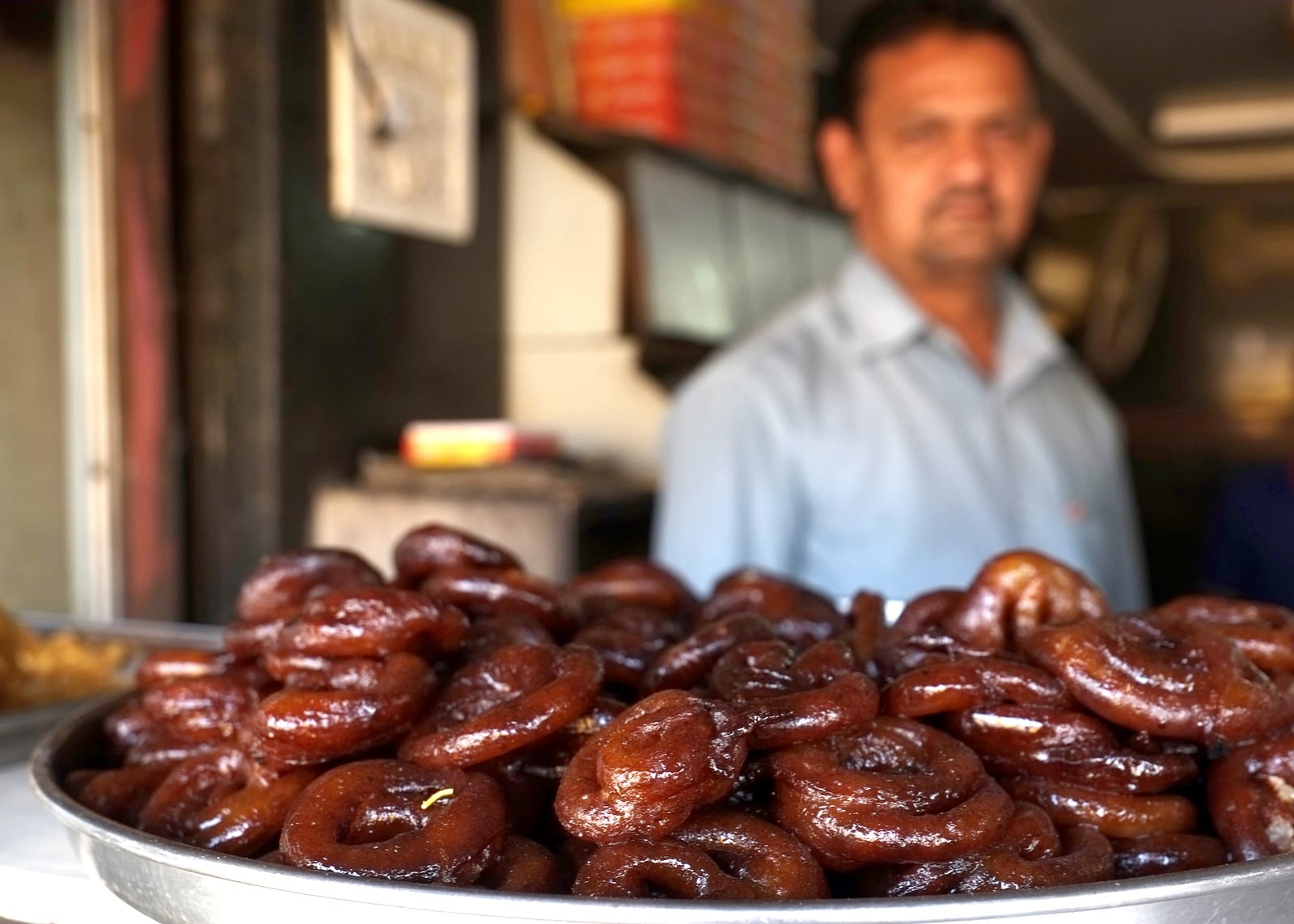 Indore's love of Chaat
This much is clear, the Indoreans love their food. When we spent a couple of days in Indore at a friend's house, just after Holi, we were told to make sure we did two things – check out the Rang Panchmi Holi on Day 5 around Rajwada and visit Chapan Dukan and Sarafa, the city's two popular food haunts.
Whilst we never made it to the Holi celebrations, relaxing at home and being fed constantly won over, chapan dukan was clearly on the agenda. It was there that we truly encountered the city's love for all things fried and snacky! From the famous breakfast dish of poha-jalebi to the hundred kinds of sev (every Indorean has his own favourite), to chaats, kachoris, patties, bhajjis, sabudana khichdi, and all sorts of sweets, these two streets in the older section of the city are a delight for lovers of fried delicacies!
Whilst the choices on offer are staggering, especially for those that love a good Indian snack, make sure you try the sweet thick Shikanji at Madhuram Sweet House and the burger/sandwich at Jhonny Hot dog, a local favourite, both at chappan dukan. The Shikanji is a blend of curd and rabri with classic flavours of kesar and cardamom, and the sweet house was doing a brisk business.
The city is also famous for the bhutte ka kees, a winter delicacy made with grated corn that is first sauteed in ghee and then cooked with milk or buttermilk, a Malwa favorite that we found in other parts of the state as well. Don't leave Indore without trying the Khopra (coconut) patties of Vijay Chat house and Laljis Tikkiya Chole both in Sarafa. Last but not the least, make sure you get yourself invited to a locals home for an epic breakfast of poha and jalebi.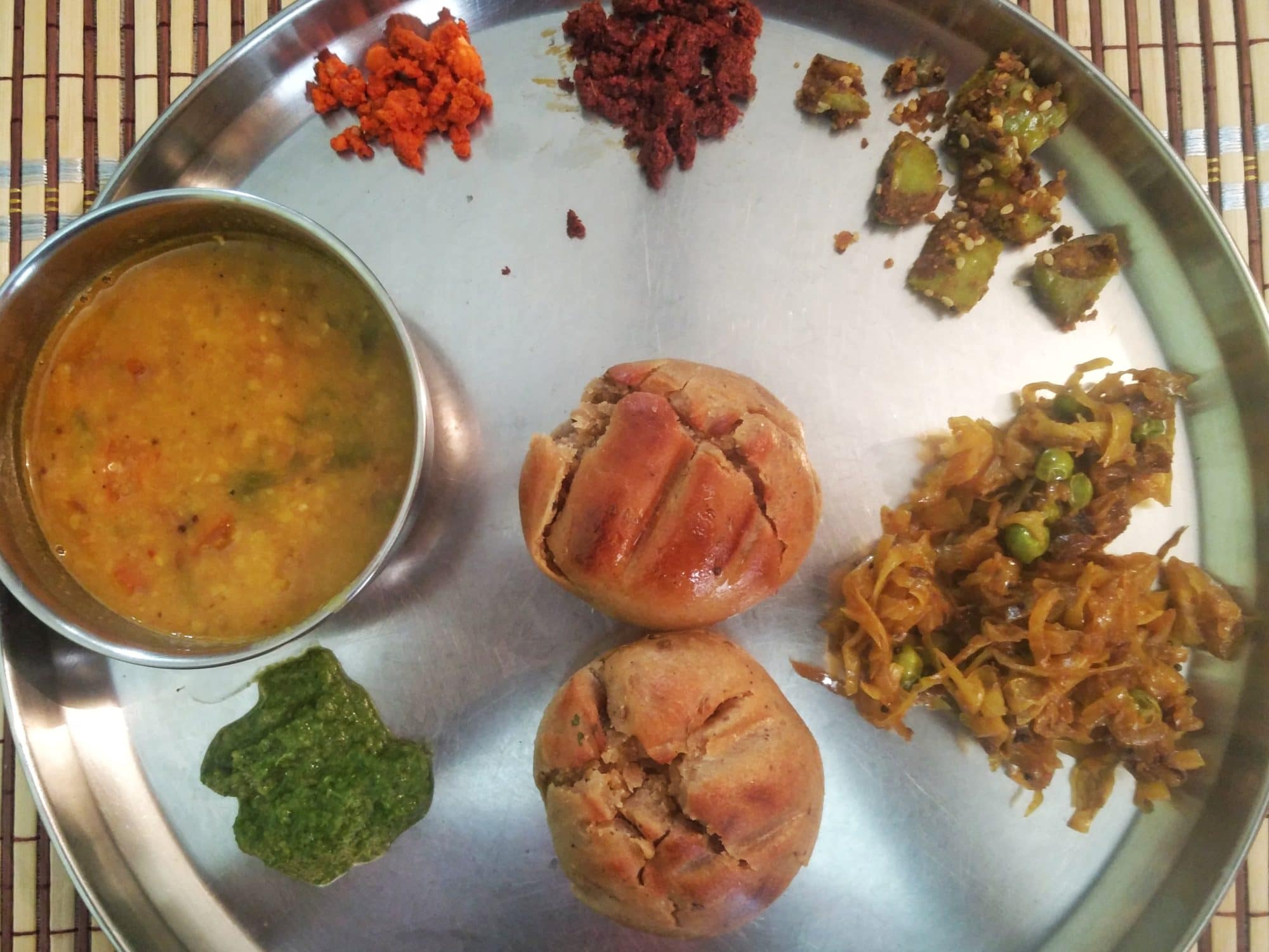 Flavours of Bundelkhand
The regions of Northern MP, from Gwalior to Khajuraho and southwards to Chanderi is broadly the Bundelkhand region, ruled by various dynasties over time. The food here is fairly different from what we ate in other parts of the state and is best sampled in one of the smaller villages or at the home of the tribal community, which is exactly what we did while in Orchha and Khajuraho. We also had the chance to eat some of this unique cuisine, which traces its roots back to Jain cuisine, with an extensive use of raw ingredients and different types of millets, at the wonderful Khajuraho Dance Festival.
One of the stalls at the festival was run by a local NGO, a seed bank, where two women had set up shop behind the counter and were cooking up a storm. Most of the food was cooked in large clay pots over a wood fire, giving everything a lovely smokey taste. No oil was used and many of the dishes used different millets, bajra, jowar and very little wheat.  Though we were told that the food revolution has brought wheat into the lives of the communities here, which the NGO is trying to balance out by bringing back more traditional grain. We sampled the dal made from green sprouts, along with the millet rotis that were cooked on the wood fire and then dunked in butter milk. It was more like a quick snack, each roti was quite small, but tasted great especially with the butter milk to balance out the heaviness of the grain. One of the highlights was a typical breakfast dish called Maheri, a sort of khichdi made with buttermilk, jowar and jeera (cumin), quite yummy and filling. The festival is a great place to introduce yourself to this style of food which is now mostly only eaten in homes and small villages across this part of MP.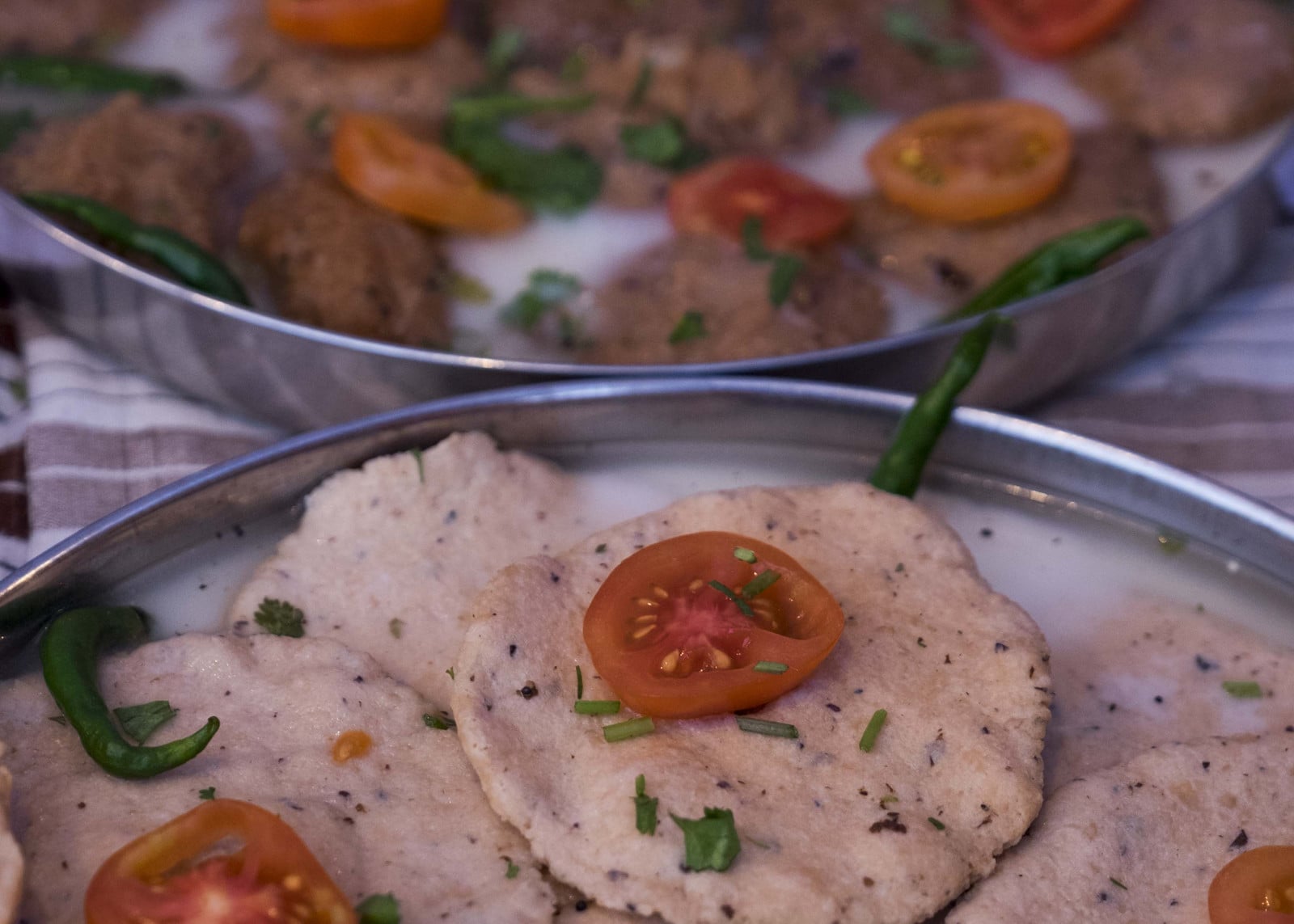 The sweet Mahua flower
Of all the flora of central India, the one that occupies central place in the life of tribals and villagers, especially in the summertime, is the famous Mahua tree. The Mahua flower has many uses: in Ayurvedic medicine, the oil is extracted and used for cooking, and the flower itself is eaten and used to make jams and biscuits due to its nutritional value.
However the most fun use of the Mahua flower is in its use to make traditional locally brewed alcohol! For time immemorial the flowering season of the Mahua tree is eagerly awaited, not only by the human inhabitants of these regions, but also by the animals like monkeys and bears that compete for the sweet flower! There are stories of elephants drunk on Mahua, rampaging through villages in the search of their next drink!
The Gond and Bheel Tribes of central and south eastern MP collect and sell the flowers to local distilleries that make the strong but not unpleasantly flavoured alcohol. Many tribals in the region also distill it at home for their own consumption. The selling point of Mahua, atleast according to what we were told, is that you can drink any amount without getting a hangover! Now thats something to drink to!
Whilst most locals drink Mahua neat, like a liquor, we suggest mixing it up with some lemon juice or tonic, it will make a great accompaniment to your meal of bun kebabs and mawa jalebis!