How on earth do you travel so much ? Isn't it Expensive ?!
It's a question we get asked all the time and part of the reason we are writing this post is to debunk the myth that travel is expensive.
What if we told you that we travel on just INR 2500 / day which works out to approx 75,000/- per month, probably less that most couples spend on regular daily life in cities like Mumbai!
So read on to know how we do budget travel in India !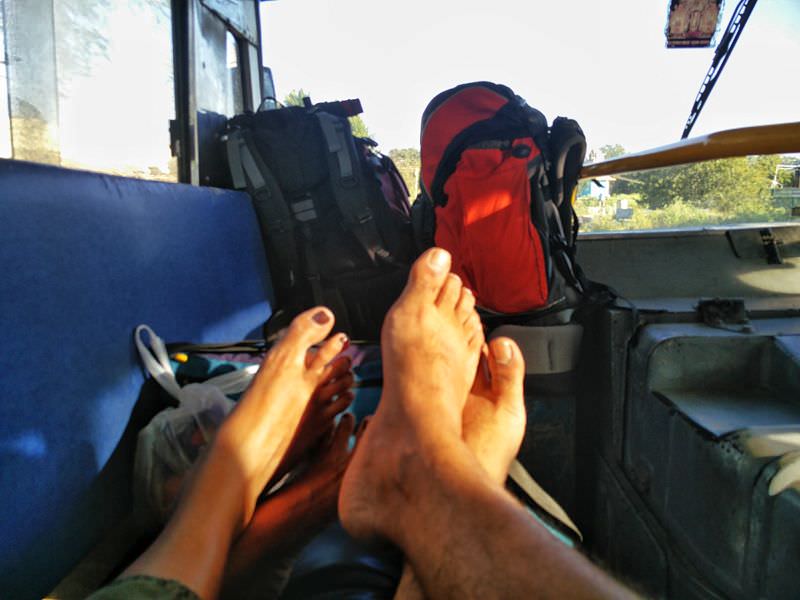 Our travel in India has been rather different from most in the sense that we try and travel pretty cheap! There are several reasons we do this, from the joy of experiencing travel in a completely unusual manner to exploring the country the way a majority of India does. However, it was a conscience decision we took to ensure that we travelled as cheap as possible to try and stretch that rupee to the maximum and thus came about our daily budget of INR 2500 a day, for the both of us … inclusive of everything!
As a whole the amount sounds like a decent one, it's not small by any means but certainly not extravagant, and it can get quite difficult to manage within it. And it's a question we get asked very often, as to how the two of us travel, eat, sleep and explore within what most people consider a small travel budget. It is fairly normal for someone on holiday or while exploring the country as a travel writer or blogger or photographer to spend that same amount just on a hotel for example, and we've had some fairly incredulous faces stare back at us as we explain our MO.
Why we travel Cheap
There are two ways of looking at this, one is how we do it, which is rather easy to explain, but the other side is why we do it? And that's where it gets interesting, because in restricting ourselves to this tiny budget we've opened ourselves to experiences and adventures we probably never would have had otherwise. And thus while following our budget can get quite hard sometimes (all we want every now and then is a luxurious hotel bed with fluffy pillows) we push ourselves to stick to it, because more often than not it's incredibly rewarding. In travelling the way everyday India does, we see a side of this country that would otherwise remain hidden in quick flashes and blurry countrysides. And in travelling with India, in buses and 2S trains, we get a glimpse into the lives of people that keep this mad and crazy country going. 
How we do it
The three main components of any travel is generally divided amongst accommodation, transportation, and our favourite, food. We spend as little as possible on transport, using only public transport and any and all means that the locals use to get around. This sometimes means even a horse cart, which is the primary mode of transport in Rajgir, a small town in Bihar near Nalanda and is famous for a Buddhist Stupa and monastery. You sort of hop on and off the horse cart as it passes by, not unlike a bus or shared auto, and get around town. A rather unique system, we quite enjoyed the experience.
The joys of public transport!
Travel by public transport has given us many adventures and stories that add to our incredible journey around the country. We've found that people are kind and generous, always ready to help two obvious strangers in their part of the country. Bus conductors have ensured we catch the correct bus to get to our destination, people on the buses have given us valuable advice to aid our exploration and discovery, random men and women have fed us, and everyone has a story to share, making the long and sometimes arduous journeys more palatable.  And all this usually for a couple of hundred rupees, a fraction of the cost of a taxi, and certainly more entertaining. On one journey from Mokokchung to Mon in Nagaland, we changed two sumos, an auto, and two buses to complete a 260 km journey which would cost Rs 13500 by private taxi in under Rs. 700 and even got fed fruits by our co passengers along the way!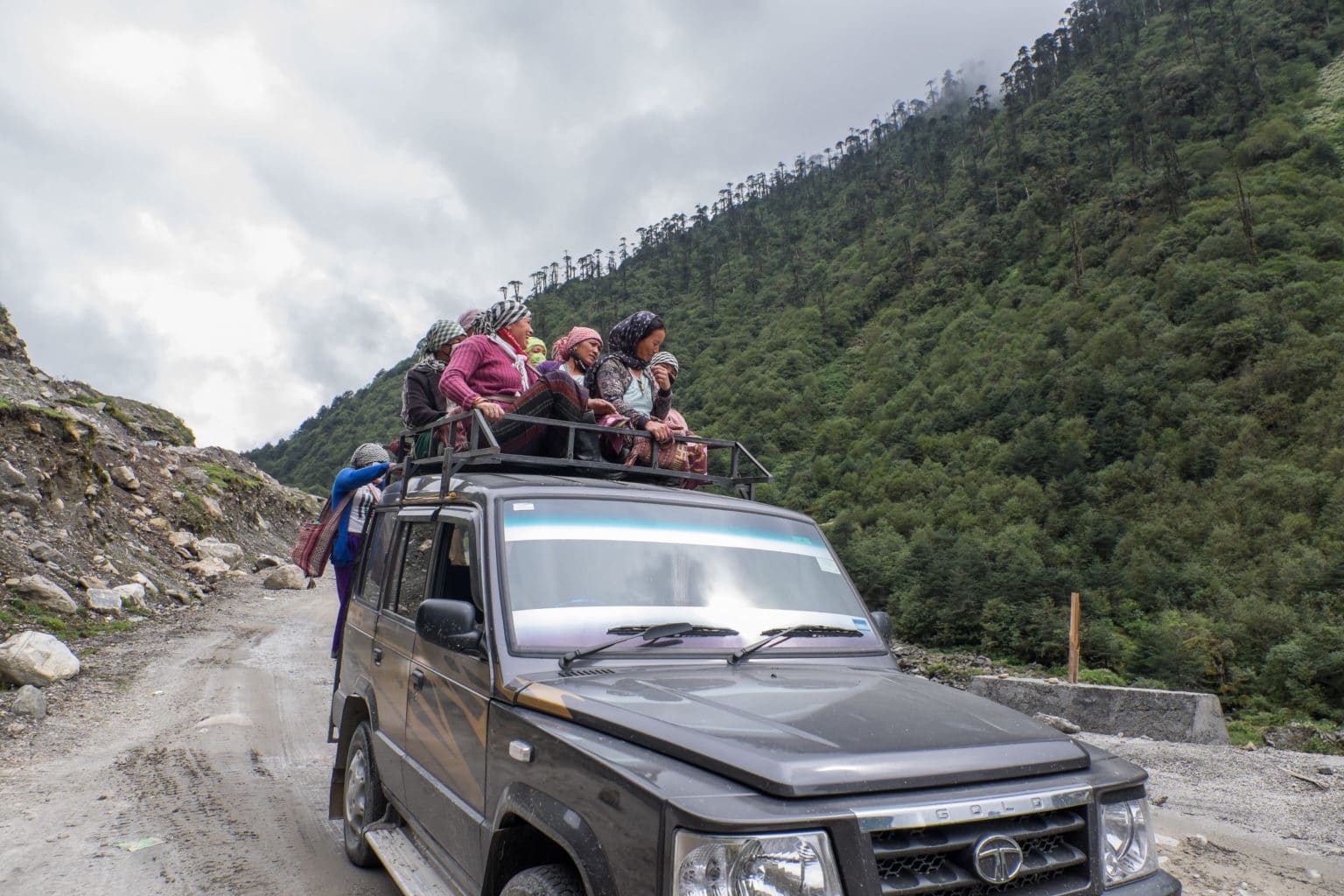 We've realized that there is a certain bias against taking public transport in India, especially if you are not used to taking a ST bus for example and only travel by taxi or train or plane, but we can attest to the fact that the ST bus network is vast and amazing. And also very efficient and super easy to use. We have, over the course of 2 years and 15 states, taken close to two hundred buses and it's now second nature for us to walk to the bus stand and hop on to a bus heading to the next town or village. We've done this everywhere from UP to Tamil Nadu and from Punjab to Assam. Punjabi buses are the most fun, they all have Punjabi music blaring from tiny TV's and we're pretty sure the entire Punjabi music industry runs on the shoulders of their bus network. For distances longer than 4 hours we usually hop onto a train, where the network in India is extensive, and religiously use the IRCTC app.
Cheap hotels don't always mean shady hotels
Saving money on transport means we have more for accommodation, which we usually try and book within Rs 1200 a night. There is a common misconception that 'cheap' hotels, lodges and guest houses are gross, unsafe and for a 'certain type of people', but that's a terrible stereotype we'd found not to be true. True, sometimes the cheaper places around the bus stand or station, especially in bigger cities, can be lacking in hygiene or amenities, but that's not always the case. We've stayed in countless faceless box hotels or lodges and by and large the people are decent, helpful and happy to provide the necessary service. Something Indians are famous for. As long as the room and bathroom is clean, the place is safe, and we get basics like chai or coffee and breakfast, we're fine.
We've found that most of the smaller lodges and guesthouses are locally run, sometimes by families and are a great source of information. They tell us where to eat the best local food, how to get around, interesting and unusual markets and photo spots and any legends or stories that are attached to small towns and ruins. We love a good chat, usually possible only in this sort of setting. Homestays serve this purpose, and we do love them, but the homestay set up in India is still fairly nascent and there are plenty of tiny little boutique properties that market themselves as 'homestays' and can be quite expensive. And every now and then we do splurge, giving ourselves some creature comforts, and stay at fancy places. However  we always try and pick interesting places with a unique experience around it, sometimes by partnering with resorts or homestays, to bring these options to our readers as well.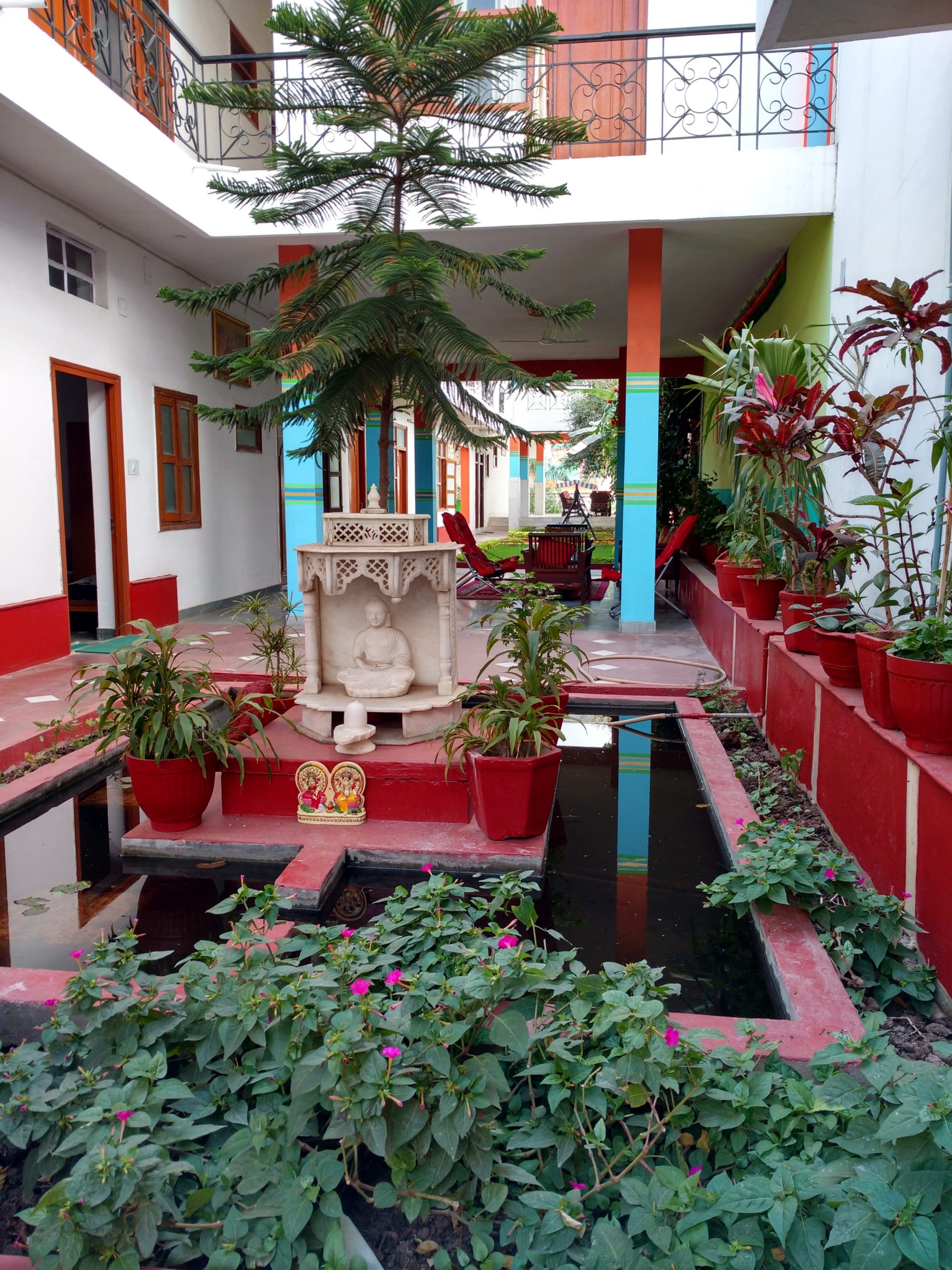 In Orchha we stayed in a lovely small little family run guest house for all of Rs 400 a night, which seems like it might have been terrible but it wasn't. The rooms, though small, were clean and the family, from the area, fed us well with good homemade fresh food and interesting stories. They even called one night, when we were out exploring an old palace in a nearby town and hadn't returned by 9.30pm, to make sure all was well; something a large hotel would never do. Smaller places like this also open up the region for you, creating connections that one would otherwise miss. In Kohima for example, we stayed in another family run lodge/homestay for Rs 1000 a night with breakfast, run by a local Naga woman and her staff of enterprising smart young ladies. She put us in touch with her entire network across the state and we had a fabulous time staying in several villages, meeting people she knew and immersing ourselves into the culture, something that might not have been possible had we not met and stayed with Nino.
Eat like the locals!
Saving money on transport and accommodation generally means that we can spend the biggest chunk of our budget on what we love the most, food! Food in India is varied and diverse and every few hundred kilometres there is always something new to taste and try. Dishes that might sound or look the same vary in flavor and travelling from Orissa to Meghalaya to Punjab to Madhya Pradesh is a culinary adventure. We always try and eat what the locals eat, try new street food or sweet stuff or even fruit that is unique to a particular region. Street food and small eateries is usually the best way to eat cheap, though in some parts of the country not always the healthiest. We've found that in parts of the south, cheap food is more wholesome and not as heavy as one finds in central or northern states.
Whilst we stay in lots of small budget hotels we try to avoid eating in them as far as possible. This is because no matter where you are in the country your 'hotel' staples like palak paneer, dal and chicken masala, look and taste the same! Heading out of the hotel to explore the food that locals eat in the small bylanes, whether in Amritsar, Lucknow or  Bhopal always offers a more authentic and often times more economical experience!