… To see a Temple. Yes, you read that right. It took us seven buses, those deadly state transport buses, and an auto to get from our hotel in Tanjore to see the Sri Ranganathaswamy Temple in Trichy. It would have taken eight buses but the last leg of our journey we decided to splurge a little and take an auto back to the hotel, or lodge as they more popularly called in Tamil Nadu. Unemployment and a plan to travel the country for a year does not add up to fancy hotels and comfortable transport, and exploration on a budget means cheap hotels and state transport buses.
To those of you who know us, it might seem odd, and in fact the irony is not lost on us, that two not very religious people or temple goers would undertake this journey, but we are in Tamil Nadu and the temple we went to see is one of the largest Vishnu temples in Asia.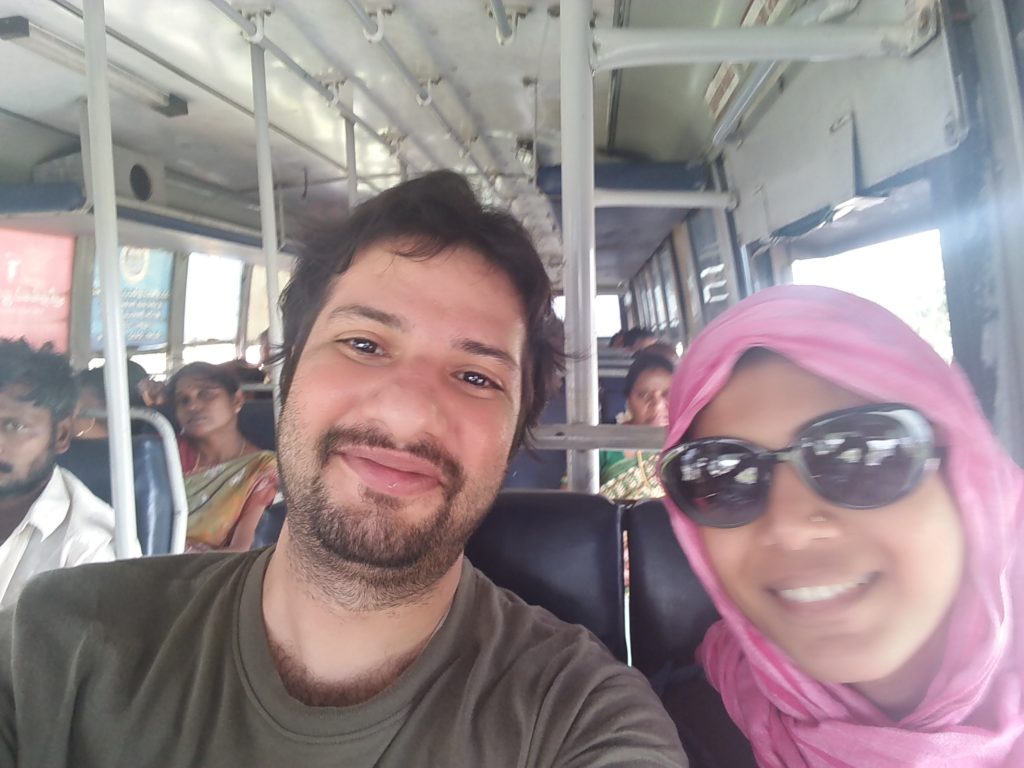 For those interested in revelling a little in our plight, here are the details – from our hotel we walked to the old bus stand and took a town bus to the new bus stand. From there we boarded a bus to Trichy. Two hours later we got off on the highway outside Trichy and decided to eat. It must be pointed out at this point that after a lot of ST bus rides, complete with hard rexene seats and dripping ceilings, we decided to reward ourselves with hot coffee or yummy roadside snacks. So we ate a rather expensive meal at a highway restaurant (Rs. 350) and then took another town bus to the main Trichy bus stand. A very helpful cop at the highway gave us clear and precise instructions. From the main bus stand we then took the famous bus no.1 which dropped us off right outside the temple complex. Four bus rides later, three hours and 88 rupees later we had finally reached the temple.
The temple complex is a living and growing organism, built in concentric circles, with the four outer circles full of houses, shops, vendors, and hawkers. Once you pass through these four gates you then have to take off your footwear, buy a ticket for the camera and enter the actual temple zone. Being a Vishnu temple, we found it to be more peaceful and calm, compared to the Shiva temples we had seen earlier, which were a bigger hotbed of activity and ferocious looking motifs. Here the beautiful carvings on the pillars, the statues on the gates and paintings on the ceilings all seemed more benevolent and benign to us. This of course could also be attributed to the rain and bad weather, but its all debatable. While the temple zone itself is not extremely large, it is the outer complex and many gates that make it one of the largest in Asia. You can go up to the roof of the temple for an extra Rs.20, which gives you a panoramic view of all the gates and imposing statues carved on the gates, that rise several hundred feet into the air. It is something we recommend. The view from the roof also gives you a sense of just how large the complex is and you can almost imagine a time in the distant past; where brahmins and their families inhabited the complex, with young priests being trained in religion and philosophy and old men debated the ancient texts and advised the rulers of their time.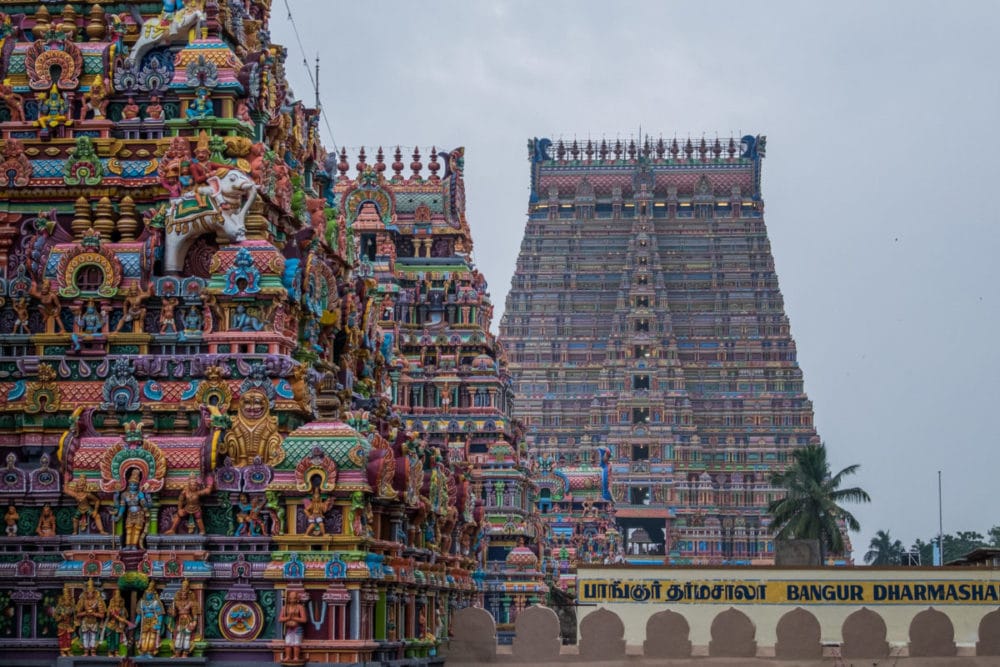 Having explored the temple and alleyways, we decided to fortify ourselves with more freshly brewed filter coffee before embarking on our very many bus rides back. So to recap, it was one bus to the main bus station, a second to the other bus station and then a third to Tanjore. Please don't ask us why we had to go to two bus stations within Trichy, it is something that will remain a mystery forever. Tired, wet and a little cranky we then finally took an auto from the main bus stand in Tanjore back to the hotel; an auto ride which cost us almost as much as our seven bus rides combined and definitely more than our dinner.