Indian history is not its own.
An amalgamation of empires, ancient civilizations, indigenous tribes, slaves and invaders, this country has been created by all those who came before the idea of India even existed.
From the food we eat to the clothes we wear, legacies can be traced back to those who came from outside and assimilated with what they found within. Together, after the dust has settled from war and pillage, they have left behind a heritage that is rich and treasured. And thus today we have an array of cuisines across the country, countless styles of clothing, a rich set of monuments and palaces and amazing stories in the tiniest of places.
In our travels around the country we have come across many little towns and villages that speak of influences from around the world, the Danish seaside town in Tamil Nadu, a town in MP with Turkish style monuments or a sea port in Gujarat that resembles one in Zanzibar. These places, the villages or the little alleys in big cities, are memories of a time before India existed, that contribute to creating the India we know today.
Mandu is one such little town, that was once an important outpost for several dynasties and the capital of others that fell on central India trade routes. Today the town lies silent, broken only by the imposing monuments it houses, from Afghan style tombs to Malwa palaces, unique to this region. We spent a few days wandering this town, that has nothing to offer other than a 20 sq km radius of some stunning memories of empires that have come and gone and left their mark on the fabric of our society. The many tombs, palaces and monuments have inspired subsequent rulers and dynasties. 
In 1401, when Timur had made his way to Delhi, an Afghan governor of Malwa, Dilawar Khan set up his own Kingdom in the region, the Ghori Dynasty. There is very little known of Dilawar Khan but it is his son Hoshang Shah who expanded their tiny kingdom and brought much glory to their dynasty and family. However, this tiny empire didn't last very long.
Hoshang's son was defeated by Mohammed Khalji, whose progeny ruled for the next 100 years. The region reached its peak from the mid 1400s to the mid 1500s with the Khalji's adding beautiful monuments to the town of Mandu. Baz Bahadur was probably the last great ruler of the Malwa Sultanate, a man devoted to the arts, as is evident from the palaces he built. It was a slow decline after that with constant battle with the Mughals, rulers in Gujarat, invaders from the south, until the Maratha Baji Rao I took over and moved the capital back to Dhar. Mandu was soon lost in the annals of history.
In an Indian context, the peak of Mandu which lasted about 150 years is small, but its legacy is not insignificant. It is here that an Afghan built his kingdom, followed by a Turk who was later defeated by a Gujarati and then an Uzbek who was subsequently taken over by a Mughal who was later defeated by a Peshwa. Not unlike the history of India itself, the tiny town of Mandu, in South Western Madhya Pradesh is rich with historical significance and its monuments tell many a tale.
Monuments of the Ghori Dynasty: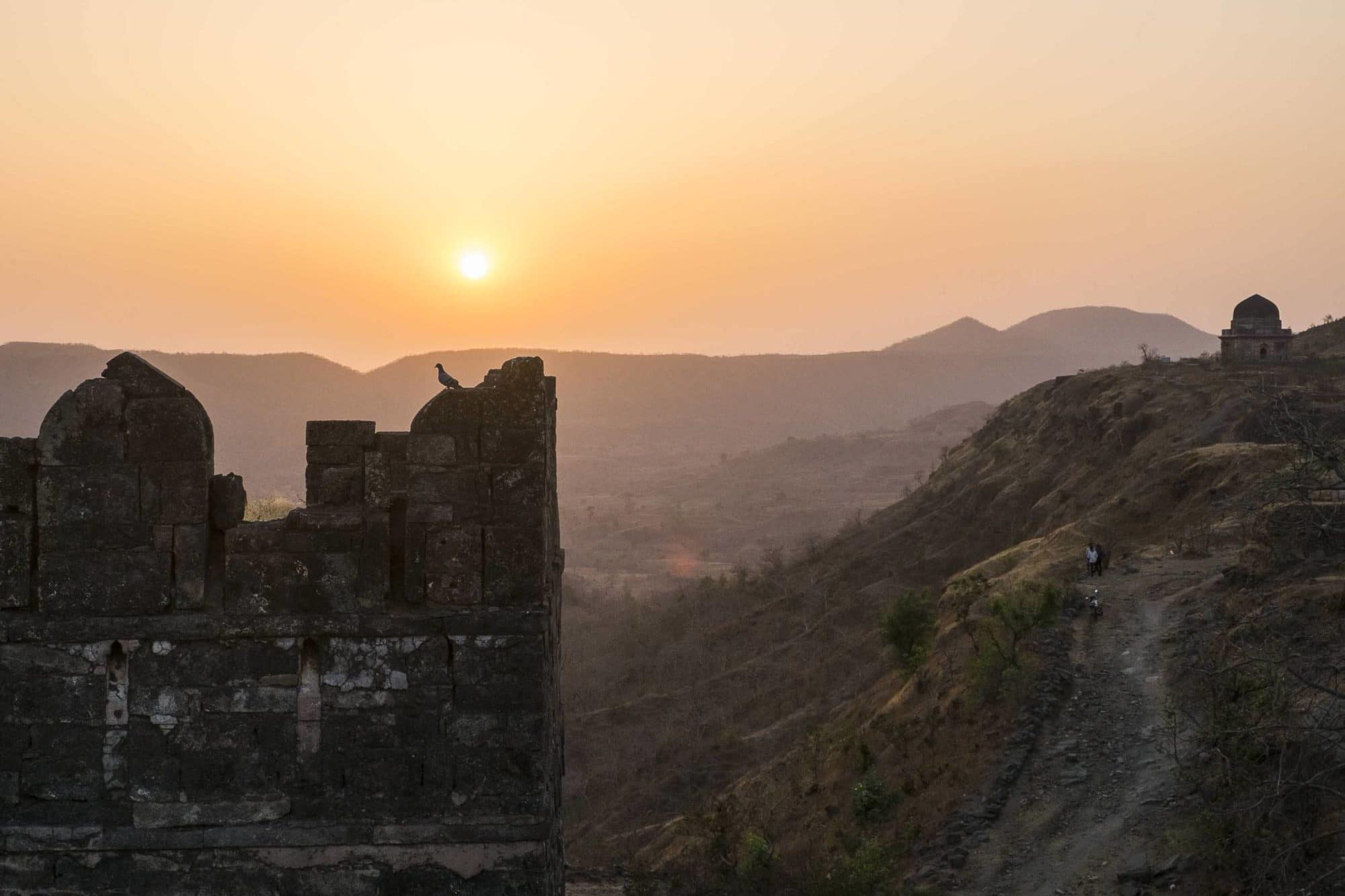 While inscriptions in this ancient hill fort, which was most likely built by the Parmar rulers of Malwa, date back to AD 555,  it was the Ghoris who glorified the town with some impressive architecture. They fused Aghan styles with the existing Hindu monuments in Mandu, and took great care to ensure that older palaces were not torn down but added to. Of the dynasty, Hoshang Shah, also the founder of Hoshangabad further east in MP, built several places of note. Of these, the Hindola Mahal, the long fort walls that encompass Mandu and his tomb itself are a must see.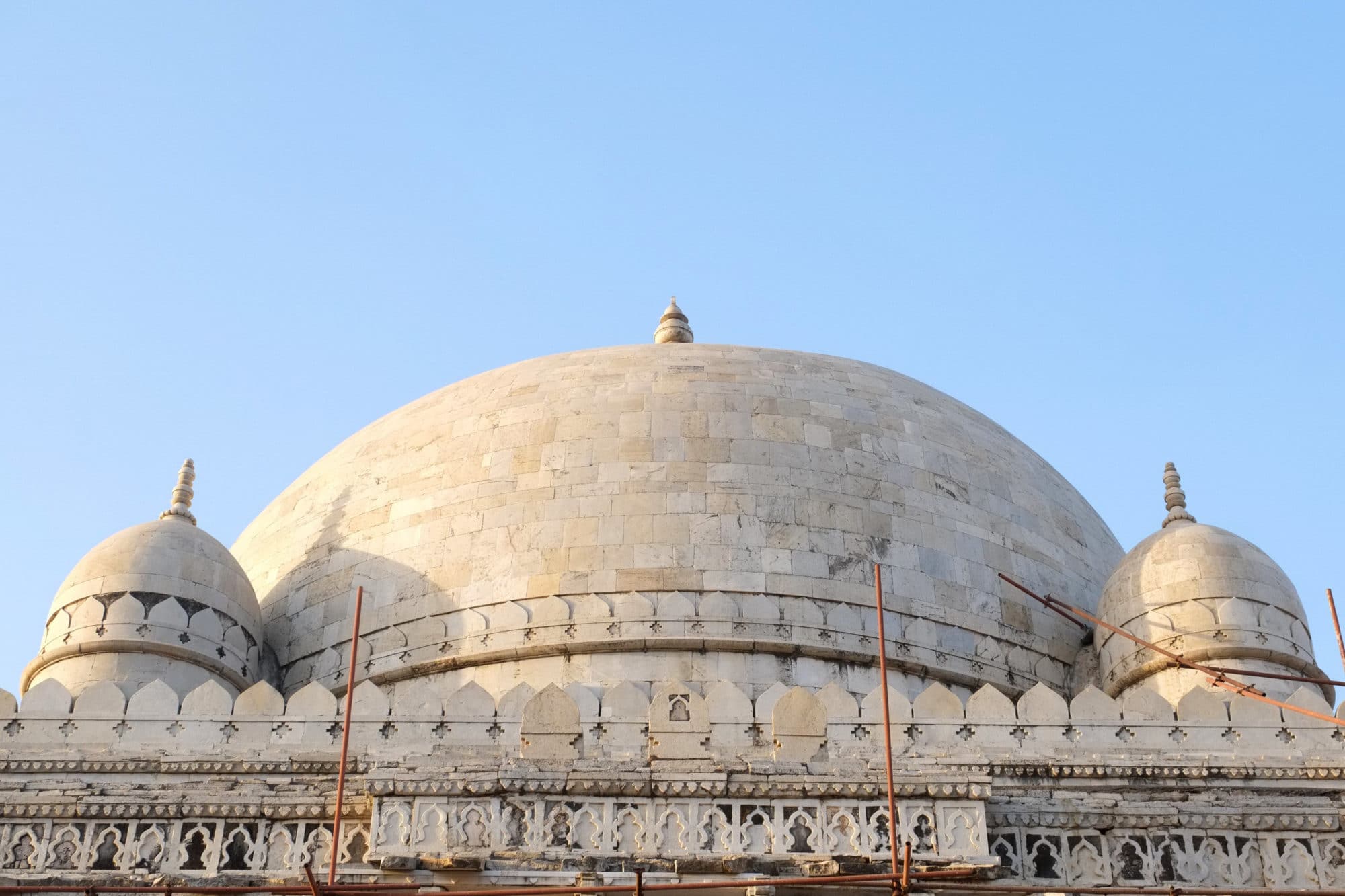 Hoshang Shah Tomb – built entirely in white marble, it was a style that was later adapted by subsequent Islamic rulers in the region. The tomb itself is rather plain with only a little carving and tile work around the arches and doorways, but it also quite elegant and serene. The concept of opulent tombs, that we saw built by the Mughals or members of the Deccan Sultanate was missing, here the focus is on simplicity and elegance, which is apparently how Hoshang also ruled his kingdom. The Dharamshala on one end of the tomb is fairly typical in the style of Hindu architecture of the time, with flat ceilings, pillars and lintels, but with smaller Islamic elements around, as can be seen in the vaulted ceilings in the far end.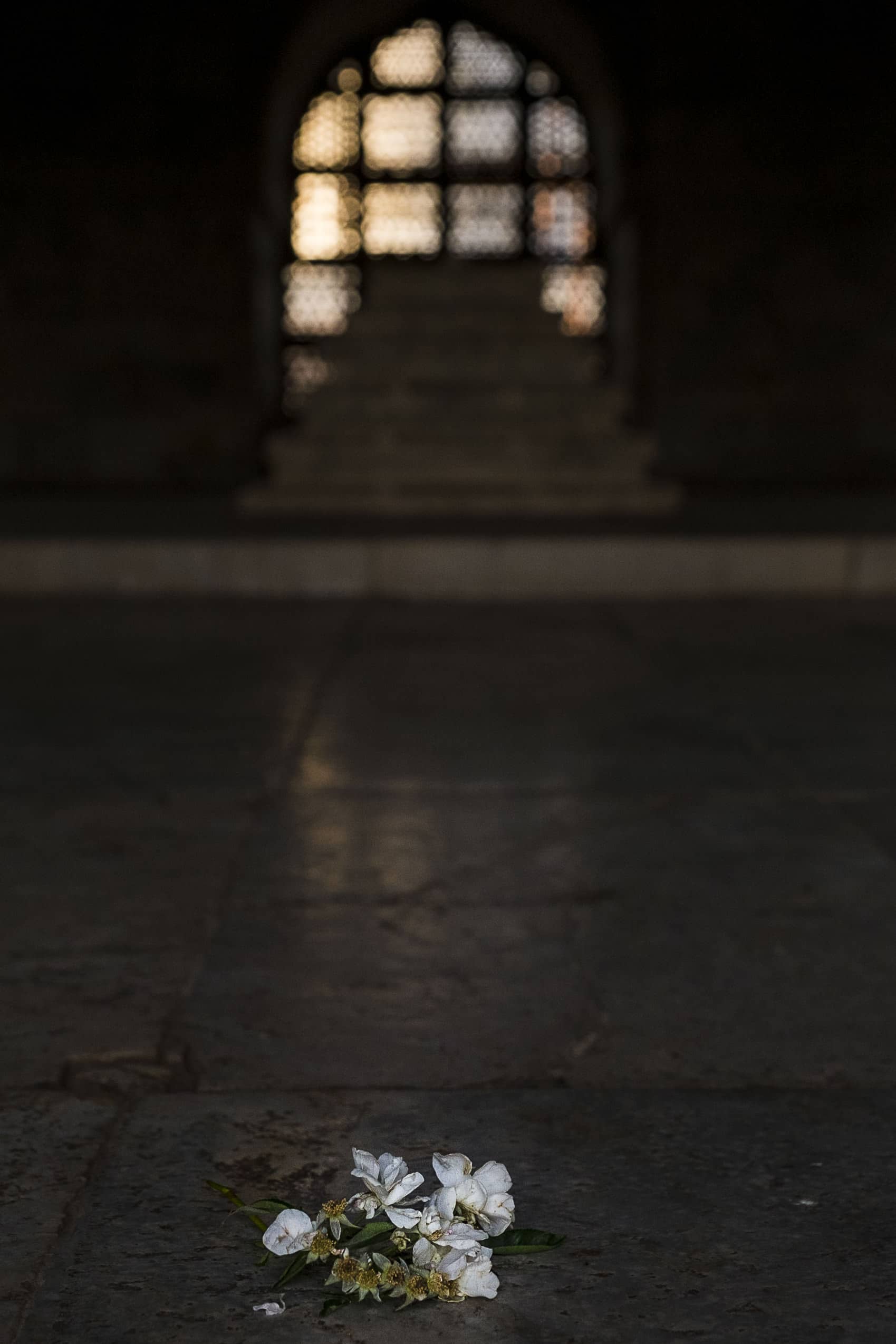 Hindola Mahal
The Hindola Mahal or swinging palace is part of the Palace complex. It gets its name from the distinct sloping walls of the structure which is a design element that seems to be unique to the region. It was probably constructed during the reign of Hoshang Shah and later added to by Ghiyas-Uddin of the Khilji dynasty.  The monuments built by the Ghoris constitute an important provincial style of Islamic architecture characterised by an elegant and powerful simplicity that is believed to have influenced later Mughal architecture at Agra and Delhi.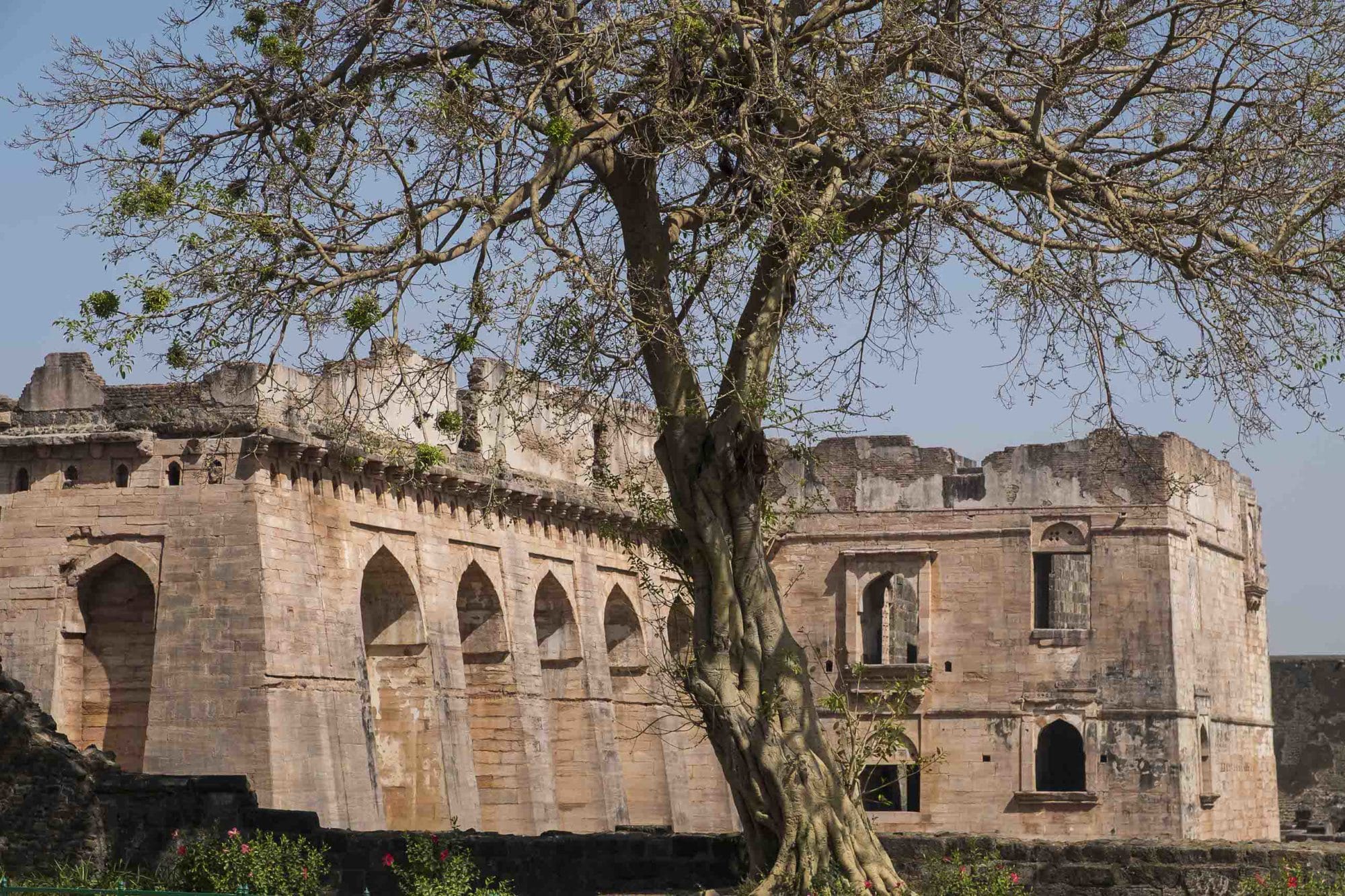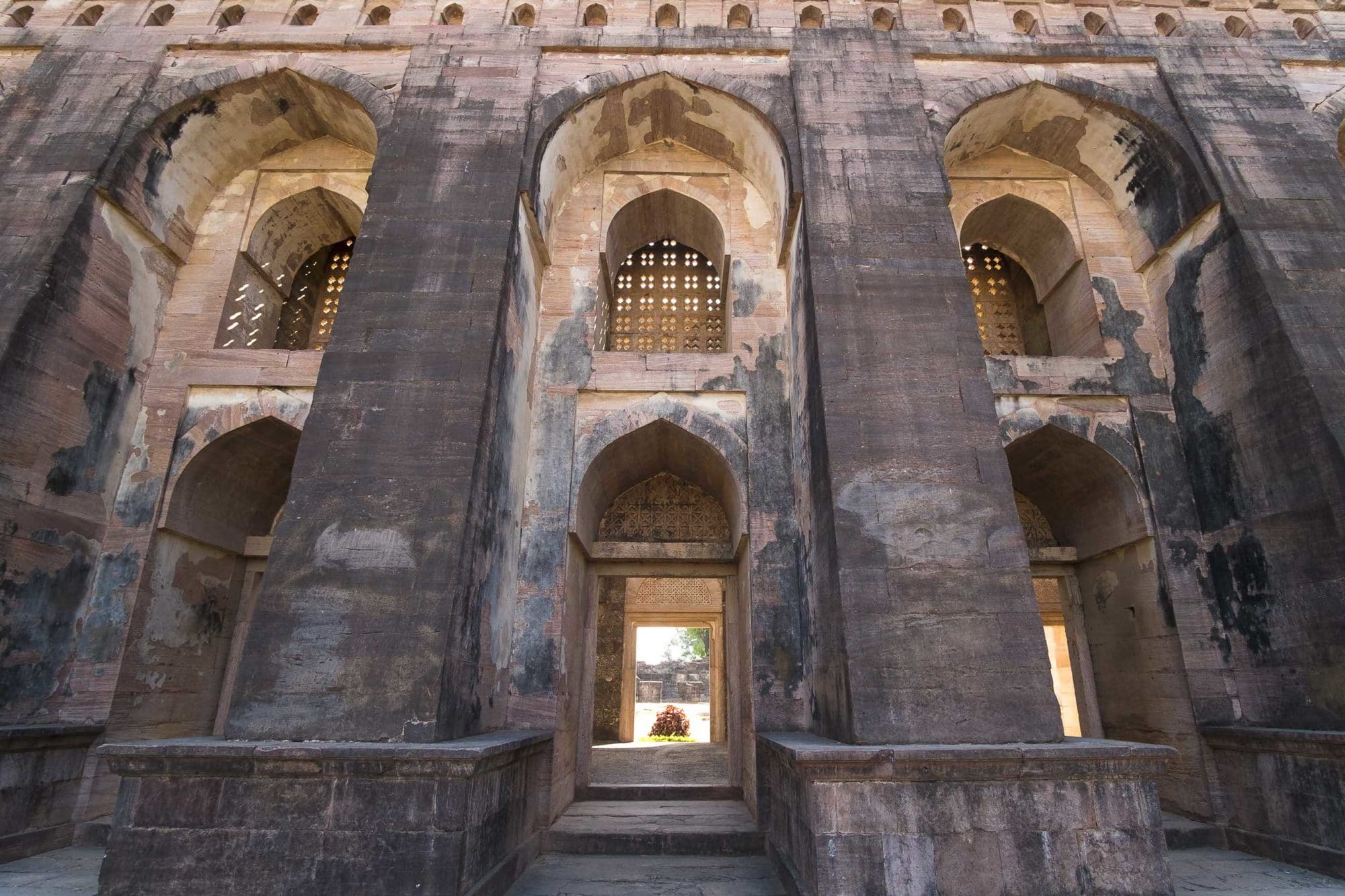 Delhi Darwaza
The Delhi Darwaza is one of the original 12 gates of the ancient city, built by Hoshang Shah in his effort to fortify Mandu.  Step outside for a commanding view of the Vindhya range and the surrounding areas of the Malwa plateau, the same view commanders and kings had for centuries of undulating hills or on a bad day, of advancing armies.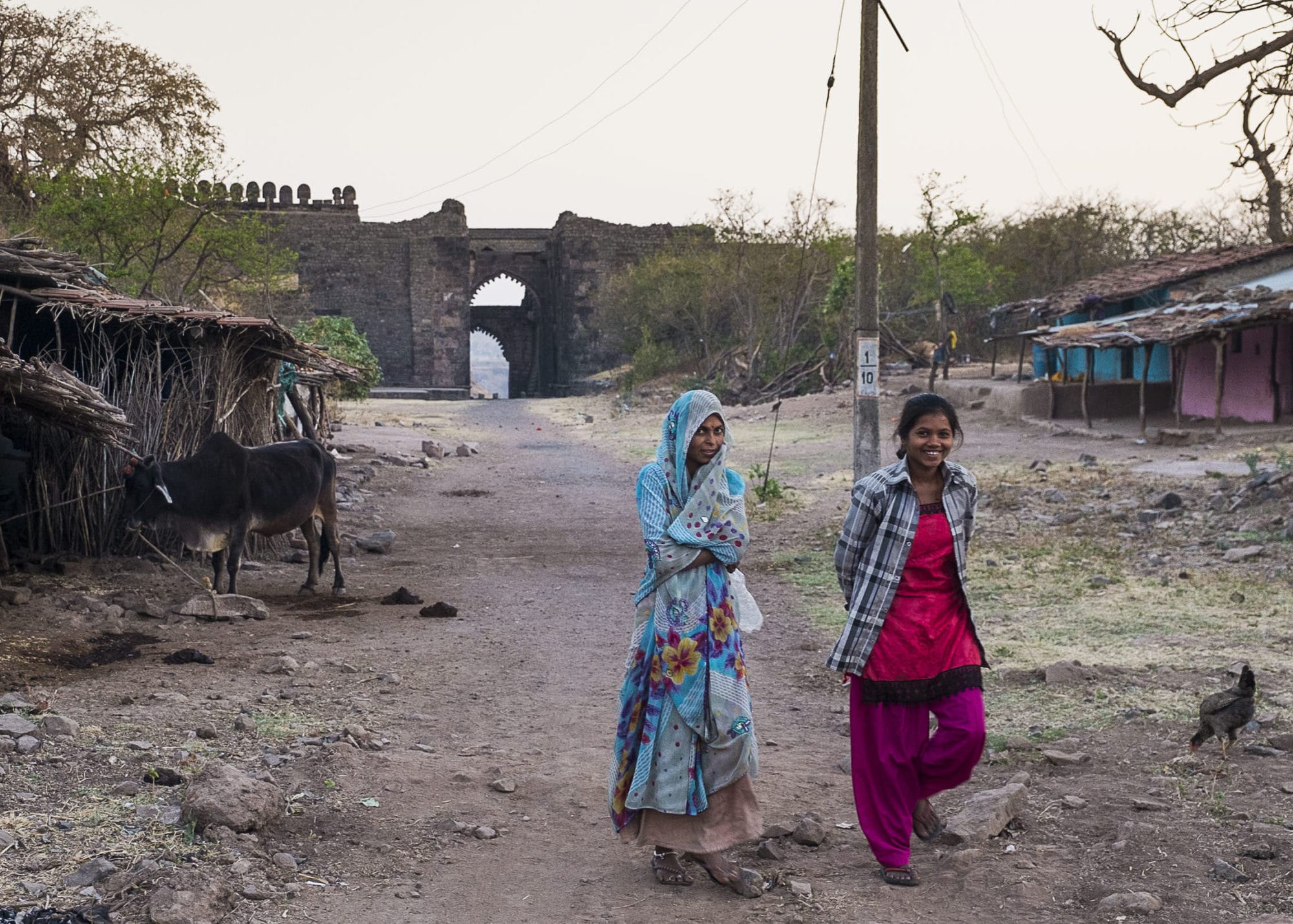 Jami Masjid
Perhaps the most striking monument built by Hoshang Shah is the Jami Masjid, with its multiple domes, perfectly symmetrical arch ways and large enclosed courtyard. The sloped walls of some of the outer section and the multiple domes surrounding three larger domes, and the niches are similar in style to the mosques of Chanderi and Burhanpur whilst betraying a distinct  Afghan influence which tie it to the other signature structures of Mandu like the Jahaz Mahal and the Hindola Mahal. It is fitting perhaps that the marble white tomb of its creator rests side by side in stark contrast to the red sandstone Jami Masjid.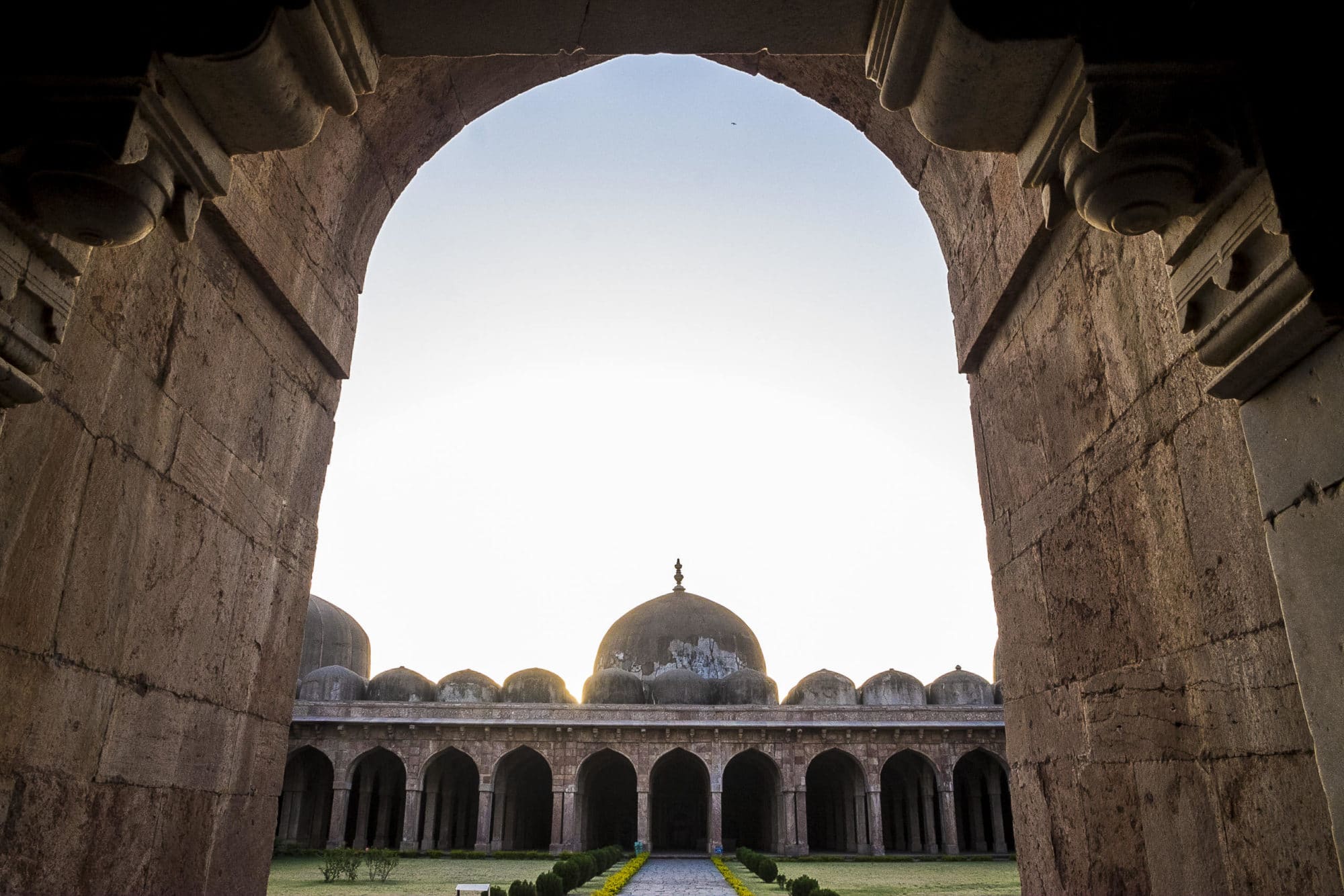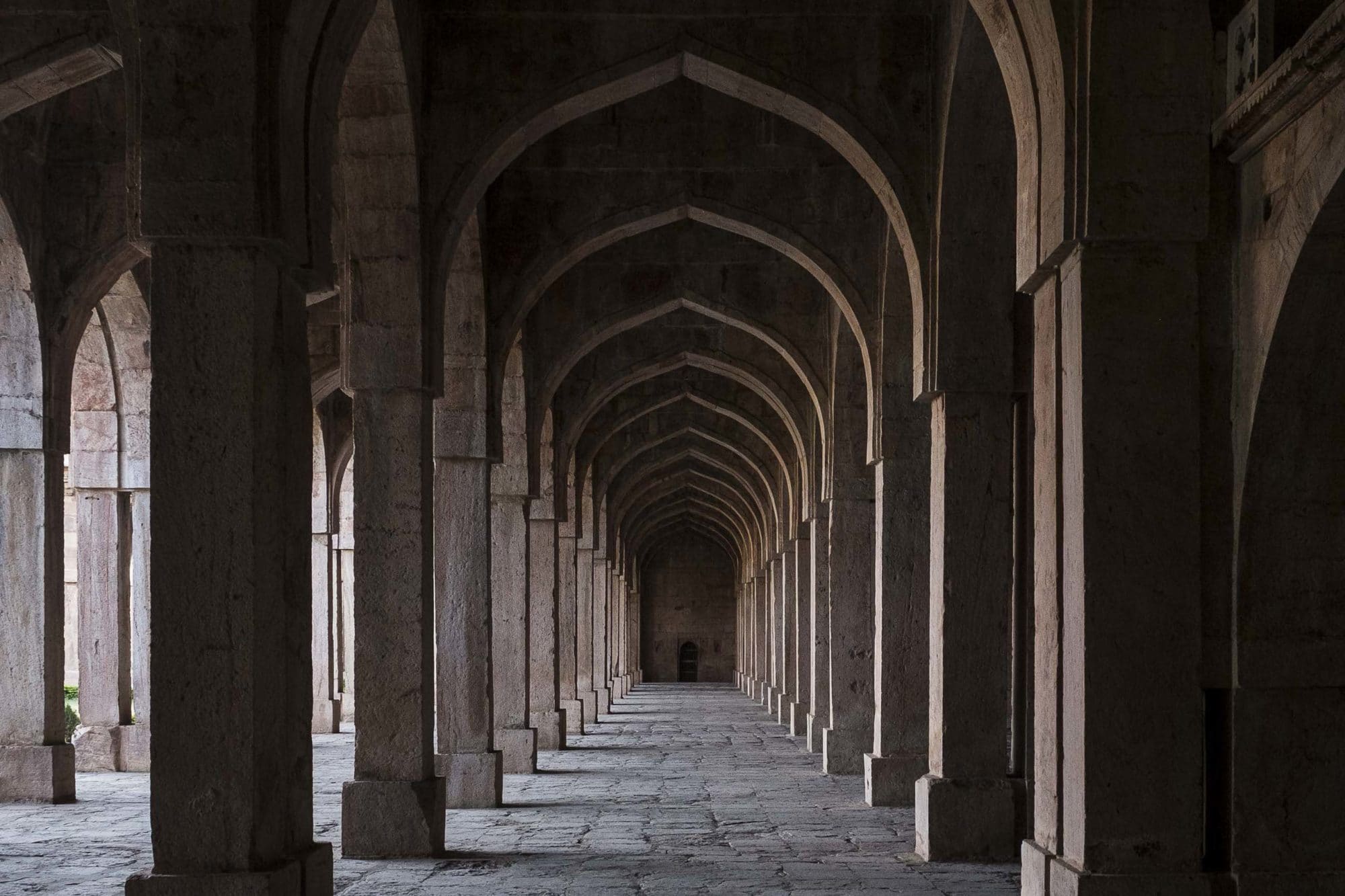 Ghiyas-ud-Din Khilji & The Jahaz Mahal
If the Ghoris built most of Mandu's defining structures it was Ghiyas-ud-Din Khilji who built its crowning glory. The pleasure loving Khilji sultan, who was said to be more interested in philandering than statecraft, built the Jahaz Mahal to house his rumored harem of 15,000 women. The palace sits on a narrow strip of land between two ponds and is designed to resembles a ship, literally floating on the water. The palace is an architectural marvel, built north to south to take maximum advantage of the breeze which is cooled by the evaporating water. Keeping with its water theme, the Jahaz Mahal also has an elegantly designed pleasure pool, into which water drains through a series of beautiful curlicue channels whose design is not only aesthetic but also serves to slow down the water draining from the roof to enable solid dirt particles to settle and therefore not dirty the main pool.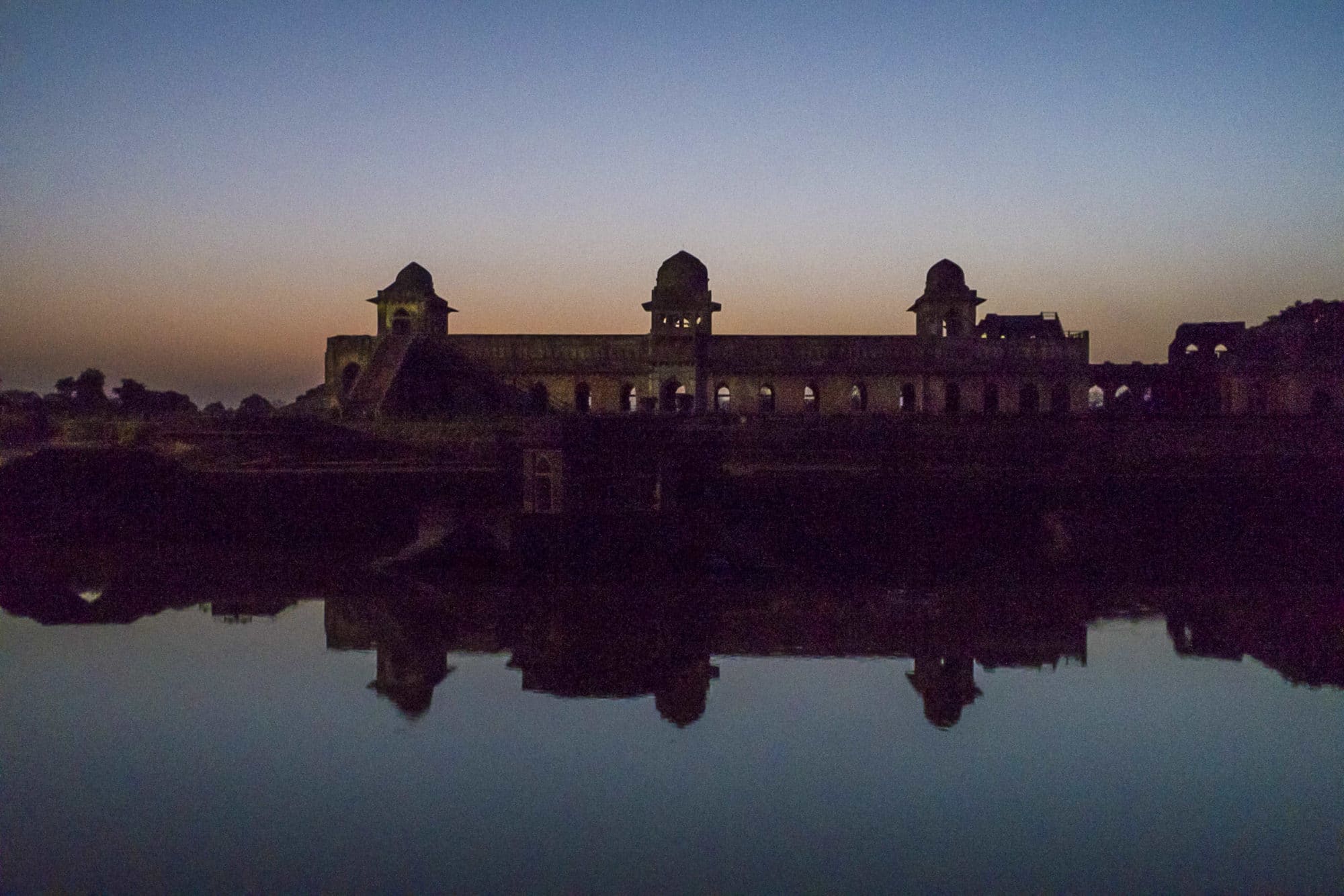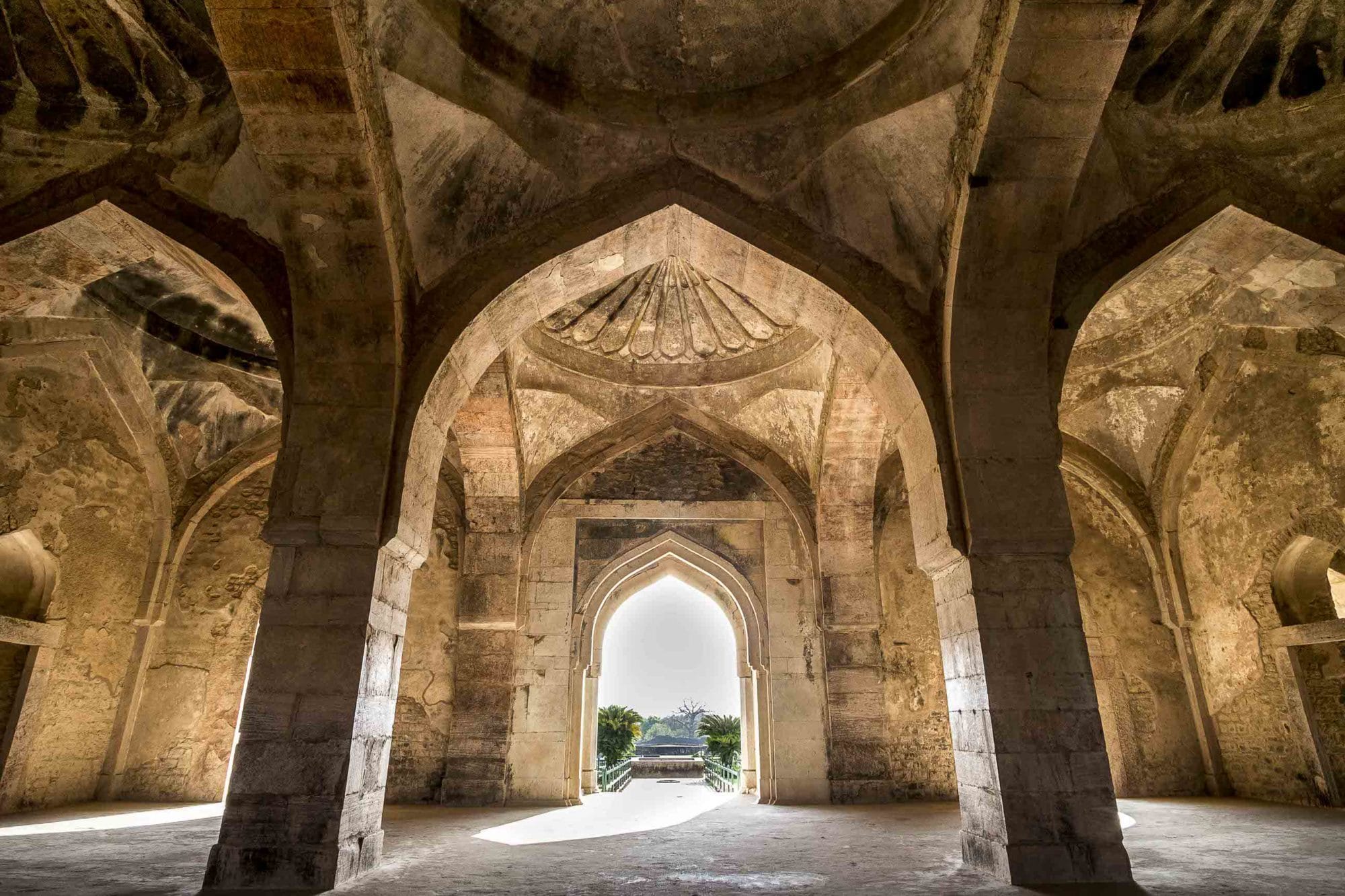 Baz Bahadur and the love for Roopmati 
Baz Bahadur, the son of a general in Sher Shah Suri's army was the last of the Malwa Sultans before Mandu and the Malwa Sultanate ultimately fell to the Mughals under Akbar. While the Ghoris and the Khiljis were known for building enduring monuments like the Jami Masjid and the Jahaz Mahal, Baz Bahadur was known for his endearing love story with a Rajput, Roopmati.
It is said that Baz Bahadur was out on a hunting expedition when he came across Roopmati, singing evocatively by the Narmada  in her perfect voice. He was instantly smitten and persuaded Roopmati to return with him as his queen. Roopmati agreed and had but one condition, that she must be housed in a palace where she would always be able to see the Narmada. Thus Roopmati becaume Rani Roopmati and Baz Bahadur built her a palace next to his own at the far end of the Mandu, where she would have an unobstructed view of the Narmada Valley.
Thus began the love story of Baz Bahadur and Rani Roopmati. It is said that their common interest in music and poetry and love for each other made them inseparable, and stories of Roopmati's beauty and their affair spread far and wide. So enamoured was Baz Bahadur by his queen that he failed to perceive the threats against his kingdom and when Adham Khan and Pir Mohammed, Generals of Akbar, attacked, Baz Bahadur was unable to defend Mandu.
It is here that the love story sours.
Baz Bahadur, fearing capture fled to Khandesh to the south and Roopmati fearing the inevitable dishonour at the hands of the enemy is said to have taken her life by consuming poison.
Though Baz Bahadur with a coalition of other minor Sultans managed to drive the Mughals from Mandu briefly, it was too little too late and eventually Akbar recaptured the city ending Mandus era as an independent Sultanate.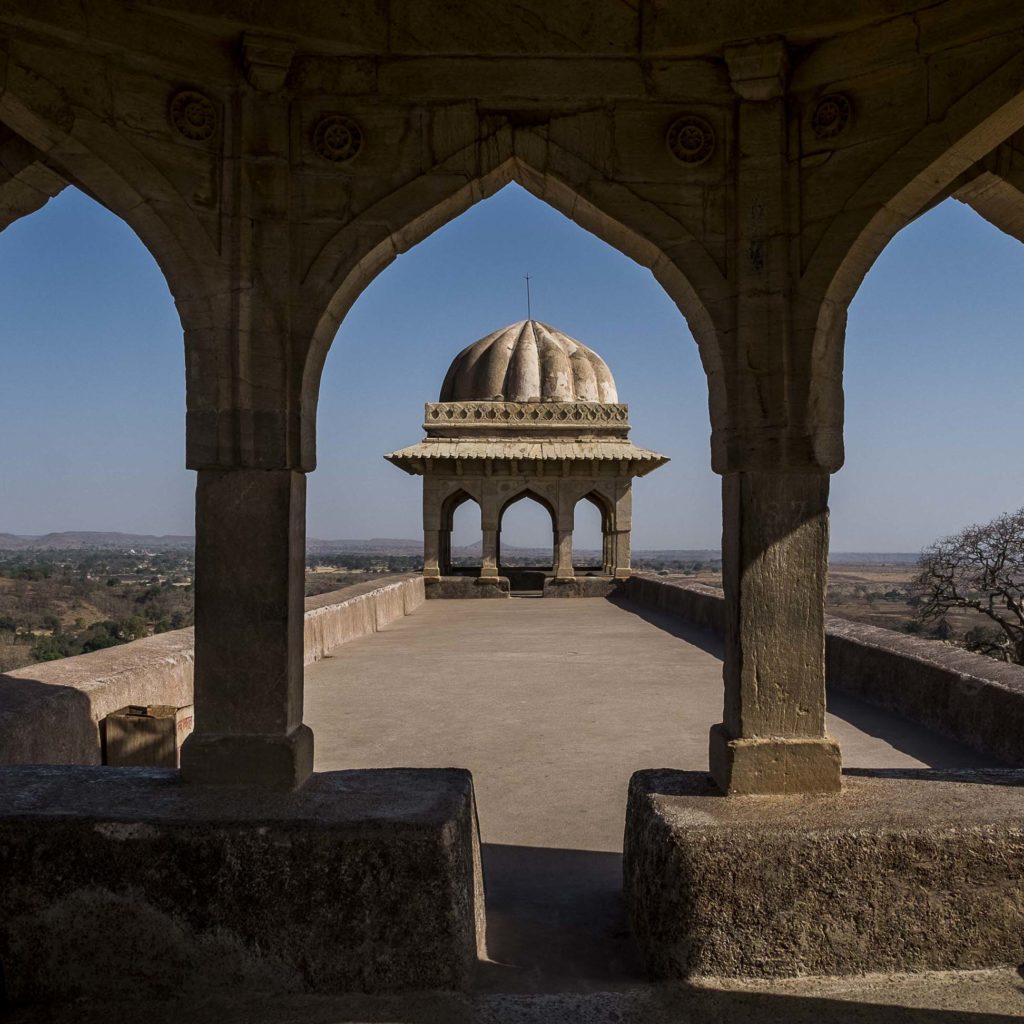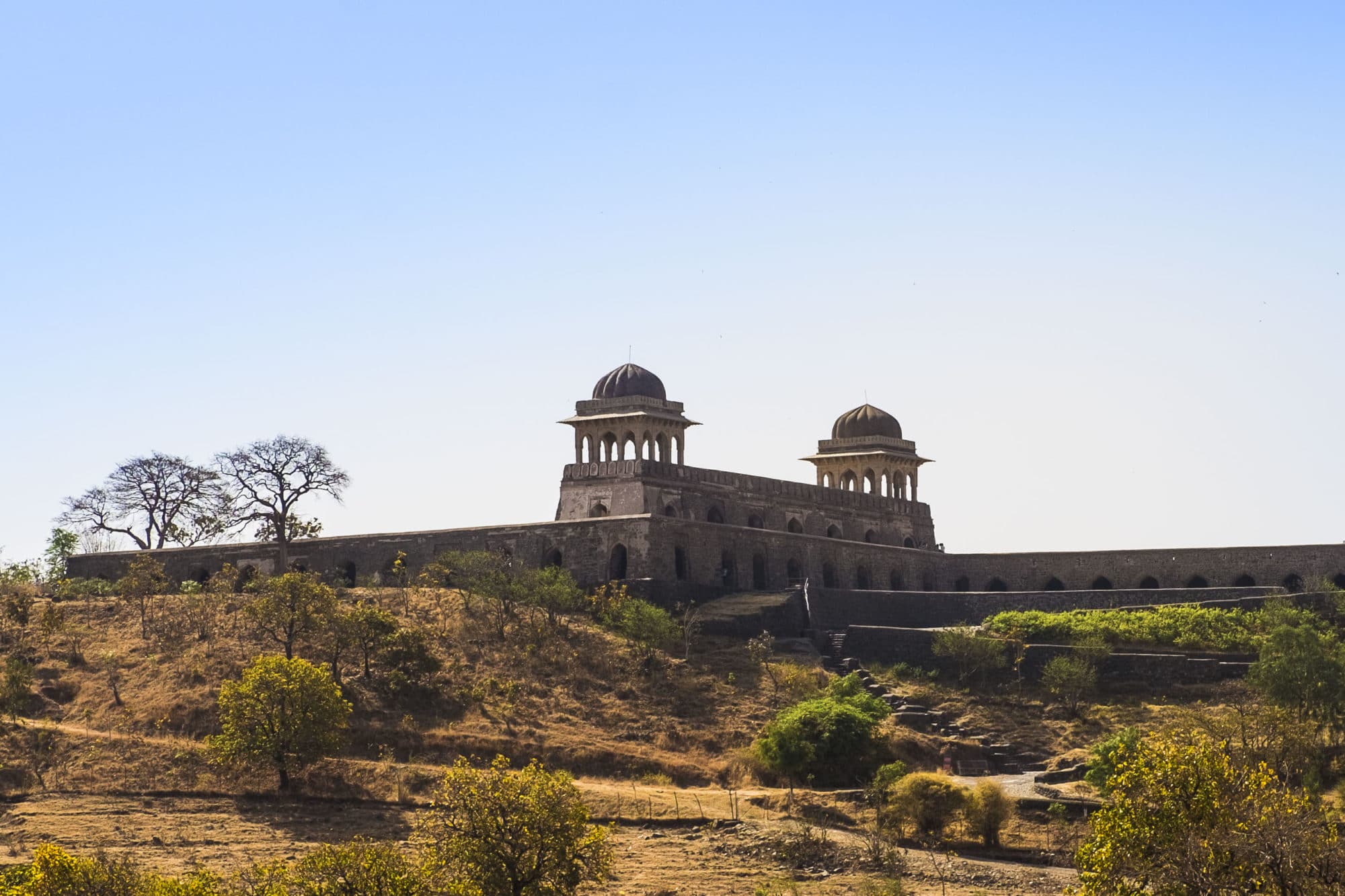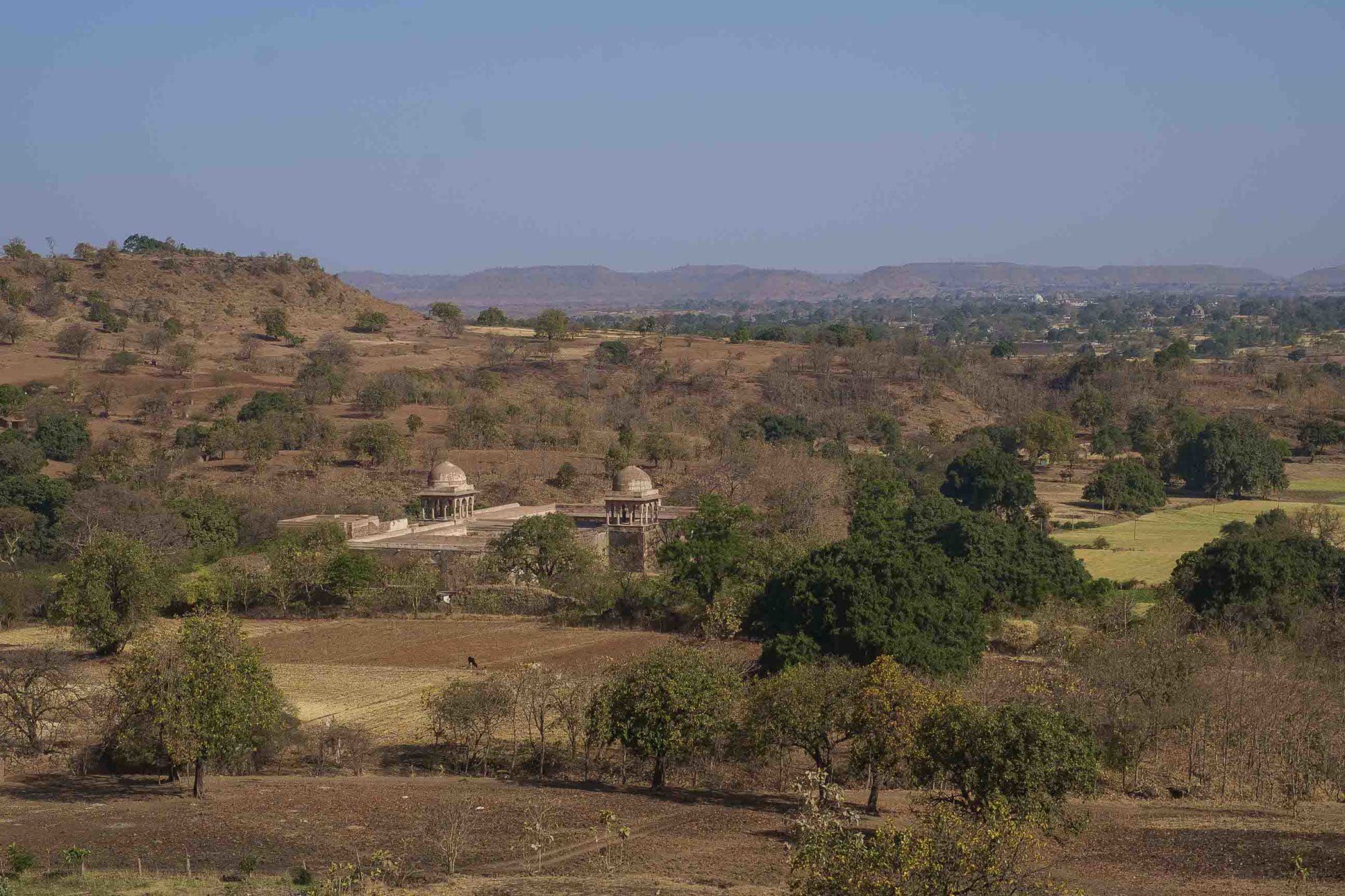 There are a number of other monuments in Mandu literally strewn around the land, small tombs, watchtowers, palaces, homes, gates and shops built by merchants, noblemen and royalty. Such is the richness of the areas heritage that you cannot walk for 50 meters without seeing another structure, forlorn and ruined, but yet exquisite for its vision and workmanship. And this really is Mandus charm, a reminder of an era when this now abandoned town stood regal and tall, a gem amongst the kingdoms of the Deccan.
Some Useful Information:
How to get there: Mandu is located about a 100 kms from Indore and the only way to get there is by road.
How much time do you need: You can cover Mandu's main sights including the Jahaz Mahal, Hindola Mahal, Roopmati Pavilion, Baz Bahadur's Palace & Jami Masjid in two days and this is what most tourists do. However Mandu's charm is really a lot of its smaller and lesser known monuments which are rarely visited and often times taken over by nature. We suggest you spend an extra day to check these out and really get a feel of this old city.
Where to Stay: There are a few hotels in Mandu and most are fairly basic. The best options are the MPTDC Hotels, The Malwa Resort and Malwa Retreat. Malwa resort is slightly cheaper and has nice views of the valley, whereas Malwa Retreat is located next to one of Mandu's Lakes.
When to go: The peak season in Mandu is the monsoon, where the arid landscape comes alive, the weather is excellent and everything looks lush and green. Keep in mind though that this is also Mandu at its most crowded and you may be better served to visit in off-season when there are less tourists.
How to get around: Mandu is technically not an inhabited town and thus there are no autos to get around in. For your sightseeing you will need to book a car and your hotel can arrange one for you. However you only need a car to see the Roopmati Pavillion, everything else is within walking distance of the town center.