It all started with an image we came across in a magazine. It was of a man, bare chested, crouching on a mud floor. The hut was dimly lit with a single naked bulb, and a wood fire with a huge vat boiling on top of it flickered in the background. Next to the man lay a two foot long implement which looked like a scabbard. The man was staring away from the camera, seemingly at something in the distance with the right side of his face lit by the combined glow of the fire and the bulb. In his ear he had a centimetre thick piece of wood and a cap adorned with animal horns. But it was his face that caught our attention. Darkened over time by tattoo ink, his face was a canvas of circular designs around his eyes and grid like markings on his cheeks. It was fascinating and left an impression. He was a Konyak Headhunter.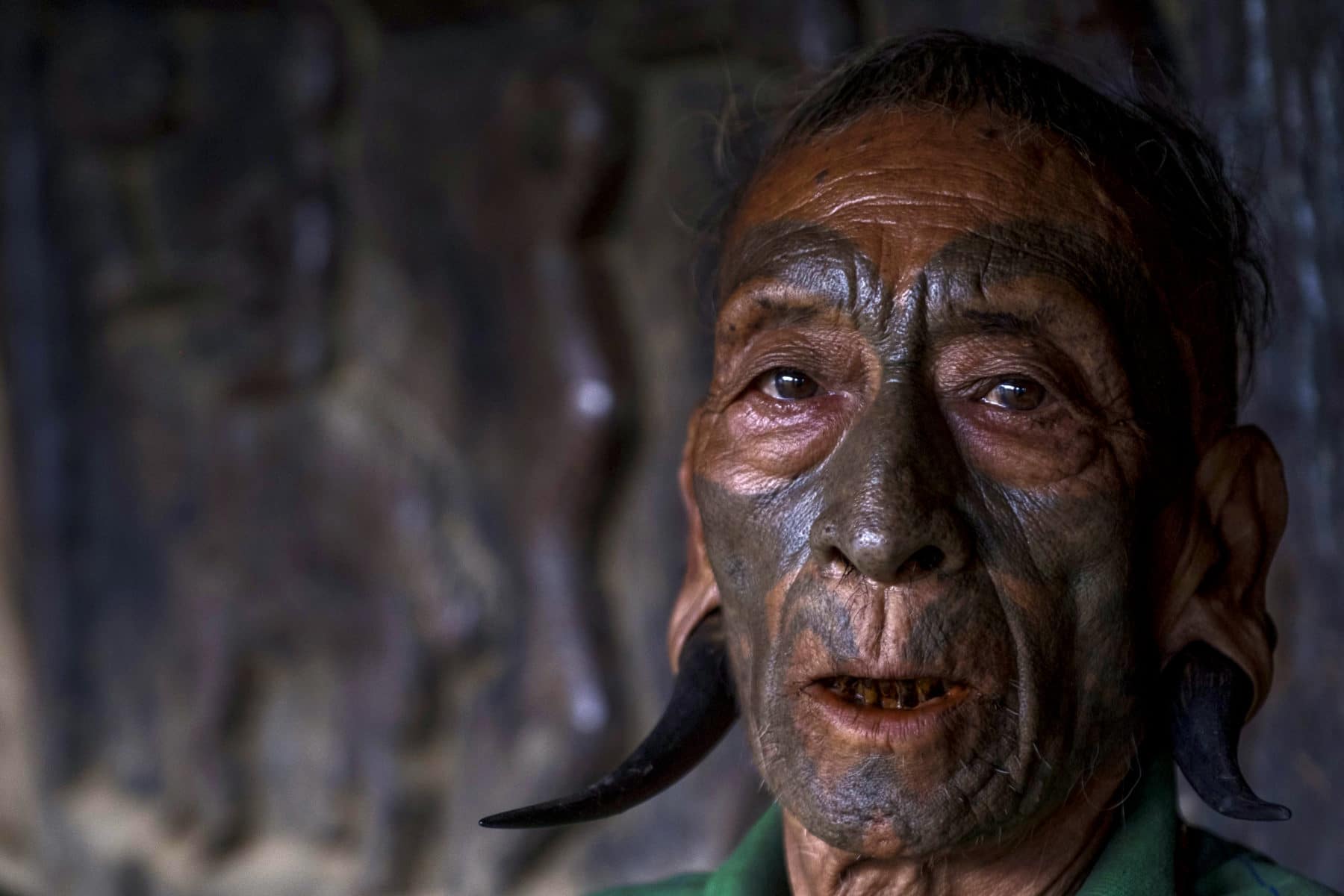 Over a year later, after a bone jarring journey travelling in multiple modes of transport for over 15 hours we had finally reached Mon, the home of the tattooed Konyak Headhunters. We had been on the road for over two weeks in Nagaland, and had learnt, contrary to popular belief, that it was not only the Konyak tribes that headhunted in Nagaland, but all the Naga tribes. The Konyaks however, owing to their custom of tattooing the faces and bodies of their battle hardened warriors were the most visual and thus famous. The last headhunting incident was reported in Nagaland over four decades ago (though it's debatable) and the last of the human heads kept as trophies are being quietly buried. The coming of Christianity in the late 1800s resulted in the slow eradication of many customs and beliefs, amongst them the practice of headhunting. These tattooed headhunters are the last visual remains of that era, and like the tattooed Apatani tribes of Arunachal Pradesh they will soon be gone, taking with them an ancient but gruesome tradition. There is plenty written across the world about these famous headhunters, but we wanted to experience and understand for ourselves the unique traditions of these tribals and the stories behind the face and body tattoos.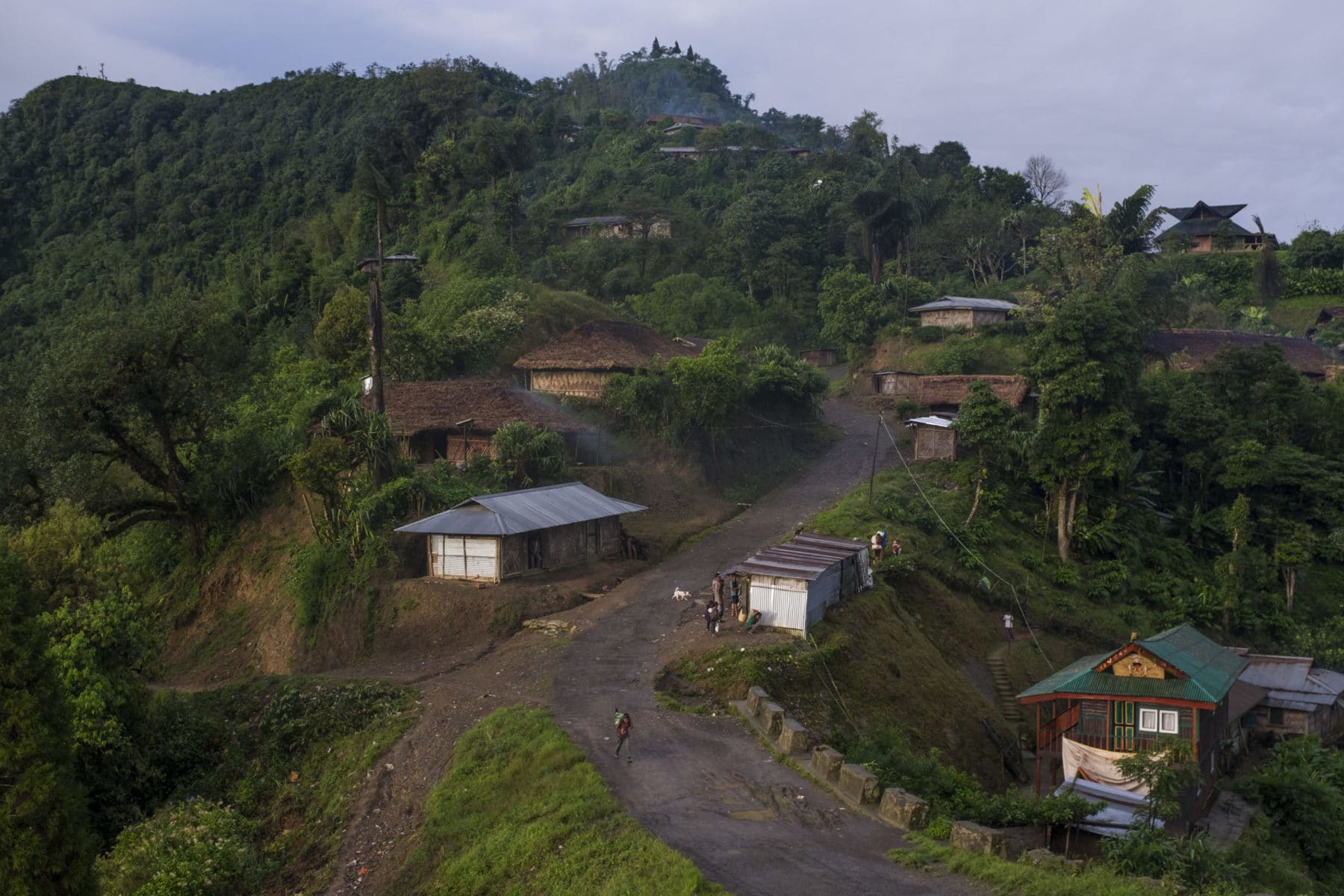 To learn and understand more about the system of tattoos and headhunting, and to meet the headhunters themselves, we travelled to Mon, the northern most district of Nagaland, visiting people and staying in several villages. After two weeks on the road in Nagaland, we felt like locals, jumping into shared taxis and sharing fruit with strangers. Our first stop in Mon was Lungwa Village, a 2 hour bus journey from the main Mon town. Bordering Myanmar, Lungwa would be interesting even without the headhunters. It is amongst the eastern most villages of India, and like most of Nagaland, is extremely removed from the 'mainland' or what they refer to as the rest of the country. The international border runs through the village, formed by the solitary main tarred road, and is easily missed if not for the lone tower of the 33 Assam Rifles at one end. The Konyak tribes, spread across the region, found themselves divided by this arbitrary line and move across freely trading in daily essentials, food and opium. The governments of both countries allow this, under the Free Movement Regime, which enables tribals on both sides to cross over upto 16 kms into the neighbouring country without a visa. We enjoyed no such freedom of movement but it was still fun to hop on the other side of that tarred road for a few minutes and wander in Myanmar.
On one side of the main road sits a school, technically in Myanmar, where we interacted with a teacher wearing the local style 'longyi' similar to the lungi worn in South India. He was warm and friendly and invited us to interact with the kids. The kids from the school regularly cross the four feet of main road to buy sweets and other  stuff from the shop that is technically in India. Apparently they all use the India rupee. It is said that the chiefs house is divided by the international border, a fact that has caused fascination amongst people world over, highlighting once again that man made borders are of little consequence to the daily lives of people who live along them.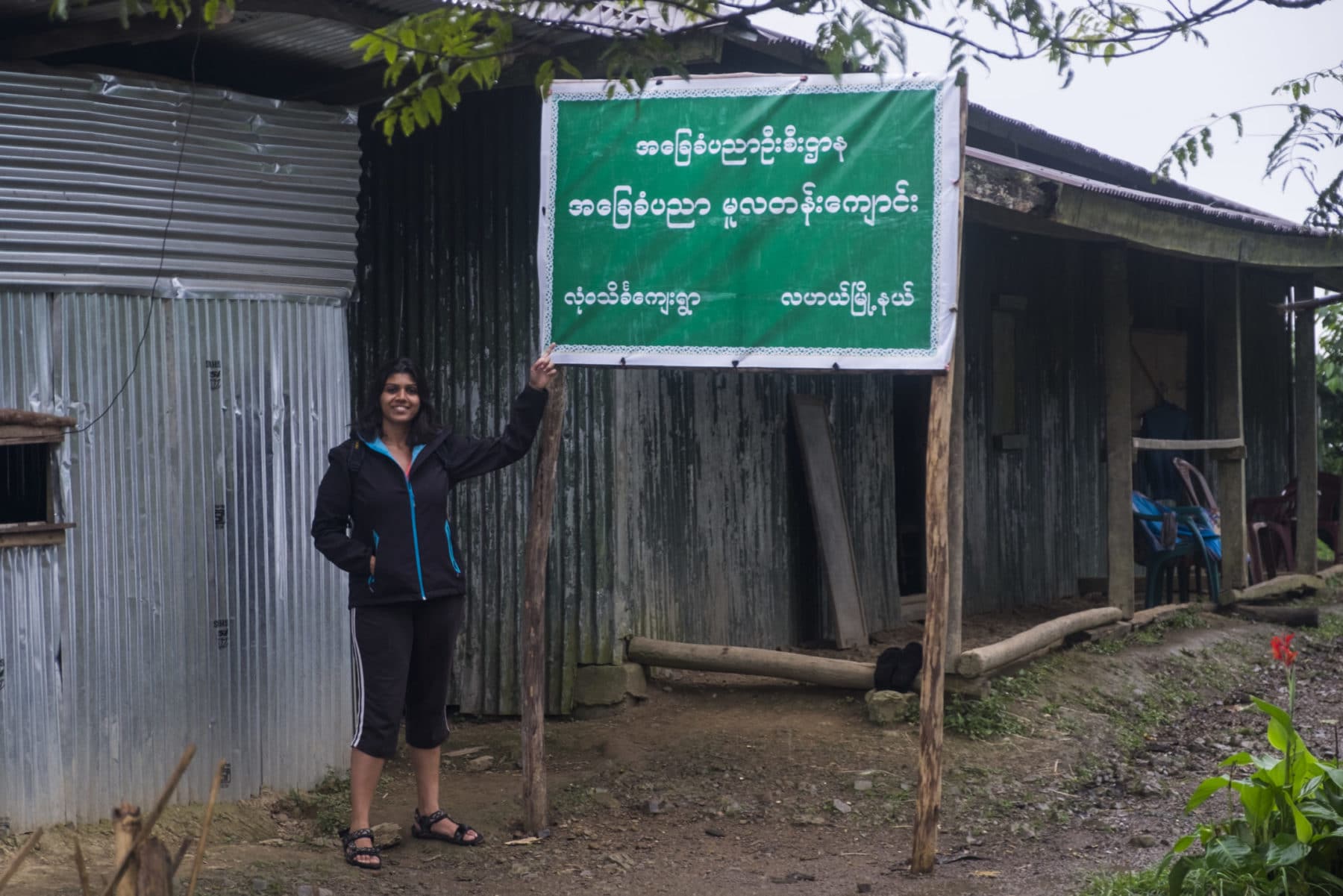 Lungwa was where we had our first real encounter with one of the old tattooed headhunters. Close to 90 and slow of speech, Wangnao was a veteran of a battle with the neighbouring Khmu tribe, now mostly found in Myanmar and South East Asia. He wore around his neck a bead necklace at the end of which was a row of 3 brass heads to signify the 3 heads taken in battle. The necklace was new though, probably purchased in the local market, its authenticity as a sign of Wangnao's headhunting prowess, suspect. We did learn that many now wear these beads but haven't necessarily taken a life. However, there was nothing suspect about the tattoos, dark and vivid, which marked his face. The battle between the Khmus and the Konyaks, which we understood had taken place in the late 40's, was over land dispute, a common cause in those days. The old headhunter spoke of many other battles he had seen in his life, people who once knew, and life as it used to be. His last battle was sometime in the 50s, though he seemed a bit unsure of the timeline. As we spoke to Wangnao, aided by our translator, our image of the fierce warrior tribes was slowly getting remoulded. We understood a little more about the past and the battles won and lost, that there were reasons and rules to be followed, and honour in battle. As he smoked his opium, he talked more about the old days, a time that was simpler. They were his reality, rooted in custom and tradition. 'People from outside, think we are terrible, for headhunting,' he said, 'but today you kill thousands. How can anyone call us wrong for following our ways?'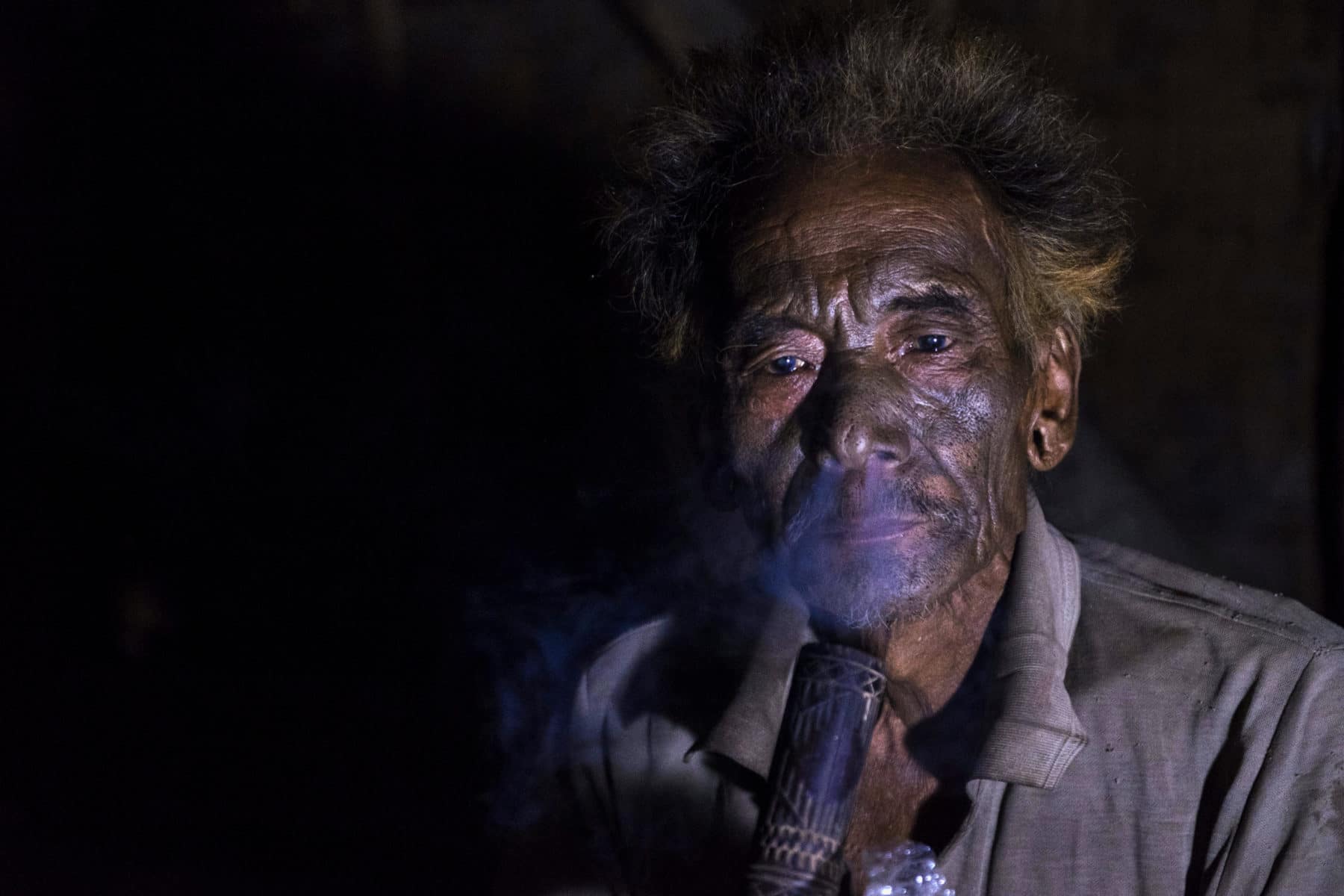 Read about Part two of our journey in Mon, and more encounters with the fascinating tattooed men of Nagaland and other surprises.
Some Useful Information:
How to get there: Mon district is home to the Konyak tribes of Nagaland and the famous tattooed headhunters. Mon town is the main center of Mon district and can be reached by shared sumo from Sonari in Assam.
The closest airport to Mon is Dibrugarh which is about 5 – 6 hours away.
Where to Stay: The best place to stay in Mon is Helsa Cottage, less than a 10 minute walk from the main sumo and bus stand. Rooms start at Rs 1000/- for a double and has excellent homemade food on offer.
Village Visits and Stays: From Mon Town you can travel to the various villages spread across the region to meet the tattooed headhunters. Chief amongst these are Lungwa, Hongpoi and Mon village. Shared sumos and buses are available, but make sure you check timings since there are usually only one or two modes of transport a day to these villages, and none on Sundays.
Homestays are available in many of these villages and the good folks at Eastern Routes can help you out with this. They can also help you organise your entire Mon / Nagaland trip.
If you do visit a village make sure to get yourself a good guide, without which you will be unable to interact with the villagers, enter their homes and understand their culture better.  Nahmei or Anyam, are both registered local guides who know their stuff well and are a storehouse of information. Get in touch with us if you need their contact.