Imagine a place with waters so blue you don't have a name for that colour; a place where the sand is soft and white, and littered with colourful seashells and starfish. A place where the wind floats through the palm trees and sings, and the morning rays are accompanied by the adieus of the fisherman and the priests call to prayer.  Such a place does exist, not in Thailand or the Maldives or even in the exotic Andaman Islands, but off the coast of South East India, not very far from the bustling cities of Chennai and Bangalore. And we found this wonderful place, through a little serendipity and a little help from our friends.

Pamban Island with the town of Rameshwaram is famous for two things; the Ramanathswamy Temple dedicated to Lord Shiva and the ghost town of Dhanushkodi. We heard about the ghost town from my grandmother, who had visited the town in her youth, after the 1964 cyclone had destroyed everything. A town with no people, an abandoned railway station and homes, which  was closer to Sri Lanka than mainland India appealed to our sense of adventure immediately. And so Dhanushkodi was put on the list. Shortly after, in an idle conversation with another friend about the ghost town, we learnt that there was a place where one could stay right on the beach, kick back with a beer, and if so inclined, engage in watersports. Wondering what water adventure sports were doing in the middle of a temple town, we were nevertheless happy about a place to stay that wasn't some cheap hotel surrounded by fervent pilgrims.

To get to Pamban Island and the town of Rameshwaram, you have to take a train and cross the fantastic Pamban Bridge. We recommend doing it at least one way on the train bridge and one way on the bridge for cars and other transport. Opened in 1914, the bridge spans a two kilometre stretch, connecting mainland Tamil Nadu to the island of Pamban. The island, located in the ecologically rich Gulf of Mannar, was important in the 19th century due to British trade with Ceylon (now Sri Lanka), and the possibilities of a bridge were discussed back in the late 1800s. We boarded the train in Madurai, which is about 100km away, and were literally gobsmacked as the train, three hours later, slowly chugged over the Pamban Bridge towards the island town. The water we saw was shades of blue and green unlike anything we had seen before in India, dotted with tiny fishing boats and larger sea vessels, the air was clear and crisp, and the island ahead was green and welcoming. On the right as you move along the train bridge, you can see the road bridge, with buses, cars, motorcycles and other assorted vehicles thudding along. It is a surreal experience.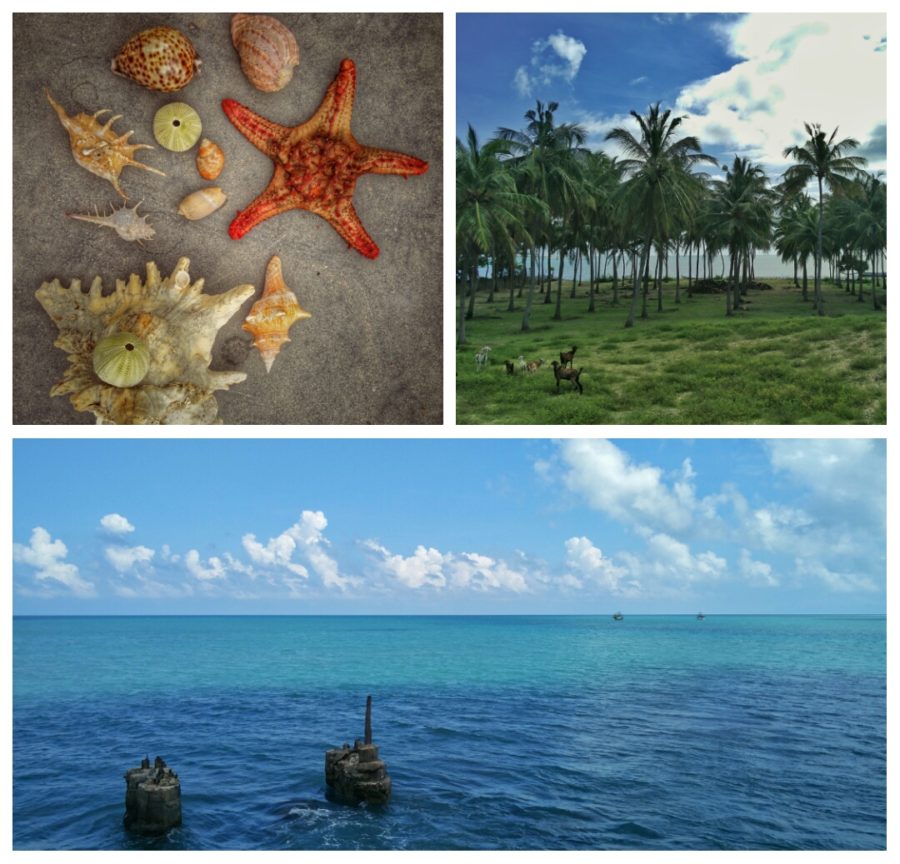 We got off at Pamban railway station and made our way to Kathadi South , the adventure camp our friend had told us about. Kathadi in tamil means 'with the wind' and what a perfect name the camp has. Surrounded by trees, there are two basic cottages and two tents set up in a sand clearing, with the chilling zone at one end and numerous dogs and cats impatient to play with you. The beach is a few feet away, and it was one of the more perfect beaches we have seen. Shaped like a crescent moon, the wide expanse of sand is white and soft, filled with shells, corals and starfish washed up from the sea, and most importantly it's empty, quiet and peaceful. The water is calm and almost feels like your very own swimming pool. After days of temple travel, endless walking around monuments and museums, we were excited for a few days of leisure time; filled with long walks, playing in the water, reading and eating freshly caught sea food. Quest Expeditions that runs the camp has numerous activities on offer, including Kayaking, Stand Up Paddle Boarding, and Kit surfing, though we were happy to do very little. It was pure bliss.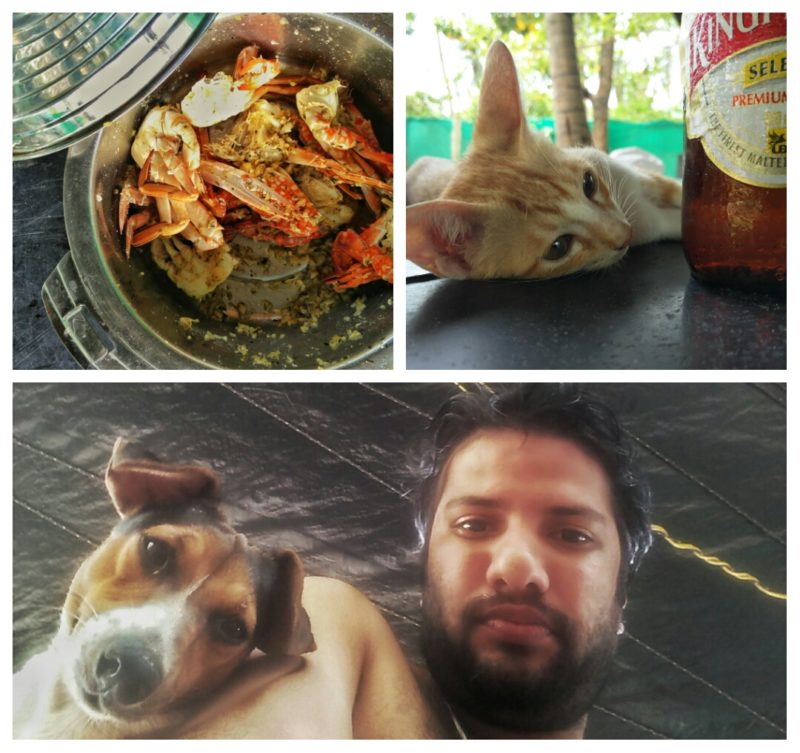 If you are a history buff, religious or simply curious, a visit to the town of Rameshwaram and the Shiva temple, as well as gawking at the ghost town are recommended things to do. Built in the 12th C, the Ramanathswamy Temple is fairly typical in terms of form and structure, but it has the longest corridor amongst Hindu temples in India with intricately carved columns and pillars. Even if you are not religious, the temple with all its trappings is worth visiting. The other attraction, which is not of the usual variety, is Dhanushkodi,   once flourishing fishing village that was washed away by a devastating cyclone in 1964. It is now a ghost town, quite literally, and can be reached only by a 4X4 jeep. From Dhanushkodi, there exists a chain of limestone shoals, and geological evidence suggests that there might have once been a bridge to Sri Lanka, which almost seems like a hop skip and a jump away. You can read more about our trip to Dhanushkodi here
The island of Pambam, the old settlement of Rameshwaram, the amazing waters, clean beaches and the ghost town all make for a fantastic experience, and a great holiday.
Some Useful Information:
How to get there
Rameshwaram is well connect by train and road from Chennai, and by road from Bangalore, and due to its proximity to both is an ideal getaway for a long weekend
Where to stay 
There are any number of small hotels and lodges in the town of Rameshwaram around the temple, but if you are looking for a relaxed beach experience in a slightly offbeat location we would recommend staying at Quest Expeditions property at Pamban, about 13 Kms away from Rameshwaram station (an auto to Pamban costs about Rs. 250 – 300). There are two properties, one is Kathadi South and the other is Kathadi North. Both are beautifully located and well managed by the friendly Quest Team. Kathadi South was our favourite with its rustic feel and accommodation in beach huts and tents with a bunch of dogs and cats to keep you company. If you are looking for something more upmarket check out their lovely boutique property at Kathadi North, with smart cottages, open to sky bathrooms and your personal little garden. You can't go wrong with either (we spent a couple of nights at both). Both are reasonably priced and they offer packages with food inclusive (did we mention we loved the crabs and other seafood!)
Dont Miss
A visit to the ghost town of Dhanushkodi is not to be missed. Read more about Dhanushkodi here
Rameshwaram is a typical bustling temple town but even if you aren't the temple type, it's definitely worth a visit as the temple itself is stunning, and seeped in history and mythology. The streets around the temple also have lot of cool old houses and makes for some interesting wandering and photo ops.
If you do get tired of all the lazing on the beach or you are the 'I-must-be-active' types, Quest offers some fun water sports options, check out this amazing video to know more. The Kitesurfing in particular is awesome, and they offer a full course on the same.
The Pamban Bridge (which connects the mainland to Rameshwaram Island) itself is quite the engineering marvel built as it was, over a century ago, in three short years. It was the longest bridge over the sea in India, until the Bandra Worli Sealink in Mumbai was opened in 2010. Make sure you stop on the road bridge and check out the views.