Kirtan Das stood in the doorway of his home in the village of Raghurajpur with a shy smile and hands folded in greeting. Raghurajpur is a village about 14 kms outside of Puri and is home to about a hundred odd families involved in various forms of art. The village itself is a cluster of semi permanent structures, with murals of the presiding deity of Orissa, Jagannath and beautiful scenes from daily life painted on the walls. Over time the small village has received attention from the Orissa government as well as some amount of International acclaim and funding, and is now a 'heritage' village. This means that a village which practiced and created age old art forms for their own consumption, has now grown into a loose commercial enterprise with each home a workshop. However, while the village is now in the business of producing art for exhibitions around the country and every home is a shop for the curious, the old art of palm leaf paintings or Patachitra has not been lost.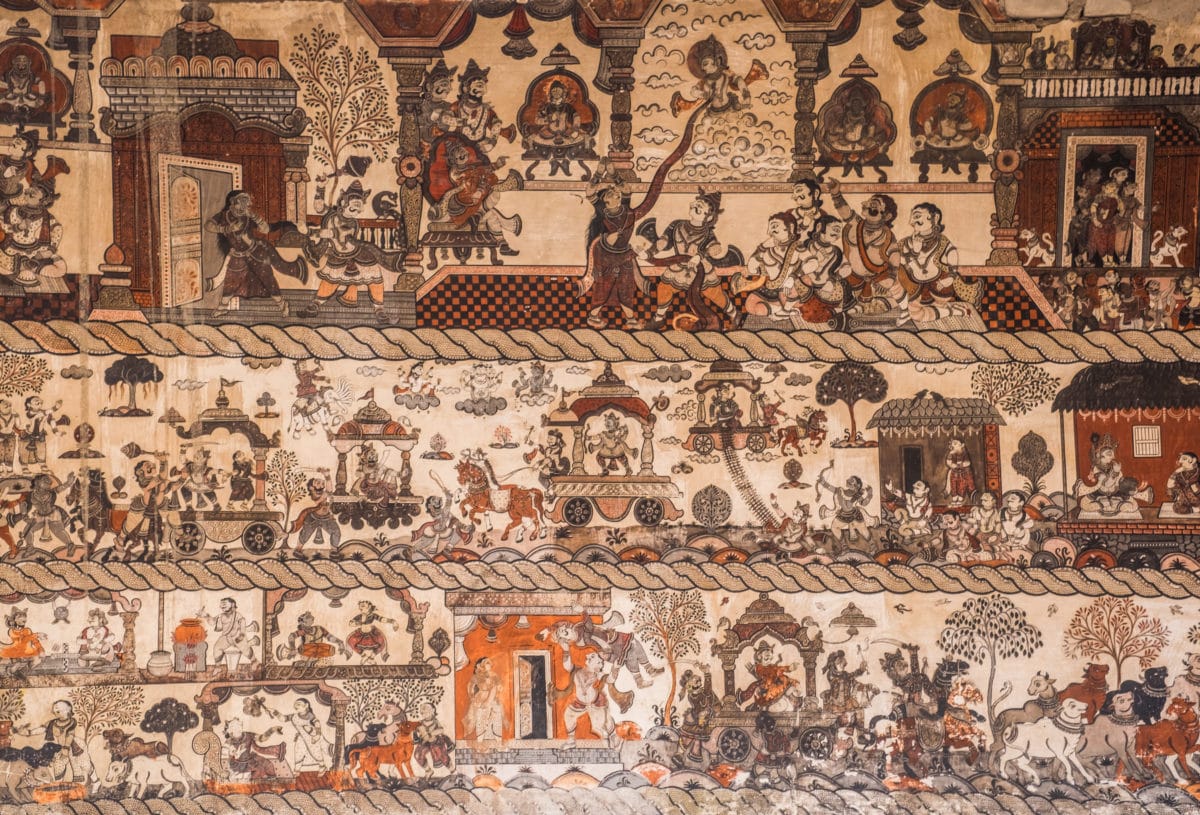 As soon as we entered the village we were hounded by several men wanting us to come to their homes and see their art work. Politely declining everyone's offer, we instead wandered into the village looking at the beautiful murals on the walls. One very enterprising young man walked with us and told us the meanings of the different paintings, interpreting their stories for us. He also told us about the history of the village and how they had rebuilt their lives following an earthquake in the 80s, with the help of NGOs. Today the villagers work with the government and local organizations to showcase their skills at exhibitions around the country, creating awareness of the old craft of palm leaf painting, which dates back to 5 BC. The village is also the home of Kelucharan Mohapatra, the famed Odissi dancer and poet, and his house stands for the curious to see.
Walking around the village with the chatty young man we came upon Kirtan Das.
Something about his quiet demeanour stood out, his smile was humble, warm and inviting. His small home, dimly lit by a single naked bulb, was cluttered with rolls of canvas, painting materials and shelves full of curios. It was a hot afternoon and Kirtan Das puts on the fan to make sure we are comfortable. In our months of travel, some of the best art we have come across has been in peoples homes, and the best artists have been those who rather than show us finished products, have taken pains to demonstrate the skill and mastery that creates pieces of beauty. Kirtan Das was the same.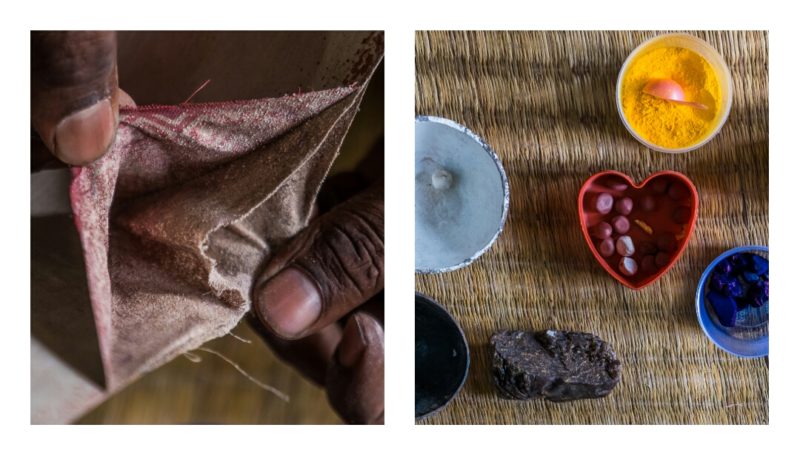 He showed us how the canvas was created using old cotton saris, stuck together with natural glue over a period of 2-3 days. The canvas is then smoothened over with chalk, making the canvas thick, supple and white. He patiently demonstrated how the colours from bright yellows and blues to deep reds and blacks were made out of natural stone, plant extracts, mineral deposits and soot, transforming the white canvas into stunning images. He also showed us the ancient art of Patachitra, where each narrow strip of palm leaf was painstakingly carved with a blade and then coloured in, before many such strips were put together to form a complete picture. He told us about his family; how the knowledge of the art has been passed down through generations. How his grandfather who recently passed away was the standard he desired to emulate.
He then showed us some of his prized possessions, art created by his father and grandfather. Beautifully artwork on large rolls of tassar silk, depicting, with unbelievable intricacy and detail, stories of love, life and loss. Scenes from the epics, stories of the lord Jagannath and the life of Krishna, each piece, a study in glorious perfection. And as he opened, with gentle reverence, each role of tassar, most made by his grandfather and some by his father, he explained, in a voice, deep with emotion, what each of the pieces meant, the stories they told and the lessons they taught, and we felt, in this man a deep devotion to his art. He explained that these pieces were not for sale, not until he believed that he could himself create such stunning and evocative pieces. He has been creating Pattachitra art for over 10 years now and believed it would take him at least another decade or two to attain the level of finesse he had grown up witnessing.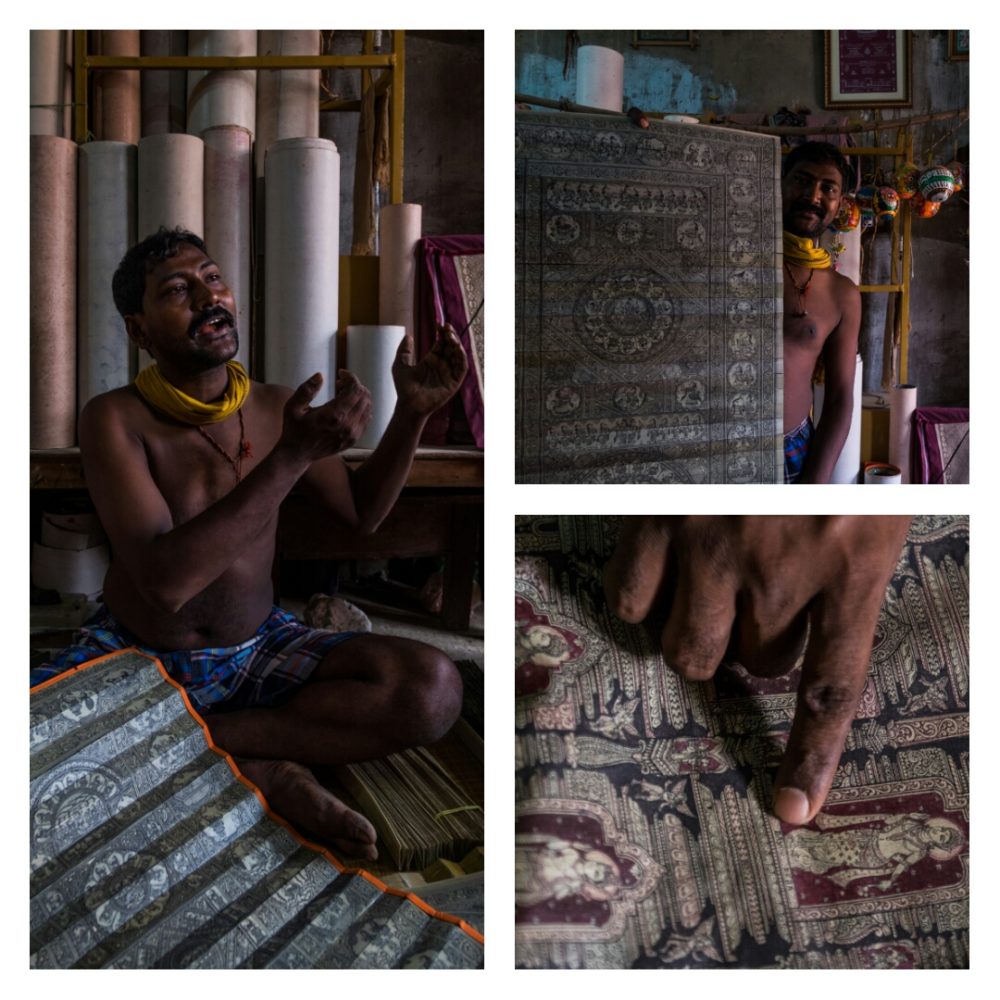 We did buy a beautiful, intricate palm leaf painting from Kirtan Das, it holds pride of place in our home amongst other pieces of art and history we have found along the way. And every time we look at it, it reminds us of that humble artist, in that small village, creating unbelievable art for the love of the art itself.
Some Useful Information:
Raghurajpur is located 14 Kms outside of Puri & 50 Kms from Bhubaneswar. From Puri you can hire a local autorickshaw to take you and bring you back but from Bhubaneswar you will probably need to hire an car. Since there are no hotels in Raghurajpur this place is best done as a day trip.