We are 38 days into our travels around South India, and in Coorg, Karnataka. Staying at the lovely Berry Lane homestay, with a cook we'd love to steal and take back home, we are spending time walking the spice and coffee estates and wandering in the forests. We have learnt many things about travelling in India and life in general. For 38 days now we have only had each other for company and have decided that since we've managed a month, in sometimes fairly challenging conditions, without killing each other, we can probably manage the rest of the year. We have also learnt or re-learnt, apart from some of the obvious stuff, a few things about our country. One very obvious thing is that India is a big place, this we know, this everyone knows. But the actual extent of it, the sheer amount of history and culture and nature and just stuff that is in it, you don't realise till you embark on a similar journey. We had originally planned about two and half weeks per southern state, during this leg of the whole journey. Instead we will just about manage three states and one Union Territory. We will now need to re-evaluate our next sections, but that is for another day.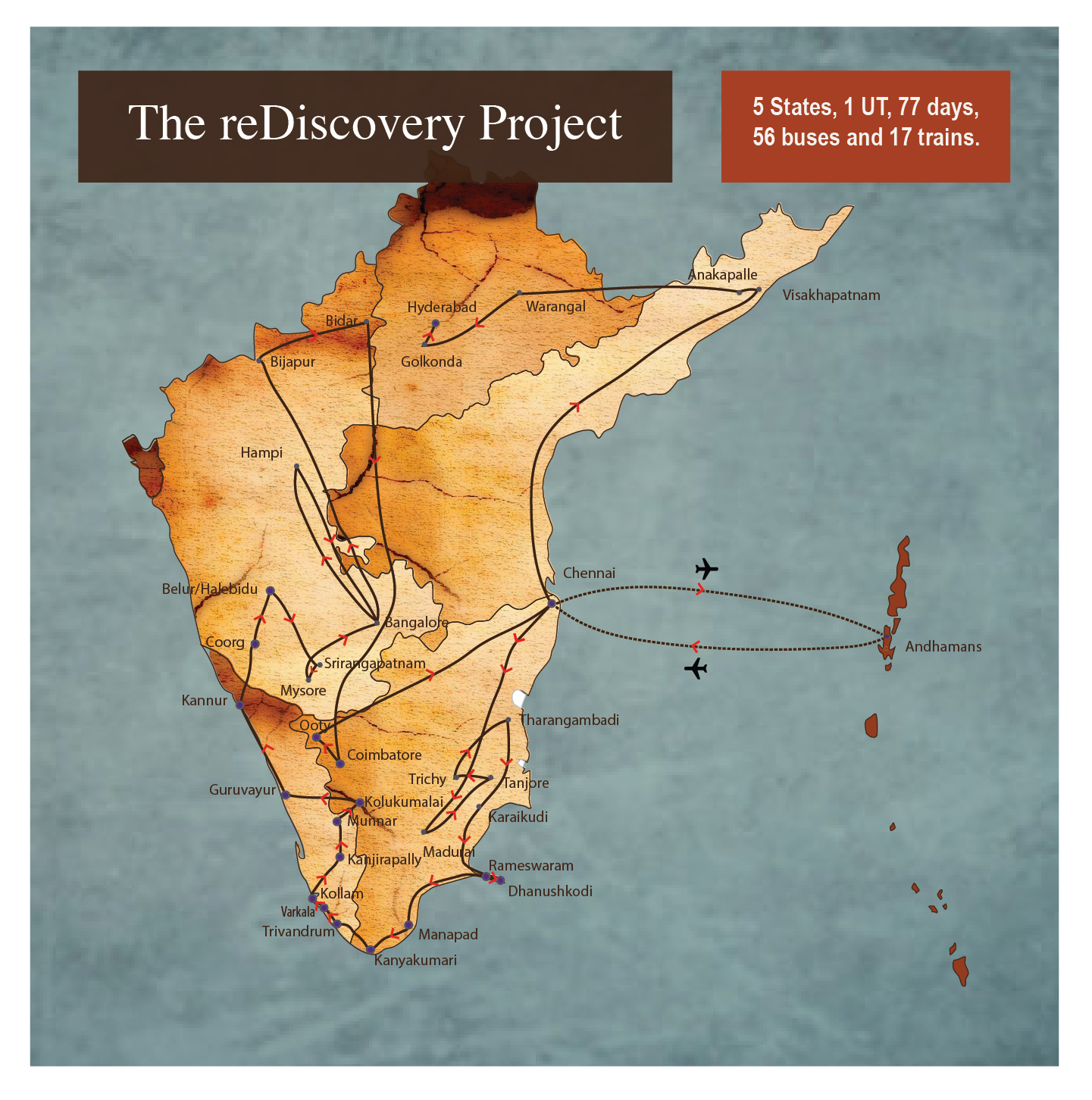 The other obvious thing we have learnt and re-learnt, is that everyday life in this country is fascinating. It's hard to describe in some ways, but there is a story at every bus stop, a tale to be heard in the little restaurants and tea stalls, and fun facts to be gleamed from every auto driver. Travel is incomplete without them.
Here are a few others things we learnt, or felt was interesting enough to share, and a few things that we think are important for backpacking in this country. Of course, a few states later this all might change, but we can revisit that months down the line. We will also elaborate on some sections as we keep travelling, in hopes that it will be useful for future travellers and wanderers.
Food in the south is absolutely yum. In all the days of travel so far, we have had maybe 10 bad meals. Some roadside, some at various homestays and some in 'decent' looking restaurants. But generally speaking we've had some great meals, both cheap and expensive, all sorts of vegetables and curries, all kinds of meats and sea food, much of which has been unpronounceable. We suggest trying all food, everywhere, especially if you have no fear of a bad stomach. And even if you do, go ahead and try the food anyway. Of course this also means that we've been eating well and haven't lost an ounce of weight, something we both felt we would, or could, or at least attempt to. Oh well! There is still Gujarat.
Bus travel is surprisingly easy, entertaining and extremely efficient, most of the time. We have taken almost 30 state buses till now and almost all of them have had an element of excitement. Some are challenging and frustrating and hot, and sometimes you find yourself wedged in between smelly people with a school kids massive bag on your lap. But generally they are reliable and allow you the opportunity to really see the innards of the state, the tiny little villages and the ever changing natural beauty all around. Bus drivers and conductors are helpful, and many will ensure you get into the right bus if a change is required. Which it will be, always, everywhere. Hindi, English, sign language, pointing, laughing, it all works.   A couple of tips: try and pick a bus that says Limited Stops, chances are that particular bus wont stop for every single person on the way who sticks their hand out; secondly if you're at the bus depot, tell the conductor your final destination, he will find the best route for you. He is always smarter than google! Lastly, chat with people on the bus, especially if language is not an issue, they are the essence of this country.

On a local ST bus, somewhere in Tamil Nadu.

3. The history in India is mind boggling. Forget everything you know, the standard issue text book stuff, about colonialism and the Mughals, and Shivaji and the Cholas. There are hundreds of other kingdoms to read about, monuments and ruins to explore and palaces to discover. Be open to places you've never heard of, and visit the recommended tourist spots in state literature. They are usually pretty spot on. Kannur, our last stop on the Malabar Coast, was home to the Arakkal dynasty, a small but extremely rich and powerful Muslim dynasty, the ONLY Muslim dynasty in Kerala, a predominantly Christian region. The museum in Kannur houses some of their portraits and old furniture and is fascinating. There are many such Kannur's around the South and all worth being remembered.
A few essential Apps – in this modern age of fancy cell phones and apps, it makes no sense not to use them to full advantage. Apps we have used the most that have been extremely helpful in travel – Cleartrip and Makemytrip both for amazing deals on hotels/lodges/resorts in even the most random small towns; IRCTC which has a great user friendly app and allows you upto 10 bookings a month (which sounds like a lot but it's not); Google Maps, but obviously; Rome2Rio is a great way to figure out different options from one place to the other, but since they don't have an app (weird) we use FetchMyWay which uses the Rome2Rio engine. And lastly, a few games, for all those long bus rides and time spent waiting around train stations! (Edit: We subsequently wrote a more detailed post on the 5 Apps you need when travelling India, check it out here.)
The one things that will get on your nerves, no matter what, is the ever present need to do laundry. It's frustrating, never fun when you have to it by hand, and literally backbreaking! If you find someone to do it for you and are willing to forgo a meal to pay for it, or a free washing machine, wash all your clothes. Even if they are clean, wash them anyway! And never hang them outside over night, even if there is no chance of rain. Rookie mistake, in places like Kerala, the weather can change quickly!
Planning is overrated! Sure, a basic plan is needed, sometime trains need to be booked in advance, and routes planned, but be ready for it all to go haywire. That really is half the fun. If you hear about a random village or town that doesn't really show up on any search or guide book, change your plan and head straight there. You wont be sorry. This is how we ended up in Manapad, a tiny tiny little fishing village in southern Tamil Nadu, an important pilgrim spot for followers of St Francis, with one homestay and some of the best waves for surfing. In early 2015, the tiny village of Manapad held its first international surfing competition, hopefully the first of many. Follow the unexpected and the road less travelled.
The day before we left Kannur for Coorg, the local municipality, while digging in the town's 400yr old St Agnelo's Fort, unearthed thousands of cannon balls. We immediately hotfooted over to the fort, to see the amazing sight of cannon balls just laying about, over 10,000 and counting, while the Archeological Survey of India measured and took stock of the situation. Along with the other gawkers and curious, we held the cannon balls and learnt from an ASI officer that they would all soon be transferred to their office and then perhaps housed in a museum. They were also now re-evaluating the importance of the fort, given the amount of fire power discovered. Even the sleepy little beach town of Kannur had given us another interesting story to share.