There isn't much that hasn't already been written and sung about the bustling, furiously energetic metropolis of Bombay. So, when we decided to spend a few weeks of our India tour reDiscovering the city we live in, we thought it would be a challenge to find new things to see and do. How wrong we were! Apart from some of the grandest colonial architecture, the majestic temples and the Gateway of India, tucked away in crowded bazaars and rush of constant traffic, we found different layers of the city that we didn't know existed, from temples to ancient villages and quaint neighbourhoods. From a single room Chinese temple in the heart of Mazgaon docks, to a 155 year of Persian Shia Mosque, there was much to explore, off the beaten path so to speak (though admittedly in Bombay, path is probably an overstretch).
Not to lessen the glory of the beautiful old buildings in South Bombay or the vast sprawling Sanjay Gandhi National Park in the suburbs of the city, we set these aside for a later date, picked up our favourite travel companions, the camera and notebook, and wandered the streets searching for these hidden gems. In some cases we spent more time looking for these places than in them, so well hidden they were, and in every single case we encountered closed doors and had to make the priest or caretaker open the temple for us. This actually worked out well, as each caretaker had something to offer, filling pages of our notebook. Over the next few days we will showcase these different sites that give a new meaning to the term diversity, and admittedly gave us a whole new appreciation to the metropolis that is Bombay.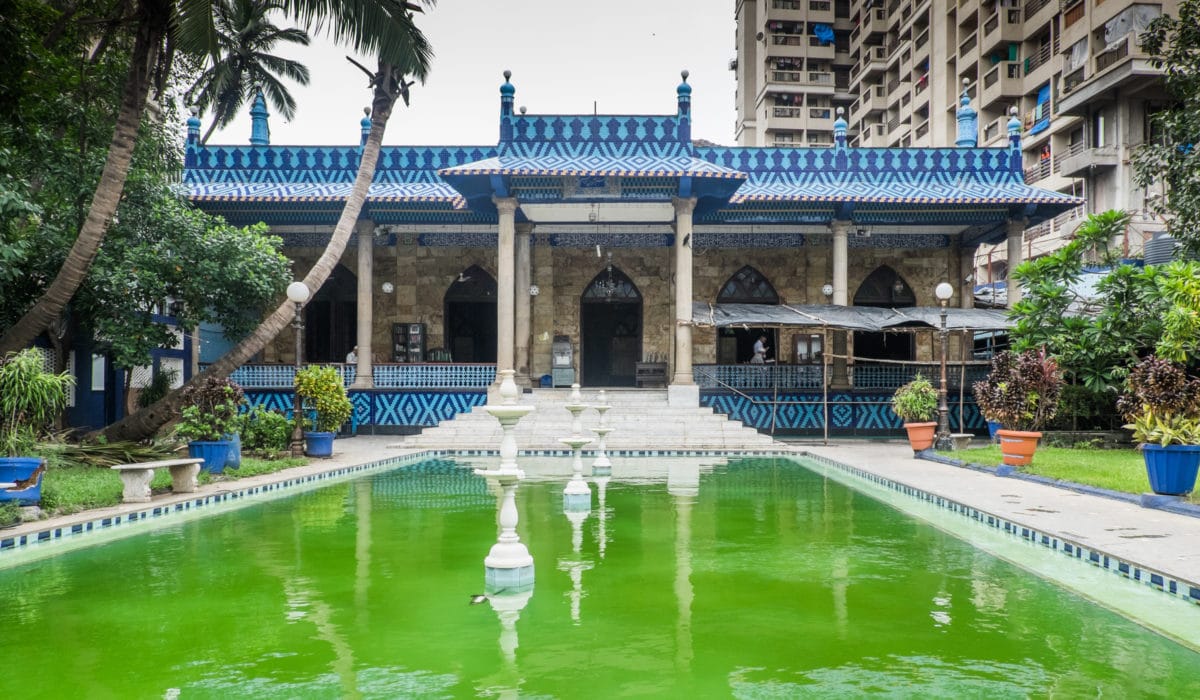 Google and random street vendors off Mohammad Ali Road aided in us finding the 155 year old Mughal Masjid. With well maintained lawns, a pond filled with fish, and gleaming blue tiles brought from Persia, the mosque is an oasis of calm in the otherwise overcrowded Bhendi Bazaar. The thing that first hits you and surrounds you, is the mosaic of striking blue tiles that make up the entire mosque and its boundary walls, which is also what attracted us to this particular mosque. Built in 1860 by a wealthy Iranian merchant and maintained by a trust set up by his family, the mosque is beyond a place of worship. Once inside the community area of the mosque (we were not allowed inside the prayer hall), it was easy to leave the city at the doorstop and bask in the peace and serenity that the beautiful space provided. One could just imagine a time when old men would sit and debate the Koran and catch up on their daily news and gossip surrounded by nature and their thoughts.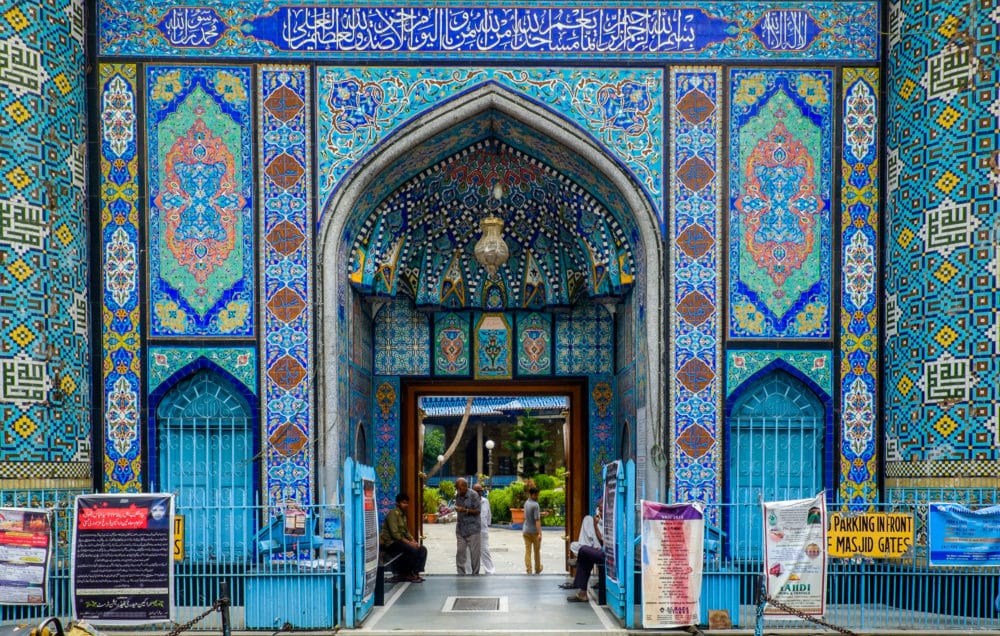 The very chatty guard gave us a tour of the mosque, along with some interesting tidbits, including the fact that the mosque used to be frequented by none other than the very famous Dilip Kumar during his heyday. We also learnt that right next to the mosque is a surviving and functioning Iranian hamaam, which is now used as a modern day public bathing house. Once done with the grand Mughal Masjid, we promptly went in search of the hamaam, and peeked in, only to be shooed away as there were men bathing. We waited outside and tried to come up with clever ways to go back in to take pictures, when the 'growly' guard himself left and Hoshner ran in to have a look and came out looking slightly bemused. It then started raining and we opened out umbrella and walked back into the madness of Bombay, in search of a cab driver and our next destination.